Back to main Blog

Jessica Brita-Segyde
The urban life is a good life, but to those moving to the city for the first time it can feel like a big transition. After all, any change comes with a learning curve. I interviewed several urbanites with knowledge on the subject of city life. One hailed from the suburbs, one from the country, and one from a small Midwestern town. All three of our urban transplants shared great tips on making a smooth transition from there to here…
Kaity B. - She was born in a small town
Kaity was born and raised in small-town Ohio but now she's enjoying the urban life in Indiana. A Buckeye at heart, Kaity didn't particularly dislike small-town life. Kaity speaks highly of her hometown and visits often. However, after six years in the Hoosier state, she's growing roots, raising a family, and has a blossoming career in the medical field.
Kaity had this to say regarding the first year of her transition, "An adjustment for me was finding affordable housing in close proximity to work. When I moved to the city I was single and living on my own. I had to practice financial discipline. Fortunately, I was able to find an apartment that fit my style and I was only three minutes from work!"
Kaity now owns a beautiful foursquare-style home in a historic neighborhood just outside her city's downtown. She and her husband recently welcomed a new baby girl, and Kaity is discovering that the city has even more to offer than she expected. She was a fan of her local zoo before becoming a mom, but now she finds the zoo and other nearby attractions "ten times more fascinating." Kaity and her family visit local farmers' markets, baseball games, and her city's botanical gardens. Some days they just stroll around downtown or one of the nearby city parks and take in the scene.
"I feel there is something in store for any age that can be accommodating to any budget," said Kaity, "and we have a bucket list of urban adventures we haven't even tried yet."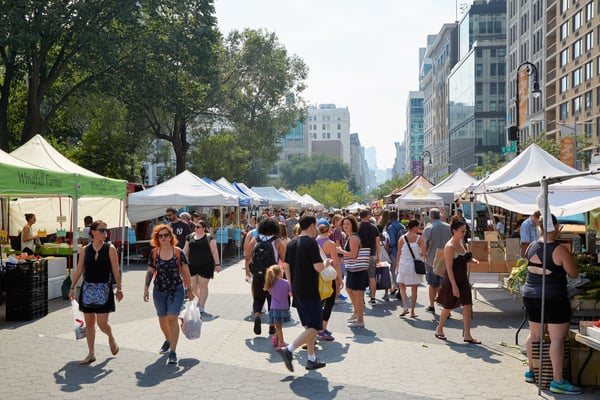 One of the items on Kaity's bucket list is to do more volunteering. City life has much to offer with respect to community involvement and service to others. She feels that her time in the city has helped to shape her view on life as she transitioned into adulthood - and although Kaity doesn't have any regrets regarding her move to the city, she does have some great advice to offer to those considering a move.
"Retrospectively, I wish I would have expanded my housing options. I had only lived in apartments in college prior to my move to Fort Wayne. I wish I would have considered renting a house the first year which may have offered more privacy. I also might have lived downtown had I known how much there is to do."
Kaity also encourages neo-urbanites to get out and explore the culture – to dive in and try new activities, festivals, and restaurants right away. Most of all, she's thankful for the wealth of opportunities that urban life has given her!
Tom S. - Suburbia couldn't hold him forever
Tom has held the esteemed title of "Urbanite" for five years and counting. The first thing Tom noticed after transitioning to city life was that he spent less time behind the wheel and more time walking. Tom lives close enough to his children's school that he's able to walk them to and from each day. His family also enjoys walking to church and doing other things on foot versus having to drive everywhere.
Tom did cite the increased noise of the city as being a drawback early on, but after a few months he adjusted and is no longer bothered by the night sounds – things like cars passing, people out walking their dogs, and the occasional siren. According to Tom, "It becomes part of you and a part of your nightly routine."
He suggests that future urbanites start learning some DIY skills. Older homes have quirks and sometimes things break or need replaced. You could save a lot of money by fixing the smaller mishaps yourself.
Pro Tip from Tom: Plaster is not the same as drywall. Read-up on plaster (and find out if you have it) before you patch, paint, or hang anything on your walls.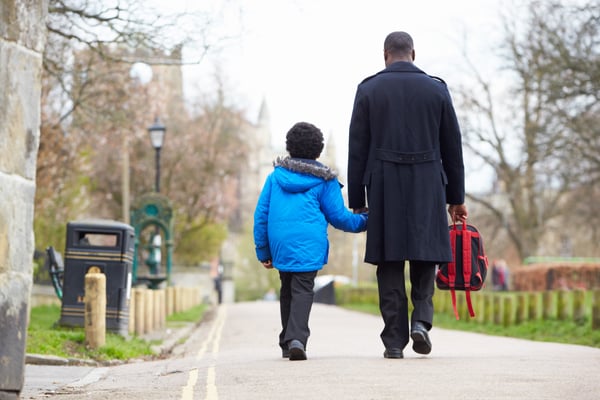 One of Tom's favorite aspects of urban life is being close to his city's downtown scene. His family makes the most of events and happenings in the city and they're also avid users of their trail system. His family often attends sporting events, farmer's markets, and festivals – all of which are just a stone's throw from his near-downtown neighborhood. Plus, Tom has an adventurous palette and he never has to travel far for a great restaurant.
Tom has the following advice for anyone considering a move to the city, "If you have been hesitant about the idea of moving downtown or closer to downtown, talk to those who are there. It helped my wife and I tremendously to talk with people who know the area we wanted to be in. The positives of living in our neighborhood go beyond what I could say in one interview. City life has been an absolute blessing to our family."
Porsche K. - A country girl finds city life
From the country to the city, Porsche has adapted to the urban life while keeping things simple. She's been enjoying the city life for nearly three years now and chose a location that puts everything within arm's reach. Porsche and her husband are raising a growing family and live in close enough proximity to their church, school, and daily errands to walk or bike. They're also within walking/biking distance of their local library branch, restaurants, and a small grocery store.
Porsche's only caveat about city life is that trips involving a vehicle can be unpredictable. "If you're leaving the house in a car, leave early! You never know which roads will be closed or under construction," she said.
Other than the tribulations of transit, Porsche doesn't have any complaints. Porsche and her family are always on the go! She calculates that there are dozens of activities year-round within fifteen minutes of their home. She's an avid user of her city's parks system and the urban life has Porsche and her family enjoying the outdoors more than ever. With a home base so close to parks and trails, her family is anything but nature-deprived. In fact, their "backyard" basically encompasses a one-mile radius.
Porsche learned quickly that city life offers plenty of opportunities for family fun as well as evenings out with her husband. She has this advice for families considering a move to the city, "There are so many awesome restaurants at your disposal! Be sure to get out, meet your neighbors, and get a list of great babysitters for date nights."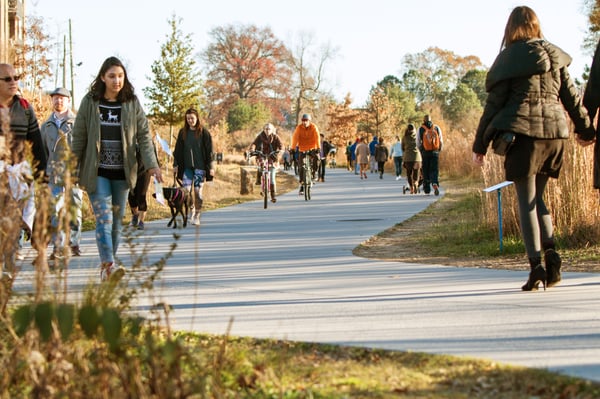 If you're considering a move to the city, there's never been a better time than now. Contact a Ruoff loan specialist to get pre-approved for a home loan so you can start shopping. The urban life is yours to enjoy!