Back to main Blog

Jessica Brita-Segyde
The backyard barbecue is the hallmark of Americana. Grown-ups at the grill, kids on the swing set, and a four-legged little buddy running circles under the auspices of a six-foot privacy fence paint the stereotypical scene. But some of us don't have a backyard, or at least not one that's big enough for a swing-set. Don't fret, urban-dwellers! You can have it all in the city.
City life has its perks. The Porch's back issues are filled with content to help homeowners make the most of an urban lifestyle. Maximizing square footage and scouting social opportunities are early priorities after a move to the city. However, as time goes by and families grow, urbanites often wonder if they can enjoy a full life without a big backyard. The answer is, YES they can! Kids, pets, and outdoorsy adults can have it all in the city. Read on for a list of hacks that will have you "backyarding" in style – no backyard required.
Embrace the Front Porch Lifestyle
There was a time when backyards weren't necessary. Neighbors spent evenings and weekends socializing on front porches. After work, people either walked home from the bus stop or parked in alleys or detached garages and waved a friendly "hello" before heading into their homes. Those of us who embrace city living think that lifestyle was pretty good, and we're bringing it back. Here are a few tips for transitioning from the backyard mindset to front-porch freedom:
Use social media to create a group, sometimes called a Front Porch Club or Driveway Club, to plan social gatherings. The folks in your neighborhood might be waiting for something like this – or you might discover that your area already has a Front Porch Club you can join!
Walk your dog and say "hello" to your neighbors. Your pet will stay fit and you'll feel social again. And chances are there area at least a few people in your neighborhood will host a get-together this year. Make friends with them and offer to pitch-in for the next cookout or potluck.
And finally, encourage your kids to get out and play with other kids. The joy of play, and especially imaginative play, is fading from suburban America. It's up to the urbanites to bring back the joy of childhood!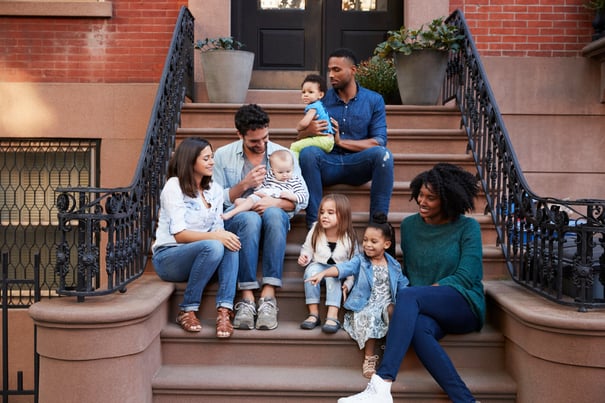 Enjoy Your City Parks and Recreation System
City parks offer a wealth of outdoor opportunity. Most have picnic tables and grills that require no reservation. Cities of all sizes offer summer programming for kids, often subsidized entirely through the park system's yearly budget. Also, does your city park system have a golf course? If you need a dose of well-manicured green space what better place than the links? Typically, you can drop-in any time for a round at public courses (no yearly membership needed) or to hit a bucket of balls at the driving range.
Parks also offer the green space needed to try out your larger yard games like cornhole or to set-up a friendly neighborhood game of kickball. You can lean on your local park system during sport seasons when the kids need extra practice at fielding, sprinting, free throws, or almost any other skill their coach favors.
A related option for backyard-style fitness is your city's trail system. Trail systems are great for burning off energy. Bring the kids and pets along for a walk, ride, or roll around town. You can plan ahead for the length of time you want to roam. It's not uncommon for city folks to fit in a leisurely mile after dinner. Most parents would agree that the extra round of exercise makes for an easier bedtime.
Plan Travel with Green Space in Mind
Get your backyard fix on your next vacation by renting a condo or cabin with a backyard. Airbnb is also a great option if you want to stretch out in your own space for a week or so.
Go camping. If backyard enjoyment were measured in parts-per-million, then a good three or four day camping trip will have your backyard rating measuring at delightfully high levels.
Keep Green Thumbs Busy
Growing plants indoors is a good year-round activity. Herb gardens take up very little space in the kitchen. If you have a porch, try potted tomato plants or other summer and seasonal vegetables. Rooftop gardens are also an option for some homeowners with flat roofs. Better Homes & Gardens offers some great tips for starting your first rooftop garden.
This next one is a bit of a wildcard, but it's one that my urban-dwelling family enjoys. Have your own butterfly release. You can order a butterfly kit online or purchase at stores like United Art & Education. Kids can help care for the "babies" (i.e. caterpillars). Then, after metamorphosis you get to release beautiful butterflies! It's fun and also a great way to add pollinators to your local environment.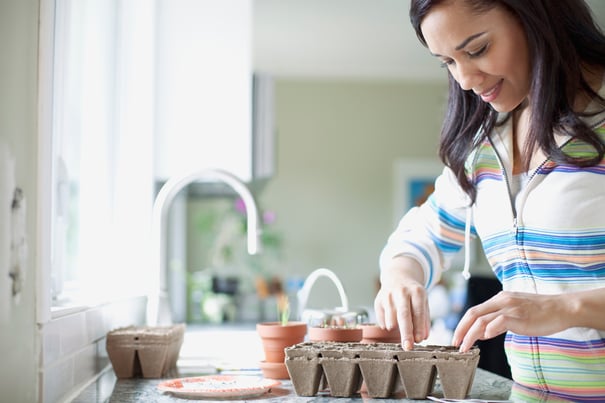 Get Into the Swing Of Things
Consider purchasing a stand-alone swing or tree swing. And we're not talking about your basic tire swing, although those still work fine if you can keep the mosquitos at bay. Today's yard backyard swings are easy to install and come in many styles and patterns. Stand-alone designs like the Outdoor Egg are widely available. Another trend in cities are pre-fabricated tree swings that are saucer-style and fun for all ages. All you really need is one swing, and you can take it with you if you ever move. (Try taking one of those giant wooden play houses with you. Most people just leave them behind!)
Enjoy City Life!
Once you get the ball rolling, it's easy to enjoy backyard-style activities without a big backyard. If you live in the city, things like gardening, fitness, nature, recreation, and a bustling social calendar are all within your reach.