If you're reading this, it's because you want to take the best possible care of your baby. Parenthood takes on a whole new set of stresses when your little one goes mobile. And you can't put your baby in a bubble. Or maybe you can but that's not what parenting is all about. As soon as babies get control of their arms and legs it's time to start setting boundaries…while still giving them room to explore. And unless Junior is a vocal prodigy with proper household etiquette., he or she probably won't ask permission before pulling candles off the table or touching an electrical outlet.
That's where babyproofing comes in handy. A handful of modifications to your home can up the safety factor while still allowing space for baby to grow and learn.
Eight Essentials
Here are eight essential steps to babyproofing. This list is not exhaustive, as every home is different, but it's a great start. And the first one comes directly from a new dad who just finished the babyproofing of his three-level, 90-year-old historic home. (Talk about a project!)
1. Install Plug Covers
"The first thing we focused on were the electrical outlets," said first-time dad, Matt Brita, "Plug covers came to mind right away when we started baby-proofing." Brita and his wife, Kaity, chose clear covers to avoid clashing with their wall colors. Manufacturers also market clear covers as uninteresting to babies (though that's up for debate as most things within view are interesting to babies). Plug covers are widely available at many retailers. Amazon.com offers a 12-pack for under $10.
2. Move the Breakables
Crawling babies are like little wizards that can magically make things fall off tables. It usually happens two seconds after you turn your back. Don't give them the opportunity to wreak havoc on the home! When you do your first round of baby-proofing, crawl around at baby's level to see what they see. If they can reach it, they can pull it down. Clear any breakable décor from lower surfaces and move potted plants up from the floor. Similarly, if you have furniture or art that could topple, move it to an area that's inaccessible or put it into storage.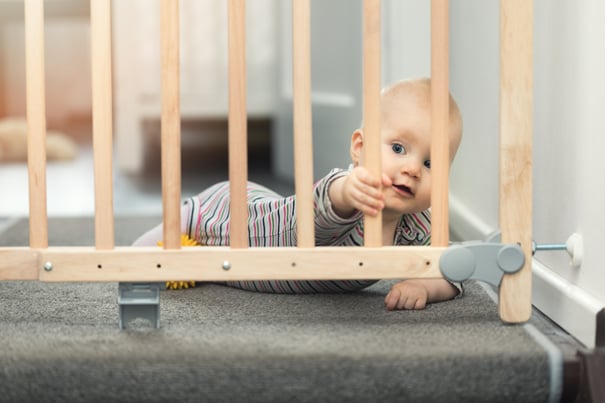 3. Position the Baby Gates
Most parents have a love/hate relationship with baby gates, but it's hard getting around them (Pun intended!) The most common spots for baby gates are at the top and bottom of stair cases and at the kitchen access points. Some parents put their "off-limits" items in a living room or side room and block-off the entire area with a baby gate. Similarly, many people prevent access to the kitchen for at least the first year that their little one is mobile. A gate at the bottom of the stairs can prevent your little tike from attempting the ascent until you're ready to supervise. Gates at the top of the stairs are also handy and should be carefully installed to prevent falls. Top-of-stair gates typically include a screw mount for added security. Baby gates should go up as soon as baby starts crawling, scooting, or otherwise moving from Point A to Point B without assistance. Check out Target.com for a synopsis of available styles.
4. Consider Cabinet Locks
If your baby or toddler has access to your kitchen and bathrooms, consider installing cabinet locks. They prevent little hands from opening cabinet doors but come with a movable latch that adults and older kids can still open.
5. Move the Dog Food
And the ferret food, cat food, water, litter box, etc. Anything that belongs to the pets doesn't belong in baby's mouth and that's exactly where they'll try to put it. Anyone under the age of 16 seems to think that the five-second rule applies to all food within their reach and anyone under 16 months will apply the five-second rule to dog food. If your pet needs to have their food served on the floor, move it to the other side of the baby gate or invest in a selective pet feeder like this one from Chewy.com.
6. Install Toilet Locks if Needed
Most people don't know these exist until after they have kids. Toilet locks increase safety and provide peace of mind if your little one has access to the bathroom.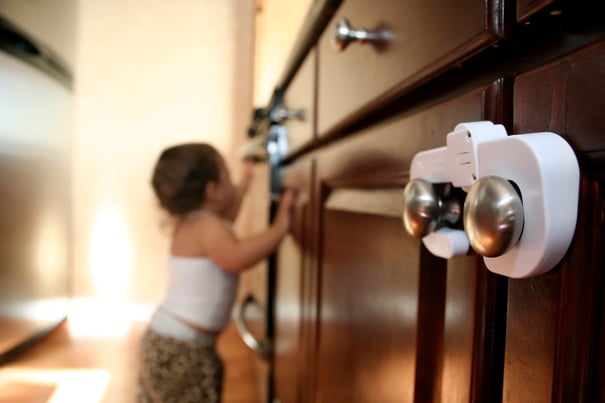 7. Inspect other Household Locks
Make sure that other things that lock are working properly. Windows, screen doors, storm doors, lawn storage bins, dishwashers, etc. should all have a functional safety lock.
8. Be Present
There's no substitute for parental diligence. We can babyproof until the cows come home, but ultimately, it's the caregiver's watchful eye that makes all the difference. The early years can be taxing on parents, but they go by fast. Pay attention during those first few years. Not only will you be keeping baby safe, but you'll be present during this precious and fleeting time. Your little buddy will grow up before you know it!
Babyproofing is well worth the effort. You'll get used to opening a gate before you go upstairs and spending a few extra seconds navigating the kitchen. In return, your baby will have a safer environment to explore and call home.
Read our Home Cleaning Guide to keep baby's environment safe and clean!