Back to main Blog

Tonya Dove
Life isn't about finding yourself. Life is about creating yourself. - George Bernard Shaw
This is a philosophy that Amy Maier and her team live by. Although Ruoff Home Mortgage serves homebuyers nationwide, local branches, such as the team in Ann Arbor, Michigan pride themselves in doing their part to make their communities a better place.
Read on to learn about the many unique and quirky talents held by the members of this team...you'll love it!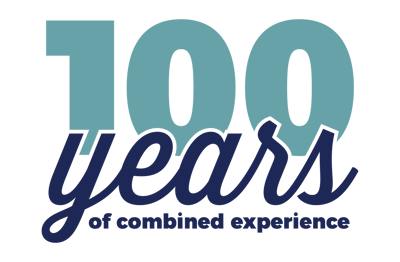 You may know that Ruoff Home Mortgage began serving the Ann Arbor area in August of 2017. You may or may not be surprised that this eclectic team of professionals has a combined 100 years of mortgage industry experience!
But did you know that collectively, the Ann Arbor Branch is involved in the Chamber of Commerce for both Belleville and Ann Arbor/Ypsilanti, BRAG, Masterminds, American Cancer Society, Knights of Columbus, Golf Association of Michigan, WXW for women in business, Lions Club and more?
Their customer service philosophy: treat every customer with respect and make their experience as stress free as possible.
The Ann Arbor branch sponsors activities such as the Parade of Homes, Home and Garden Show, and networking events with other local businesses. They also sponsor a variety of charity golf outings and other community events. They recently traveled to Ruoff Headquarters Fort Wayne for the Shepherd's House fundraisers where they helped raised $50,000 to help house our Vets in need.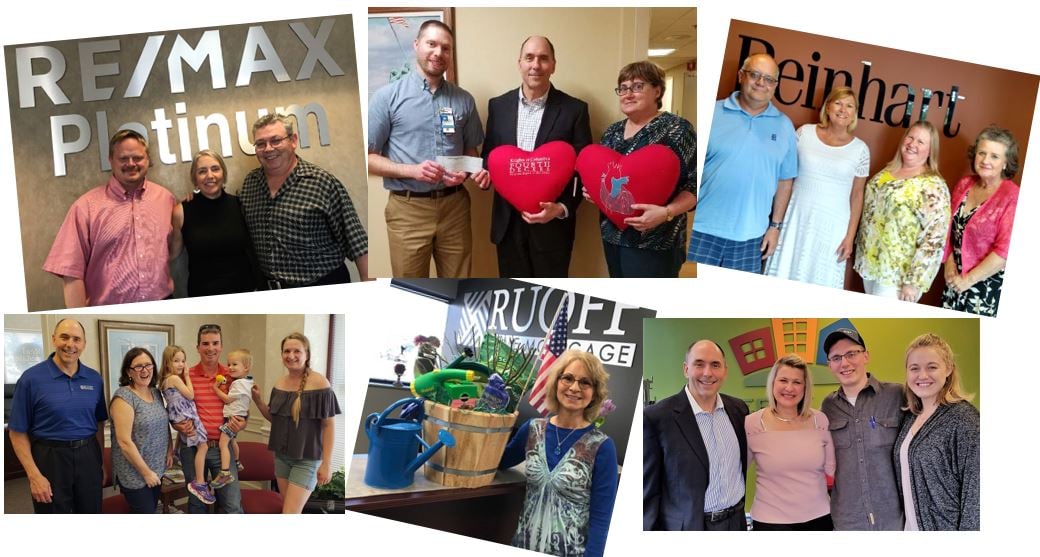 What you probably DON'T know
about Ruoff's Ann Arbor Team: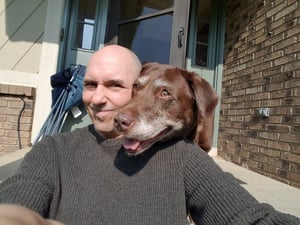 Ray Singer - Senior Loan Officer
Ray's secret is that he's played nationally competitive Ultimate Frisbee for more than 10 years on teams "Coffee and Donuts" and "The Night Train." His wife, Dede was a National and World Champion with the "Fish Heads." She was nominated to the Hall of Fame in 2016. Ray and Dede are both MSU grads.
Ray is the Faithful Navigator of the 4th Degree Knights of Columbus (Patriotic Degree) and directed and engaged 11 Councils in Washtenaw County to support the Heart Pillow program for the Ann Arbor VA. Vets that have had heart surgery are comforted from the pain of coughing by hugging the heart pillow. Ray was personally responsible for raising $3,000 to purchase 200 heart pillows for the VA. They received a Civic Award for the spirit of patriotism and national pride. Featured here with his faithful chocolate lab, Cocoa Bella.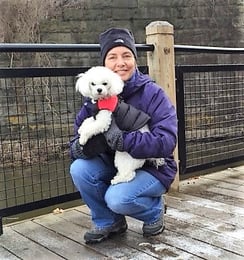 Amy Maier - VP, Branch Manager Amy Maier

Amy's secret talent is table tennis. She played competitively as a youngster, traveling with her brother to tournaments and training camps. Her coach, Del Sweeris, was the player who they superimposed with Forest Gump against the Chinese for the movie filming. Amy is also a golf enthusiast and plays with her friends and co-workers any chance she gets.
Amy is a proud member of both Builders & Remodelers Association of Greater Ann Arbor (BRAG) and The Veterans Advocacy & Benefits Association (VABA). Featured here with Buddy, her walking partner.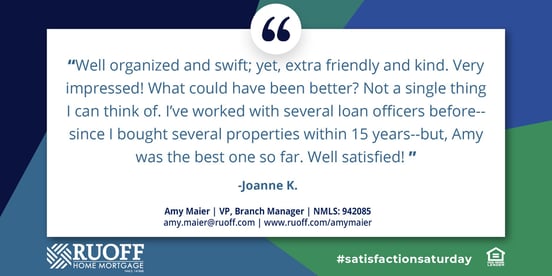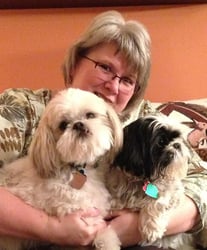 Anne DeHaan - Administrative Assistant
Anne is a rock and roll enthusiast. She and her husband, Doug, have attended hundreds of concerts together. She is a HUGE Led Zepplin fan. She also loves RUSH, Fleetwood Mac, Bob Seeger, Eric Clapton and last, but not least, Stevie Ray Vaughn. Right now, Greta Van Fleet from Frankenmuth, Michigan, is the new band Anne and Doug are following.
Anne attended Western Michigan University and she still loves tailgating and attending a good game! Featured here with pups Teddy and Fenway.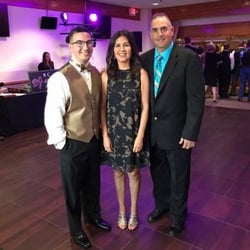 Josh Matigian - Loan Officer Assistant
Alan Robbins describes Josh best, "Josh is the quiet superstar, he scores touchdowns then hands the ball to the ref. He is our Barry Sanders of the office."
Josh is also a big daily fantasy sports guy and an avid golfer. Frequently, between files, he will discuss swing mechanics and golf rounds. Josh has a fun group of friends who love to hang out at sporting events and a variety of other entertaining activities. Featured here with his parents.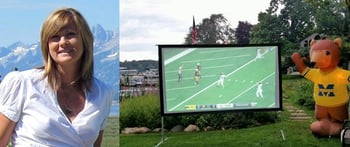 Mary Frisinger - Senior Loan Officer
Mary has practiced ballet since she was a young girl with the same teacher. She continues to dance once a week. She was born in Ann Arbor so her roots are deep in the local area. She attended Eastern Michigan University, but is also a U of M fan and mentioned she's been attending games since back in the day when they sold KOOL cigarettes! Like her co-workers, Mary also plays golf and hopes to find more time to play a few rounds.
Throughout the years, Mary has been involved with Making Strides against Breast Cancer, that raises money for cancer research through the Karmanos Institute and the American Cancer Society as a whole. She attended the kick-off breakfasts and formed teams for the annual walk. For years, the walk started at the Big House and went right down to the center of Ann Arbor. Mary said that listening to the stories of the survivors, and their loved ones has been inspiring to say the least. "October is awareness month-think PINK!" Featured here with one of her favorite memories that combines her love of Michigan Wolverines and the love of the outdoors.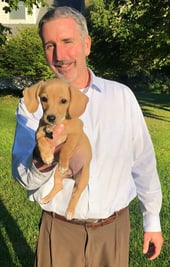 Alan Robbins - Senior Loan Officer
Alan and his wife, Robyn, are opening a bakery in Milan called, "Life is Sweet." He is better known as "Chef Al" to his friends. Al is an athlete and was a college pitcher and went up against Orel Hershiser at the age of 19 and beat him.
Currently, Alan is a member of the Belleville Area Lions Club, The Lions Club cause's include diabetes, environment, hunger, childhood cancer, and vision. They are well known for their Leo Club Program, the Leo clubs provide young people with an opportunity for development and contribution, individually and collectively. They recently provided free vision screening at the Belleville Library, and also provide vision screening at the world famous Strawberry Festival in Belleville Michigan. A very fine and committed organization for sure. Featured here with his Dachsund, Penelope.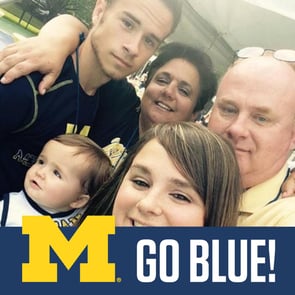 Teri Marshall – SVP, Area Manager
Teri loves entertaining and cooking. She always has a big houseful for holidays and football games. The family likes to play charades and euchre in front of her fireplace at home. She is an avid gardener with her back and front yard full of Asiatic lilies, delphiniums, hydrangeas and gazanias.
Teri is also a lifetime member of the Ann Arbor Jaycees, a Past President and a past Michigan JCI and National JCI Officer, who builds leaders through community involvement. She started the Ann Arbor Jaycees Foundation, which gives to charitable cause in their community. They have done the Fourth of July Parade and the Summer Carnival for around 30 years. Teri was Chair of the Board of Trustees for her church, Ypsilanti United Methodist, and started the campaign to replace their pews and carpet, and put in hearing electronics for their hearing impaired parishioners. Teri was involved with the PTA in her community and helped the merger of two middle schools. Featured here with her awesome, Michigan-loving family.
"I love working with the team at the Ann Arbor branch for Ruoff home Mortgage. Most of us have crossed paths in the past and have worked in this market for some time, so we are familiar with many of the same referral agents…this has allowed us to build our Ruoff brand together and quickly gain a great reputation around town! It's an energetic group and we have fun while we build our branch!" -Ray Singer, Senior Loan Officer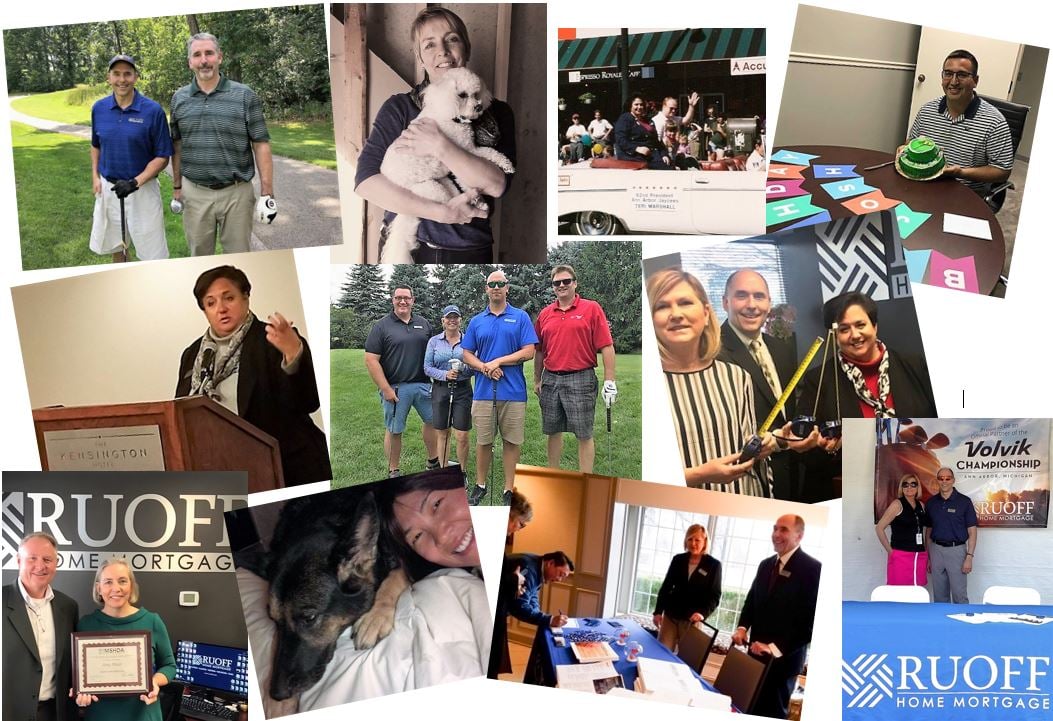 The Ann Arbor team believes that the purchase of a new home is a major decision and should be treated as such. They strive to make this decision as easy as possible for each client by being honest and trustworthy, along with communicating frequently, all while offering you sound and reliable service.
They're proud to be a part of Ruoff Home Mortgage, because they are locally owned and offer great choices for all of your lending needs. The branch offers a very wide variety of lending programs through FHA, VA, USDA, and conventional lending.
Ruoff also keeps everything in-house. Once you begin the loan process, your file will be processed and underwritten by a Ruoff employee. This saves you from added headaches and stress, and most importantly saves you time and money. Contact the Ann Arbor team now so they can help you purchase your dream home, or save money by refinancing your existing loan!
Connect with the Ann Arbor Team today by visiting their website or following them on Facebook!

Join the Ann Arbor team for their upcoming Tailgate Lunch!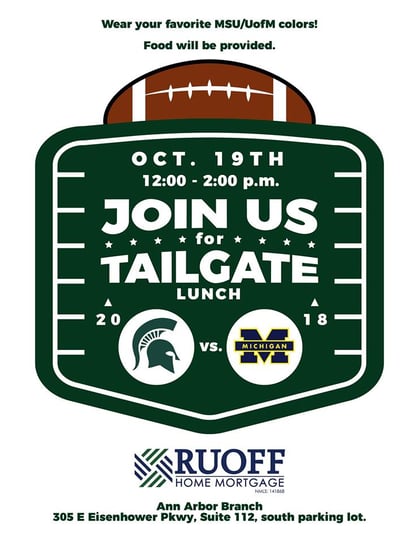 Want to know how Ruoff makes home finance easy?
Check out RETRO IS IN STYLE, UNLESS WE'RE TALKING HOME FINANCING.