You've likely heard the term "curb appeal." Contrary to those HGTV shows, you don't have to invest thousands of dollars in time-consuming projects to get some bang for your buck. Small-scale projects can still make an impression. For example, a DIY mailbox can give you the wow factor you're looking for, without spending a lot of money. Following are a few ideas from bloggers that can make for an easy weekend project:
Easy DIY Faux Copper Mailbox
You can get the look of copper for less with a can of metallic paint and an artistic touch. Sand & Sisal shows you how here.
DIY Pallet Letterbox

The rustic look has dominated everything from weddings to living room decor over the past few years and it's easy to see why it has such a wide appeal. Transform an ordinary pallet into a conversation piece with this easy tutorial from On a Crafty Adventure.
Mailbox Makeover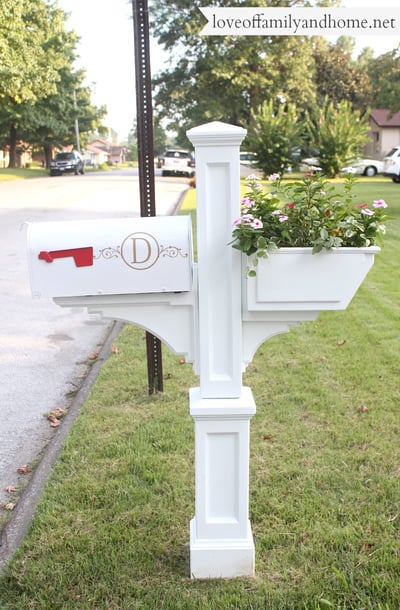 White is an elegant color and a complement to any style or exterior material. This project is basically a slipcover for your mailbox. A trip to the hardware store and less than an hour of your time and you're set! This blogger shows you how it's done in her tutorial.
Monogrammed Mailbox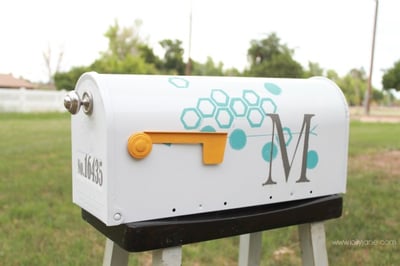 Take your mailbox from drab to fab with this project from the Lolly Jane blog. It's a great way to add your own special touch to an ordinary item. Why have a plain mailbox when you can have a monogrammed one?
Modern Mailbox DIY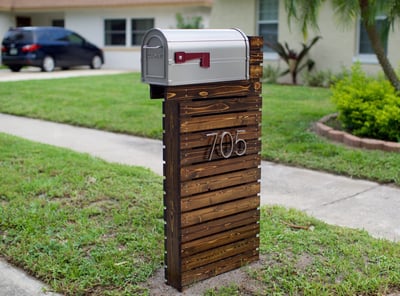 Are you up for some carpentry? This project is a bit more involved than the others, but the end result is attention-grabbing and money-saving. (You can buy these mailboxes online for around $250 or build this one yourself for less than $50.)
DIY House Mailbox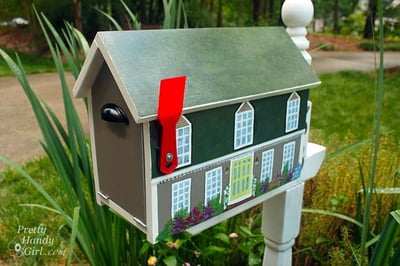 This blogger captured the essence of her house in a custom mailbox. Talk about adorable and an opportunity to flex your fine art muscles. The neighbors will be jealous of your mad skills!
Hungry for more eye candy? Add some flowers and plants around the mailbox, to command attention. Better Homes & Gardens shows you how to design a mailbox garden perfect for your space.
Also, a few words of caution. If you intend to do any digging on your property for this project, you must call 811 to find out where utility lines are buried on your property. (Because if you accidentally damage a utility line, you could hurt yourself and you could be fined.)
Also, not all mailboxes are created equally in the eyes of the U.S. Postal Service. You have to comply with regulations regarding design/construction, placement, installation. etc. A mailbox with the Postmaster General's (PMG) seal of approval meets USPS size and construction standards. If you build your own mailbox or buy a custom-made one, it must meet the PMG standards. Show your local postmaster your mailbox plans or your custom-made box for approval. To get drawings and measurements for building your own mailbox, write to US Postal Service Engineering.