On the shores of Lake Michigan, St. Joseph boasts sandy beaches, breathtaking lighthouses, and a great group of loan officers who are committed to helping people purchase their homes. This is a group of community-minded loan officers that fight hard to get their clients achieve their homeownership goals.
THE COMMUNITY
The St. Joe branch is heavily involved in the community, and participates in many local not-for-profit projects. The team picks up trash on the local beaches (Cherry Beach, Tiscornia Beach, Silver Beach, and South Haven Beach) all along the Lake Michigan shoreline.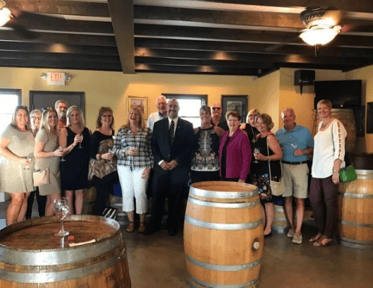 They support Suitcases for Kids, which collects filled-to-the-brim backpacks and personal care items for underprivileged kids in the area. Last year, they hosted their first annual Sips for Suitcases event to raise money for the charity. They raised almost $500 and had a blast at Lemon Creek Winery.
THE TEAM
Frank Noble rings the bell for the Salvation Army at his local grocery store every year, and he and his wife deliver food and gifts to needy families in their area. He picks up trash at the local Rotary Club a couple times a year, too.
Joy Cluff is an immigrant from the Philippines who moved to the US by herself as a teenager. She is the newest member of the team, but is a definite go-getter! She is on the local Habitat for Humanity board, and helps to build homes in the Benton Harbor area.
Linda Radtke started her journey into the field as a Realtor before getting into the mortgage business 12 years ago. She has been in the mortgage business for 40 years, and has worked to create solid relationships with her clients.
Lyn MacCarty is a member of a group called "Knitting Hearts Together" who provide handmade items and visit with anyone in the area who are in need of comfort due to death of a loved one, facing major medical challenges, or other similar life events. She and Frank have worked together for over 20 years.
To the LOs at the St. Joe branch, their clients are their priority. They are about making customers for life, not just focused on getting the deal.