Is your home ready for the market? Homebuyers are nearly always viewing homes online these days, so it's important to nail that first impression. Besides, adding curb appeal will increase your home's value which means you can raise your sale price. According to a study done by REALTORS®, by increasing your home's curb appeal, you could see a return of up to 267% on your investment. What are you waiting for? Here are 6 DIY updates you can make to increase your curb appeal.
Update Your Address Sign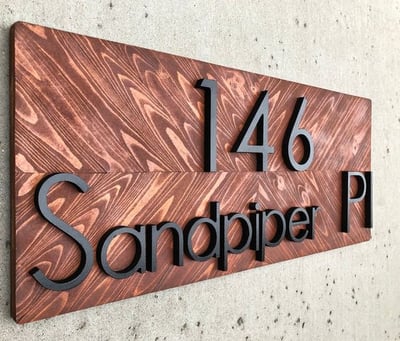 Bring some life and charm to your home address sign. This is usually a one-day DIY project, and can really make your home pop. We wrote a blog post about some of the coolest signs we've seen. You can have a sign custom-made for you, or you can roll up your sleeves and grab your paintbrushes. These signs are especially appealing when you use matching or complementary colors that already exist on the outside of your home. For instance, if you paint your door in a bright, fun color, give your address sign the same treatment! They'll look great together.
Put in Window Box Planters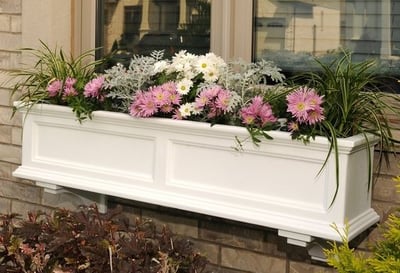 As you can imagine, building a window box is as easy as it looks! In just an afternoon, you can cut, construct, paint, and fill a box planter for your home. Experts in gardening will remind you to drill holes in the bottom of your box to allow for water drainage and to choose a potting soil over typical garden soil so that the plants' roots can burrow easier. Seasonal annuals are easiest to grow in the boxes and will take less upkeep over time than perennials which will need weeded year after year. Annuals are also less expensive, and most of them come already bloomed when you purchase them.
Add Lighting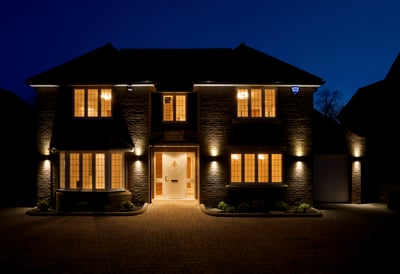 Lights create an instant atmosphere for your home, inside or out. Homes that are well-lit outside at night are much more attractive than homes that hide in the shadows. While porch lights are used the most often, don't stop there! Place lights in your landscaping to light up your home or gorgeous garden after the sun goes down. Well-lit homes look particularly striking at night and make for a great photo for your online listing. One new trend is to hang string lights under the roof of your porch for a fun, quirky look.
Paint Your Door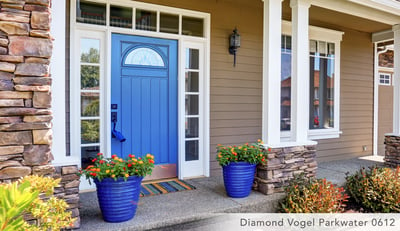 Front doors don't have to be boring! Let your personality shine through the color you choose for your front door. Bright colors that work well with your home's external color is becoming very popular. The most common colors are red, teal, blue, and yellow. If your home is made of brick, or you're worried that your new door won't match your home's siding, go ahead and paint your shutters the same color. Instant curb appeal.
Paint or Stain Your Porch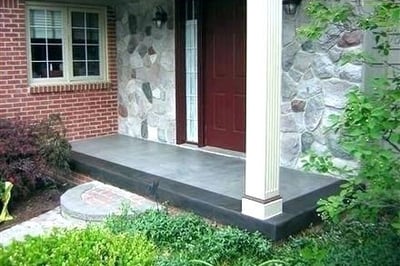 Concrete patios get old. They fade and they crack. Instead of going into the long and tedious (and expensive!) process of breaking up your concrete porch and pouring a new one, why not refresh it with a little paint or concrete stain? You will get a unique feel to your patio or porch, and boost up your home's curb appeal as well. It's important to pick the best paint and stain for your new front porch, though. Some are better than others at lasting outdoors.
Apply a Stone Facade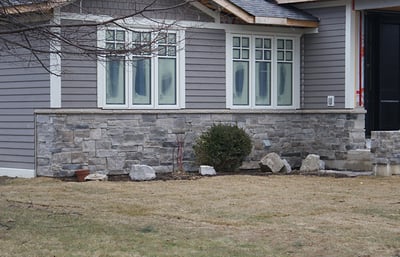 One way to make your home look instantly more expensive is to add a stone veneer along your foundation or other key areas on the exterior of your home. This is a bit of a project, but it can be finished in a day depending on the size of the area you'd like to cover. Stone veneer comes in all shapes and sizes from brick to river rock and everything in between. Stacked, horizontal stones look best on your home's foundation, especially if the rest of the house has siding. Even with different materials and textures, both flow the same way. Don't limit yourself to the foundation, either! Stone looks great on porch columns as well.
Homes with curb appeal always sell faster than homes without. First impressions matter, so if you're looking to sell, using some of these ideas will definitely help you out.