Back to main Blog

Courtney Christensen
If there is one piece of home decor that is most often overlooked, it would be your home's address sign. It's small, innocuous, and a simple necessity. Most homeowners don't think of changing things up, but we hope this post gives you some inspiration for improving your own address sign. It's a great way to add curb appeal, and a great weekend DIY project.
Add Some Plants

1. Adding greenery or flowers to your home address sign is a great way to liven things up. This project involves attaching a small container onto the sign which allows the homeowners to place low maintenance plants. If you need something with even less maintenance, use fake plants. You could change them out seasonally, too.
2. Larger potted plants also work well with front porch decorations. The farmhouse-inspired project above uses a large metal milk can as a base. Because the home address is painted on a porch decoration, it is easy to work it into your seasonal decoration rotation. Just switch out the plants anytime you feel like a change.
Bring It Out Front

3. Switch things up by bringing the signs out into your front yard and add your address number to a light post. Above is a charming hanging number sign. It's in black and white to complement the matching light. Keeping colors neutral makes it easier to match with your home's color and your outdoor decorations.
4. If you don't have a light post in your front yard, you can add a simple post to your landscaping. It's an easy enough project, and all of the materials can be purchased at your local hardware store. Large, bold numbers will help your address stand out.
5. For a more charismatic decoration, use a piece of found treasure to display your home number. A bit of weathered paint and a cheery font will give this project a homey feel. Putting this in your front yard will improve your curb appeal tenfold.
Use a Little Paint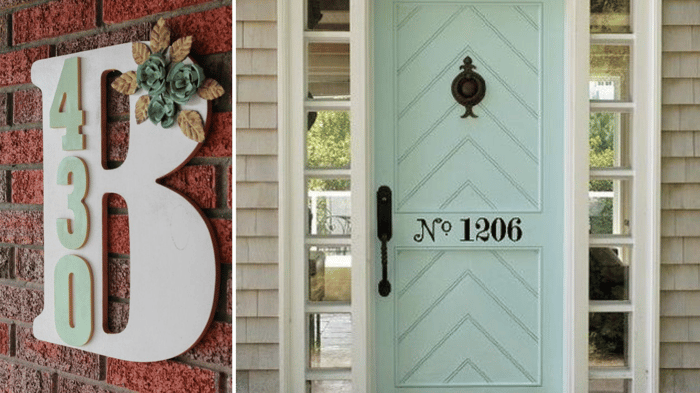 6. Make a statement with a big bold letter and a little paint. This project is so easy to throw together. The large letter and numbers can be found at your local craft store, as well as any accessories you want to add. This is a great way to pull colors from your front door or shutters to create a complementary look.
7. Go bolder still with a bright front door. Painting front doors is a wonderful way to make your home stand out without being ostentatious. Bring even more attention to your door by painting on your home address. The black lettering on this soft mint door is flawlessly chic.
Make It Organic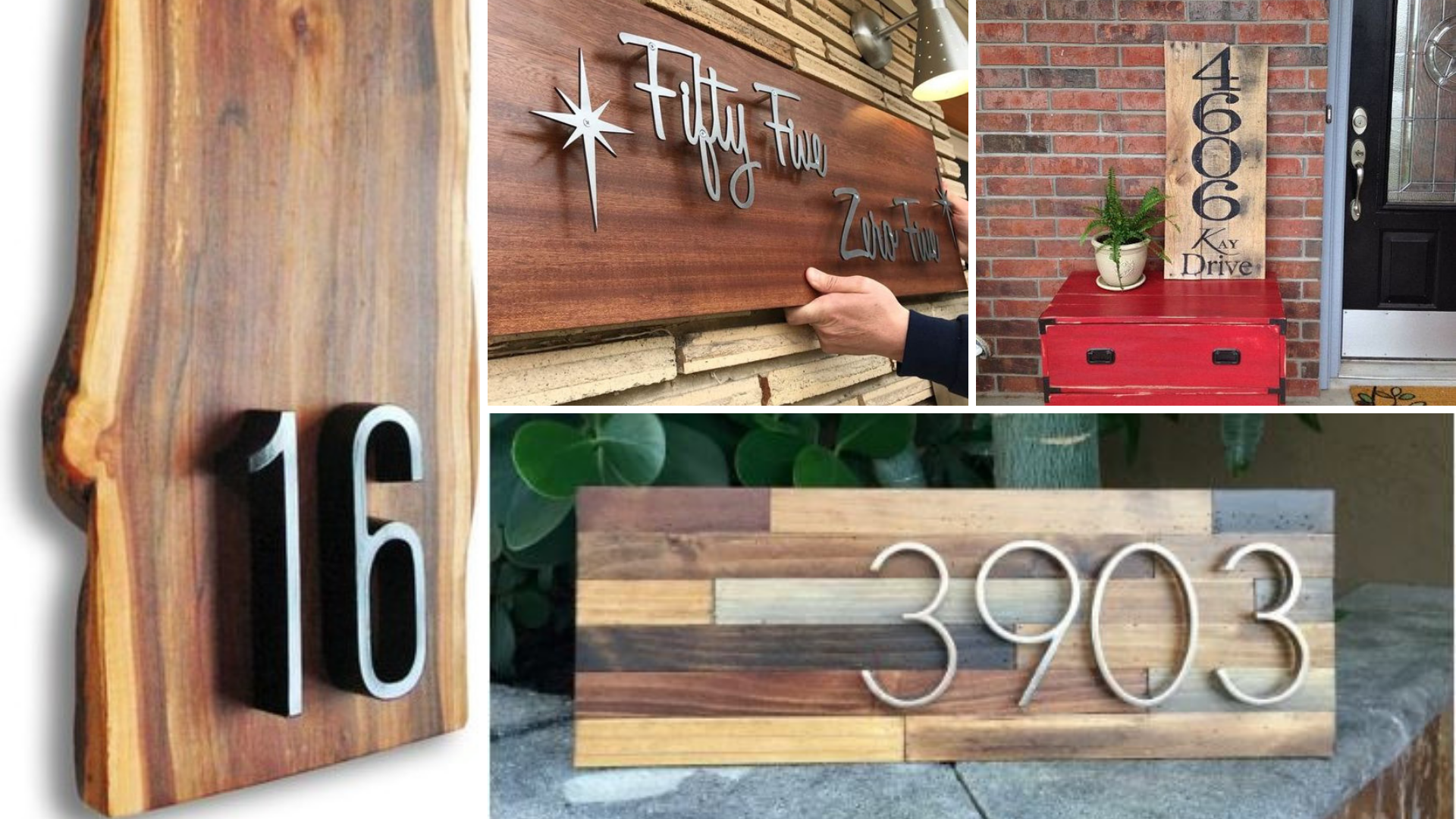 8. The mix of organic materials like wood and metal creates a very trendy industrial rustic style. They are the perfect pair. By sanding and sealing a piece of live-edge wood, you can expand on the rustic look. It will make your address sign one-of-a-kind.
9. Why not step out of the home address box and fully write out your home numbers? The sign above is delightfully vintage and reminiscent of The Jetsons. The mid-century modern tone is a perfect addition to a home built in this era. This would be easy to recreate in paint, as well.
10. Porch signs are at the top of the DIY farmhouse chic checklist. All you need to do this project is a long slab of wood (the bigger it is, the better!) and some paint! You can even add your street's name like the example above. Once dried and sealed, prop up your sign on your front porch. Just remember to lay it down during rough weather so it doesn't topple over!
11. Use the excess pieces of wood to make a fun new address sign from a project you are currently working on. Create interest by layering together different shades of stain. This project is easy to make, and one of the cheapest DIY projects on this list since it uses materials you already have at home.
Get a Vintage Vibe
12. Want a slightly different vintage feel? Switch out the wood and metal for colored glass! If you're a pro, create a beautiful stained-glass window design for your home address like the one above. Of course, this does take special tools and a lot of patience!
13. Make something similar with cut glass and mortar. Putting together a cut glass sign is surprisingly relaxing – the pieces fit together like a puzzle. The designs are endless, too, so you can make a sign that will look great attached to your house or posted in your garden.
When you're amping up your curb appeal, don't forget about your home address sign! Boring letters lined up in a row above your garage door or screwed to the siding are a thing of the past. This is one trend that isn't going away anytime soon!