Back to main Blog

Brittany Halferty
Brittany Halferty
This afternoon, we learned that we have once again made the list of Inc. 5000 Fastest Growing Private Companies in America. Read the message Mark Music, President and CEO, has to share with the Ruoff Community:
"Let me start out by saying I am both humbled and elated with this announcement. In fact, I can throw in a few more adjectives that express my emotions today…proud, honored, validated, bewildered, amazed, and motivated. When I took over Ruoff Home Mortgage 11 years ago, I had a vision that I could grow this company to something much bigger…with honestly the hopes that it would just be a name people recognized throughout the state of Indiana. Little did I know (well, maybe deep down in the back of my head I knew) that this company would grow not only in depth and breadth, but that we would be nationally recognized year after year as one of the best.
But perhaps the greatest honor of them all is being recognized on the Inc. 5000 Fastest Growing Private Companies in America list. And I am proud to announce that we join a very elite group of companies that have made this prestigious list SIX YEARS IN A ROW!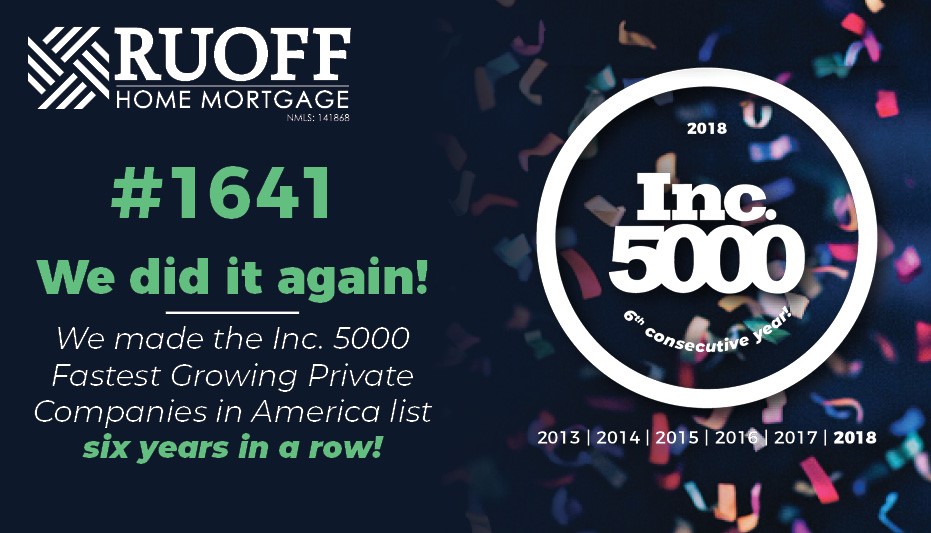 But this accolade isn't about me…it's about all of you. And I am so proud of the accomplishments each of you have contributed to the success of Ruoff Home Mortgage. This award, and all of the past recognitions we have seen, are a testament to your dedication as an employee and your commitment to excellent service to our customers. And for that, I applaud you!
So where do we grow from here? As exciting as it is to think about the future, I want your mission to be focused on Today…Not Tomorrow (TNT).
"There isn't a single thing in this world that's made better by starting tomorrow. Everything you care about, everything you are about, needs to begin today or it may never happen." - Julien Smith
I couldn't agree more. To get to where we want to go tomorrow, we need to focus 100% on today. Every day. Join me in our TNT movement. Proudly wear the blue wristband. It's now or never."
Mark Music
President and CEO
Ruoff Home Mortgage