Back to main Blog

Tonya Dove
Although Ruoff Home Mortgage serves homebuyers nationwide, our local branches, such as our team in Lafayette, Indiana pride themselves in doing their part to make their communities a better place.
com·mu·ni·ty
1. a group of people living in the same place or having a particular characteristic in common.
2. a feeling of fellowship with others, as a result of sharing common attitudes, interests, and goals.

VP, Branch Manager, Eric Cox and his talented staff, not only go above and beyond to help their neighbors reach their homeownership goals, they also volunteer their time and resources to several local organizations within their community.
Touching Hearts and Souls
The entire Ruoff Home Mortgage Lafayette Team have been active with Lafayette Transitional Housing Center.
LTHC Homeless Services is a non-profit organization which began in 1989 to develop housing, offer supportive services, and other opportunities to foster self-sufficiency for the homeless, particularly families with children, in our community. Rene Mullen from Ruoff's Lafayette branch proudly coordinates their involvement with the Transitional Housing Center.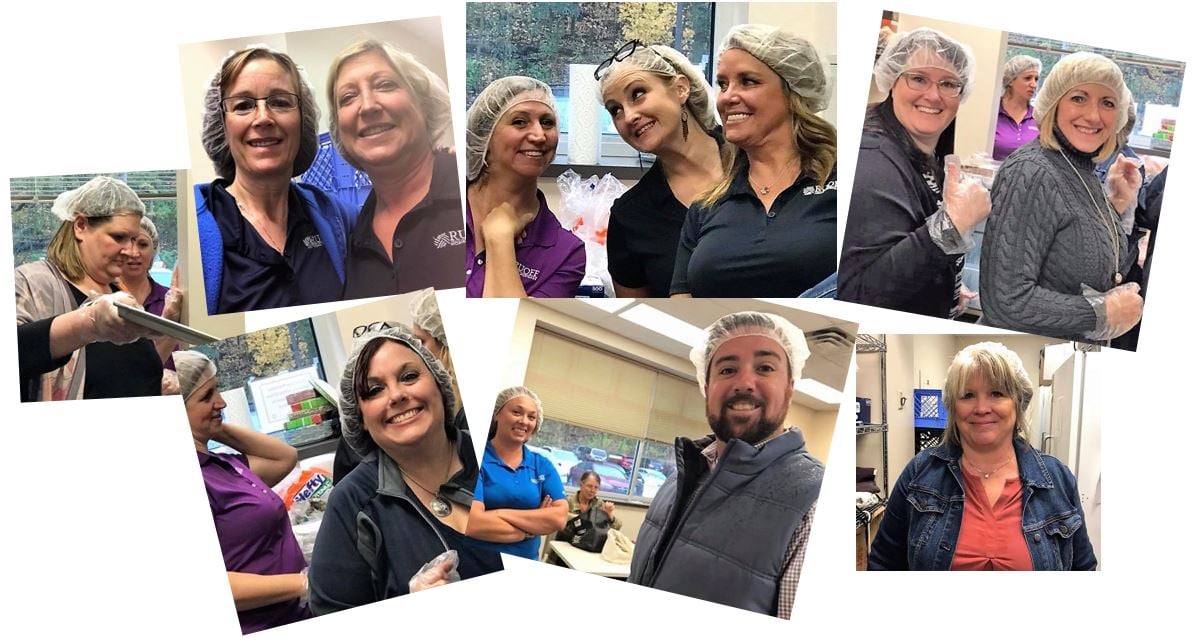 The Ruoff team feels honored to be able to give back to the community through participating in the LTHC monthly prayer list by purchasing, preparing, and serving lunch every month. "It touched the heart and soul of all of us to share in something as great as a branch family," said team member, Julianne Brown.
Team Ruoff also participated in the 15th Annual LTHC Bingo and Auction Extravaganza fundraiser
The Lafayette branch was happy to work together to make a difference by adopting a family of four at Christmas last year through LTHC.
Ruoff's Lafayette Branch also participates in the following community events:
· Since 2010 they have been involved with Light the Night walk to raise funds for the Leukemia and Lymphoma Society and have helped raised over $75,000. Join Ashley Manges and her team at ANGELS IN THE OUTFIELD.
· The branch coordinated a coat drive for the Salvation Army and collected and donated a trunk full of coats.
· Staff is also involved with the upcoming Boone County MIBOR Realtor's Association Golf Tournament, as a lunch sponsor to raise funds for local non-profits.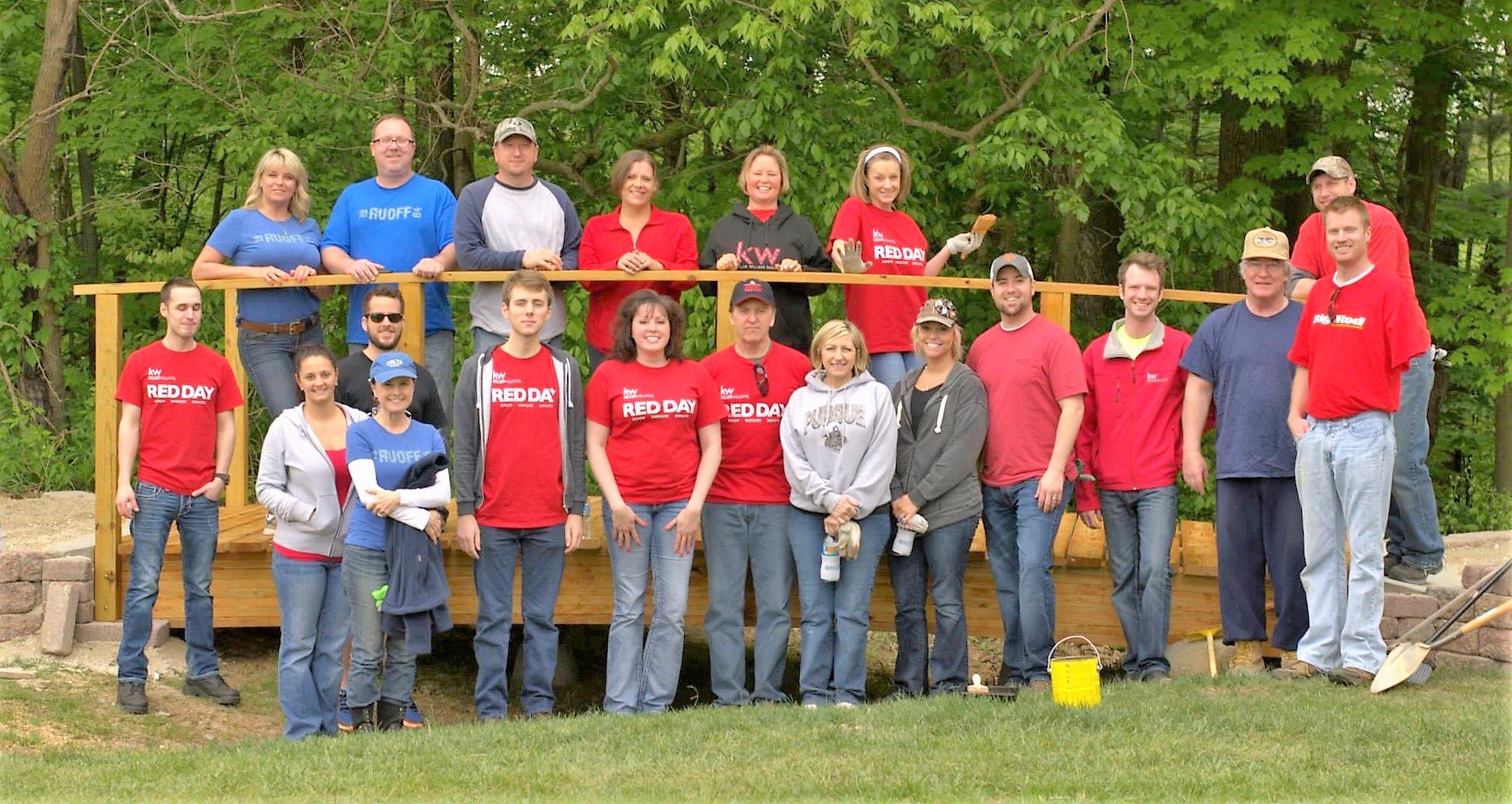 Ruoff's Lafayette team also enjoys hosting real estate agent and builder events to build and strengthen their relationships. This past June, they held a Realtor Pit Stop BBQ Cookout event to thank their community partners. This fun day included Lender Trivia and Ruoff sponsored Indy 500 photo-ops! Staffer Ashley Elkins said the group also loves coming together for bowling and other networking and community engagements.
What Their Clients Have to Say
With a combined 160+ years of experience, Ruoff's Lafayette branch provides a wide variety of opportunities for first-time and repeat homebuyers, as well as those interested in refinancing their current homes. They pride themselves in getting to know each client and their needs.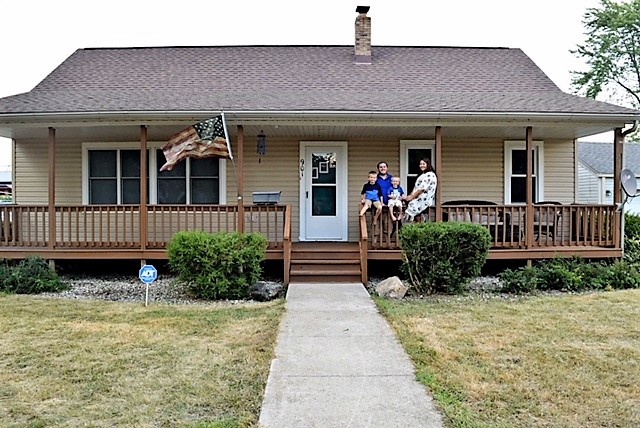 Here's what some of their clients are saying:
"As a first-time homebuyer I had the best experience with her and Ruoff. Everything moved along so quick and easily! I have heard horror stories from people about other companies, but that was certainly not my experience. Sheila helped us to determine the best type of loan for us and assisted us in knowing what we would need for the loan. She was VERY knowledgeable. Honestly, I could not have asked for any better! So happy with my experience and would recommend her and Ruoff to anyone!" - C. Gibson
"I appreciated all the help with questions. Eric answered me right away and helped me a lot. This was the first home I bought by myself. He and Kelsey were very helpful. Couldn't have done it without them." – R. Meacham
"Everything with Jason Everette was exceeding my expectations. He was very helpful in the entire process. I will strongly recommend him to anyone I know who is searching for a home loan." - J. Hancock
"The team was super responsive whenever we had questions about the process and was very patient with us as first-time homebuyers. I loved the update e-mails that are sent out to everyone involved, they kept us all on the same page and in the loop on where we were in the process." – E. Bear

The Lafayette Team has Big Goals
1) Be the #1 mortgage lending team in their market
2) Make it on the list of the top three Ruoff branches in total loans
3) Every team member scores 99% or higher for their customer satisfaction rating
4) Combined average of six loans per loan officer each month for 2018
5) Help 100 applicants a month
6) Win the Old Oaken Bucket branch rivalry with the Bloomington Branch (Go, Boilermakers!)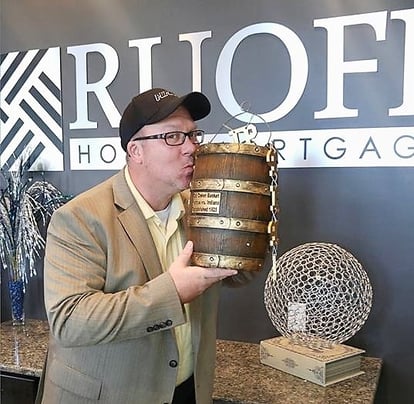 Our Lafayette branch prides themselves on their performance and dedication to their community, friends, and family! They call themselves the Dream Team and in that, they are confident in each team member and the team that they have built.
Ruoff's Lafayette branch also welcomes growth and new, experienced team members. Laura Mullen, team member shares, "As the new kid on the block, the one thing I'd like to share is related to the office environment. Everyone here is a dynamic combination of welcoming, knowledgeable, helpful, funny, and above all passionate about customer service and closing mortgage loans. It's a great team, and I'm happy to be a part of it."
"We genuinely appreciate and depend on each other for knowledge, support, and guidance. We celebrate everything together! We celebrate birthdays, accomplishments, goals and achievements and we support each other in the hard times, as well. We encourage one another in all aspects of life." - Ruoff Lafayette Team
Connect with the Lafayette Team today by visiting their website or following them on Facebook!