It's summer! That means it's time to dust off your grill and brandish your barbecuing tools. Usually, a BBQ isn't complete without hot dogs, burgers, or steaks on the grill. You can find millions of recipes for the "best ever" grilled chicken. Give your tired taste buds a break and get creative!
There is a world of delicious grilling recipes that don't use any meat at all! Bring that classic smoke flavor to your table by trying something new. Whether you grill an entire meal, just a side dish, or even dessert, you won't be disappointed with these meatless grilling recipes.
Healthy Grilled Sweet Potato Nachos
By Pinch of Yum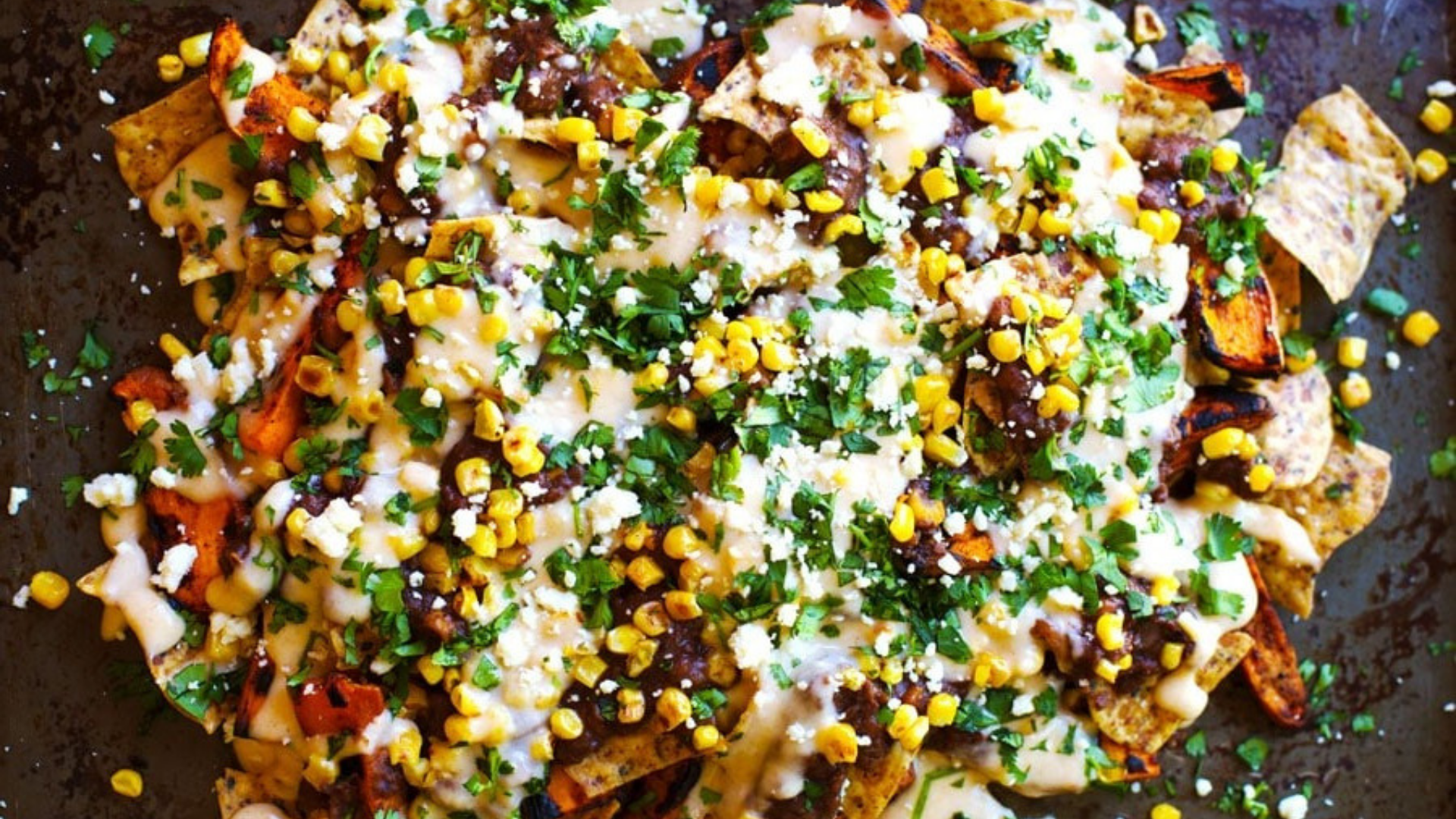 Serves 6
2 large sweet potatoes
1 tsp each chili powder and cumin
1 14 oz can refried beans
1 cup frozen sweet corn
3 oz tortilla chips
½ tsp butter

1 large clove garlic, minced
2 tbsp flour
1 ½ cups milk
½ cup shredded cheese
Salt to taste
Turn the grill on to medium high heat. Pierce washed sweet potatoes with a fork. Wrap potatoes in a paper towel and microwave for 4 minutes. Let them cool off, then cut potatoes into wedges and toss with olive oil, chili powder, and cumin (salt and pepper to taste). Transfer sweet potatoes to the hot grill and cook for a few minutes on each side until roasty.
Meanwhile, heat the refried beans on the stove until warmed through and roast the corn in a dry nonstick skillet until golden brown. On a large platter, arrange the chips in a single layer. Top with sweet potato wedges, beans, and corn.
Cheese sauce topping: Melt butter in a small saucepan. Add the garlic and saute for 1-2 minutes. Add ¾ cup milk and heat until simmering. Whisk the remaining milk with the flour; add to saucepan and stir until smooth and thick. Remove from heat and whisk in the salt and the cheese until melted. Drizzle over the nachos and top with cilantro and shredded cheese.
For more about this recipe, visit Pinch of Yum.
Grilled Caprese Skewers with Halloumi and Sourdough
By Erin McDowell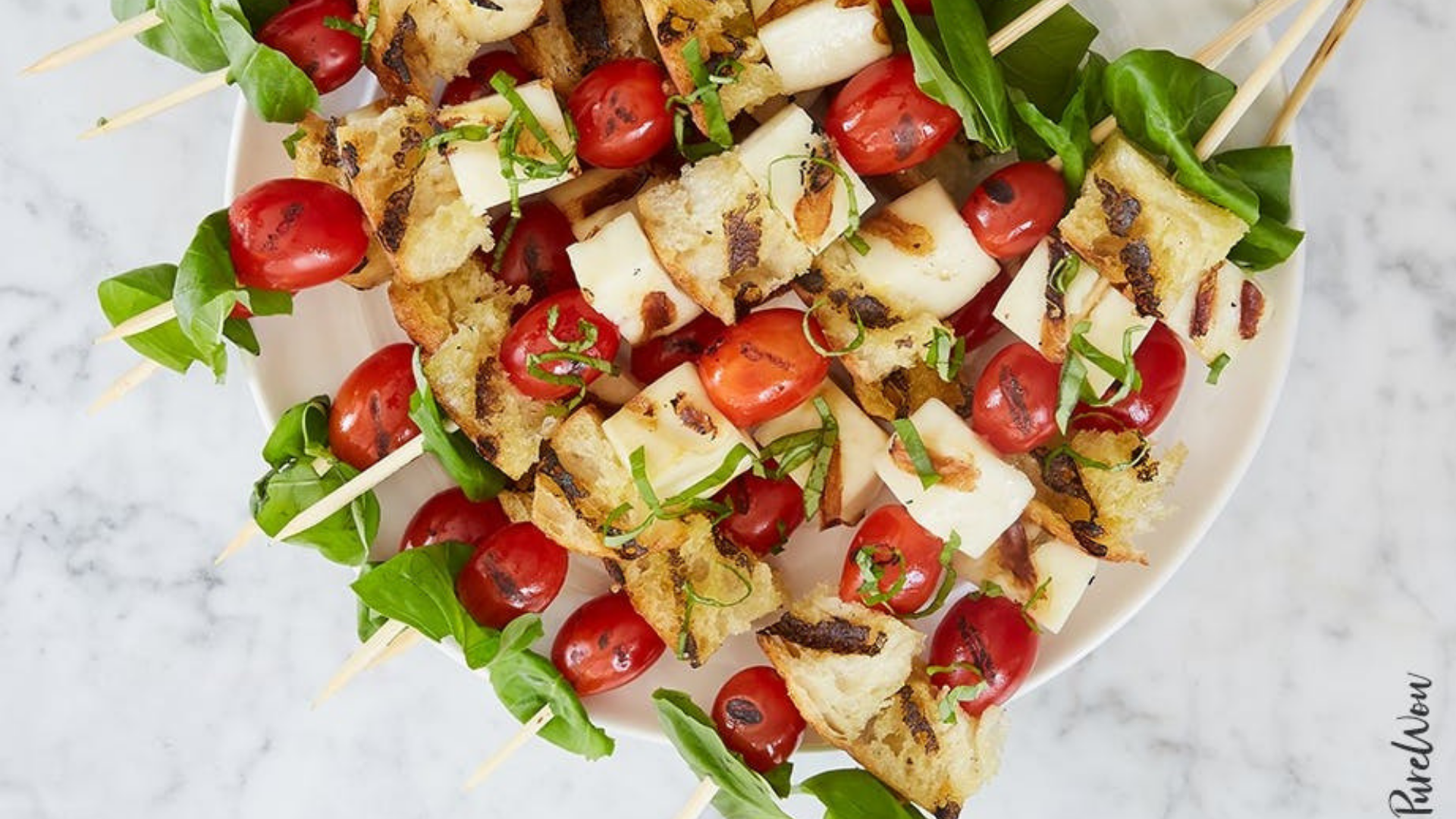 Serves 4-6
1/3 cup extra virgin olive oil
3 garlic cloves, sliced thinly
3 cups sourdough bread, cubed
3 cups cubed halloumi

4 cups cherry tomatoes
¾ cup fresh basil leaves
Salt and pepper to taste
Balsamic vinegar, as needed
Garlic Oil: Combine the oil and garlic in a small pot. Heat gently over medium-low heat for 2-3 minutes. Let cool completely and then remove the garlic from the oil.
Skewers: Arrange bread, cheese, and tomatoes in a rotating pattern on each skewer. Repeat until all the skewers are assembled.
Brush the skewers with the garlic oil on both sides and season with salt and pepper. Working in batches, cook on a preheated grill until nicely charred on both sides, 2-3 minutes per side.
Add a few basil leaves to the end of each skewer and then roughly chop the remaining basil and garnish the skewers with the chopped basil.
Serve immediately, drizzled with balsamic vinegar.
For more about this recipe, visit Pure Wow.
Grilled Avocado and Gem Salad
By Spoon Fork Bacon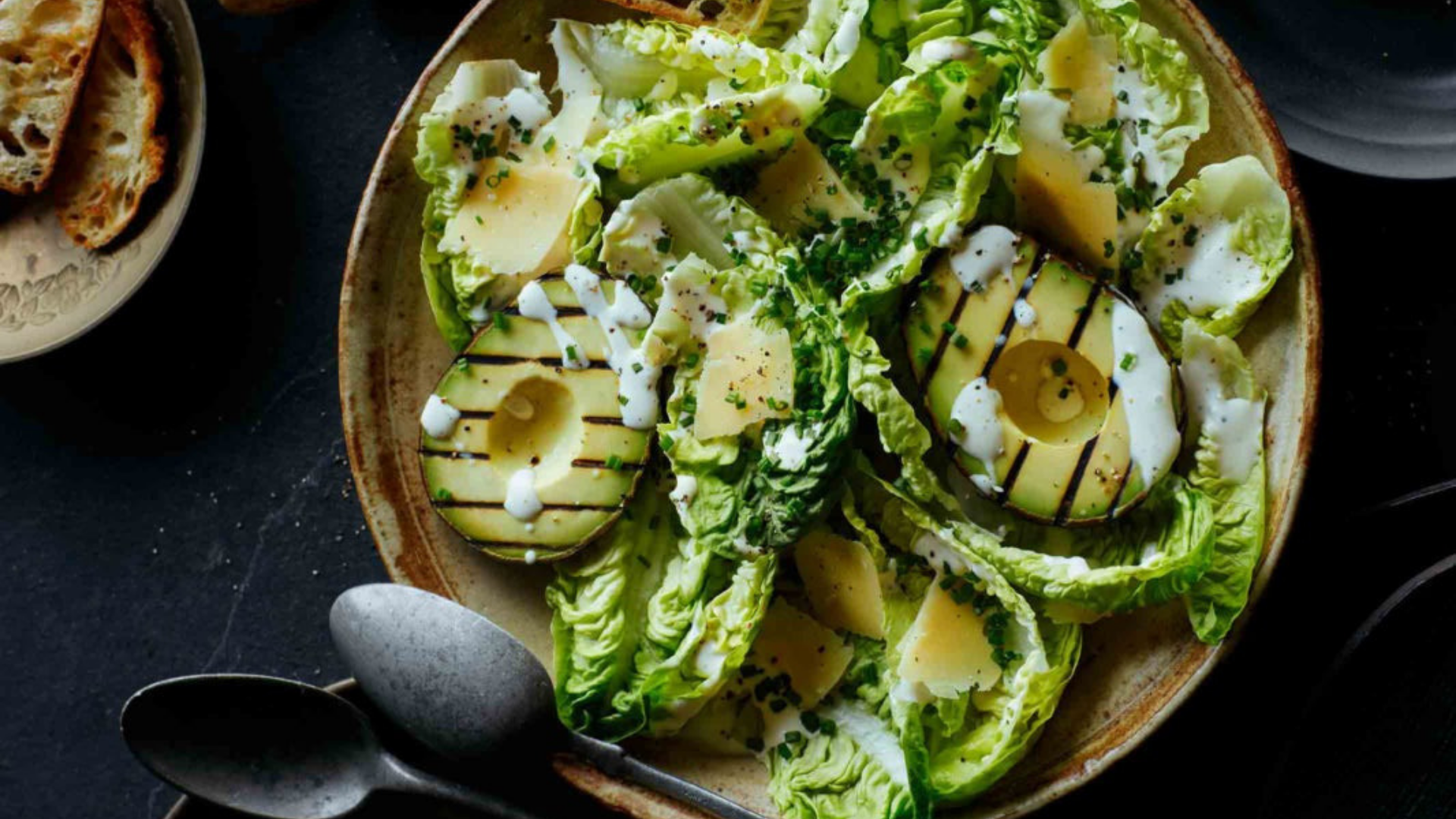 Serves 4
2 avocados
½ lemon
3 heads gem lettuce, ends trimmed and leaves separated
Shaved Parmesan

2/3 cup plain Greek yogurt
¼ cup mixed herbs (chives, thyme, and dill)
2 tbsp minced shallots
1 garlic clove, minced

3 tbsp olive oil
1 ½ tbsp. honey
3+ tbsp water, as needed
Salt and pepper to taste
In a mixing bowl, whisk together all dressing ingredients (second and third columns) until fully incorporated and smooth.
Preheat a grill over high heat. Brush flat sides of avocado with oil, a squeeze of lemon juice and season generously with salt and pepper. Place oiled sides of avocado down on grill and sear for 3-4 minutes. Remove avocados from heat and transfer to a plate.
Arrange lettuce leaves and avocado halves onto a large platter and drizzle with dressing. Season with salt and pepper and finish with lots of shaved Parmesan. This pairs well with grilled bread!
For more about this recipe, visit Spoon Fork Bacon.
Grilled Parmesan Asparagus
By Let's Dish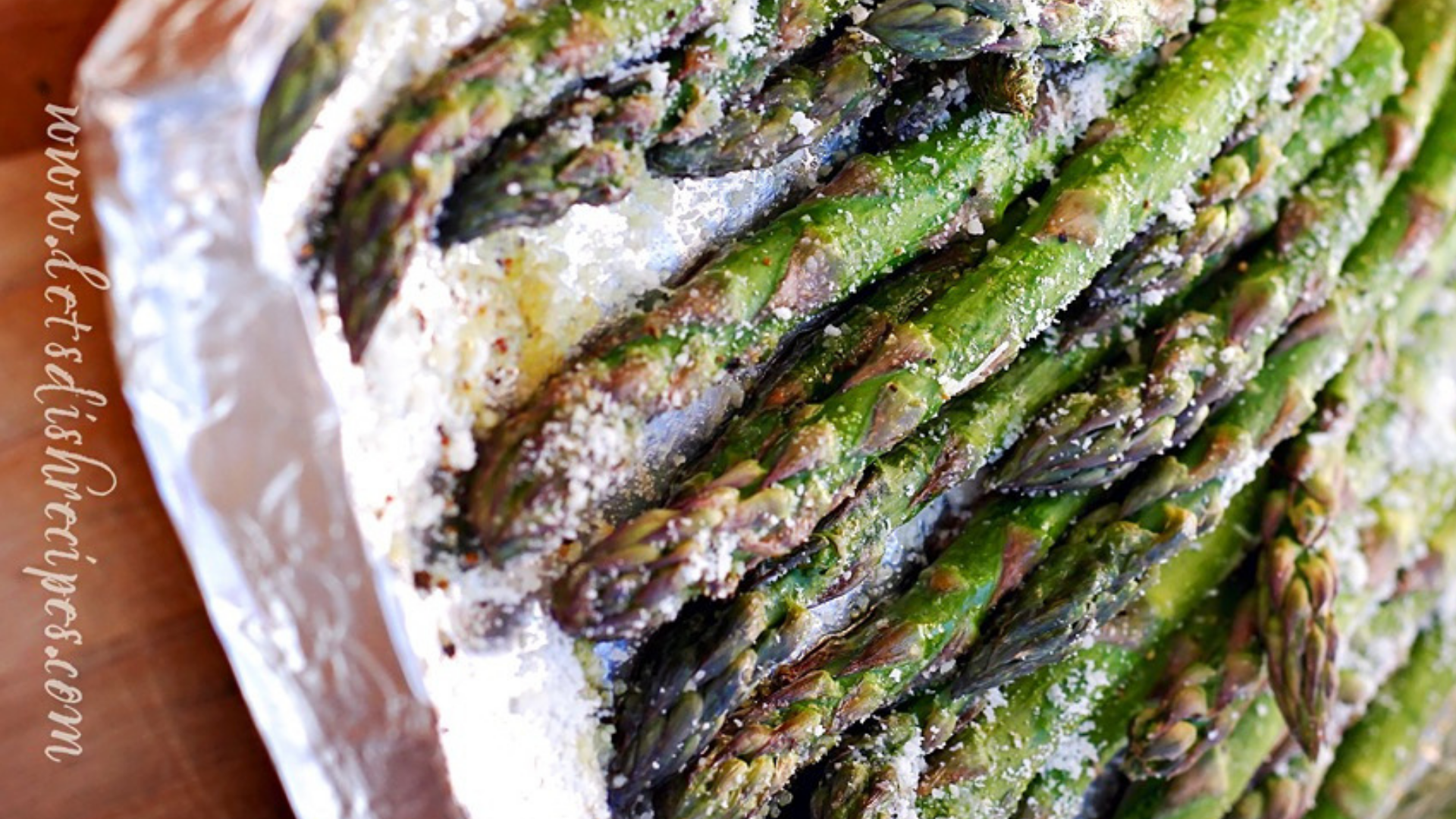 Serves 4
1 lb asparagus, ends trimmed
2 tbsp olive oil
½ tsp garlic salt

¼ tsp pepper
1 tbsp grated Parmesan
Preheat grill to medium meat. Using a doubled over piece of aluminum foil, make a tray with raised sides to hold asparagus. Drizzle the foil with a bit of olive oil. Place the asparagus on the foil in a single layer. Drizzle with another tablespoon or so of olive oil and sprinkle with garlic salt and pepper.
Grill for 7-10 minutes, or until asparagus is crisp-tender. Sprinkle with Parmesan cheese and serve immediately.
For more about this recipe, visit Let's Dish.
Bloomin' Grilled Apples
By Lindsay Funston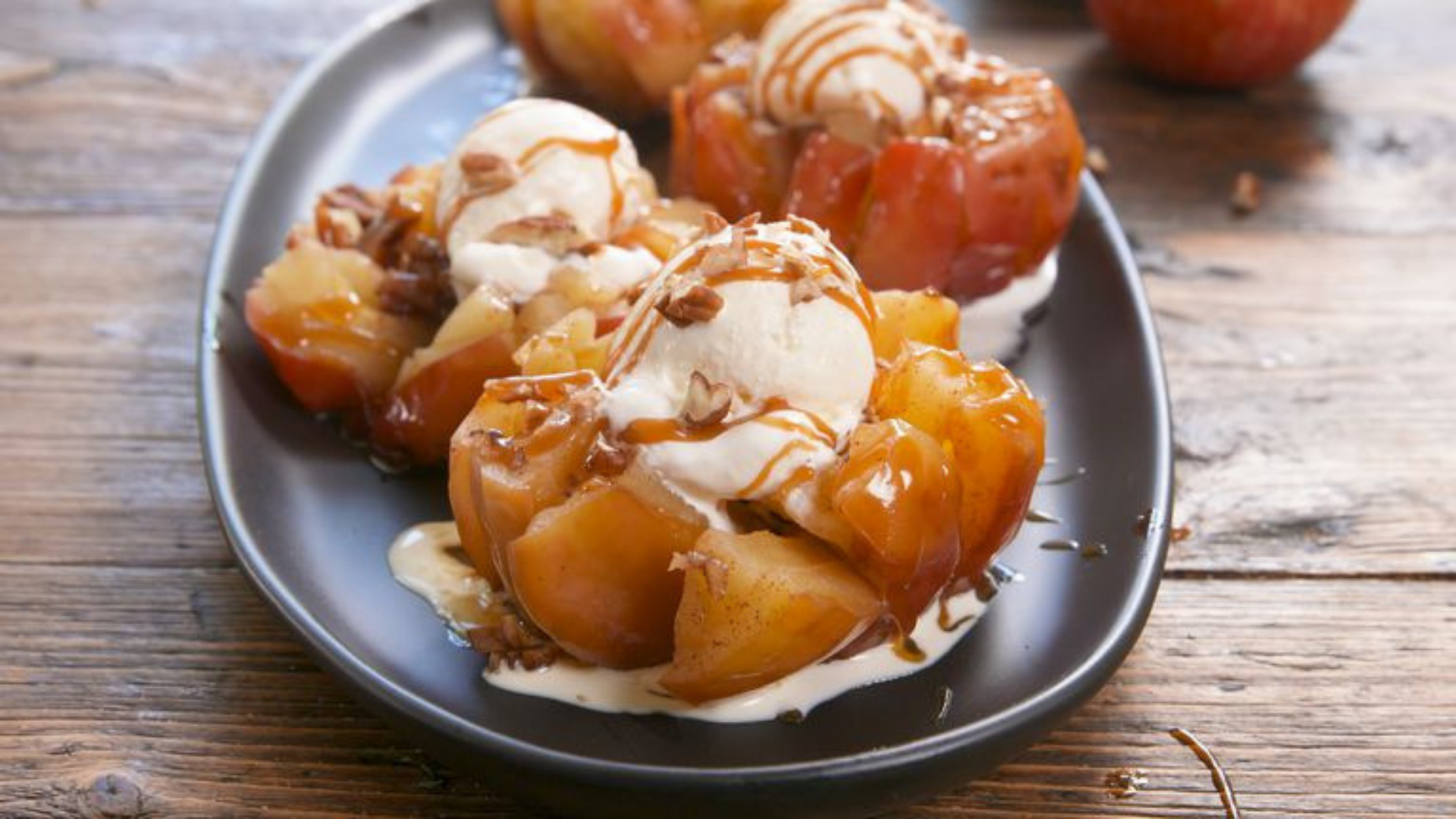 Serves 4
4 apples
2 tbsp melted butter
1 tbsp cinnamon-sugar

½ cup caramel, plus more for drizzling
1/3 cup chopped pecans
Vanilla ice cream, for serving
Slice off the top ¼ of the apples and scoop out cores. Using a paring knife, make a deep cut around the center of the apple. Flip over apples and make narrow cuts all around, making sure not to cut through the bottom.
In a small bowl, stir together melted butter and cinnamon-sugar. Brush apples all over with mixture, then fill center with caramel and pecans.
Wrap apples in foil and grill until tender, about 15 minutes. Top with ice cream and drizzle with more caramel. Serve immediately.
For more about this recipe, visit Delish.
Whether you're cooking for a crowd or just yourself, these grilling recipes are sure to please. It's time to expand your horizons and try grilling without meat!