Back to main Blog

Courtney Christensen
The Columbus Branch of Ruoff Home Mortgage values their community and comradery above all else. It's important to the team to spend time together, particularly philanthropic work. They feel it allows them to strengthen their bond with each other and the community. They are also all involved with the Columbus Board of Realtors where they assist and attend meetings.
Community Involvement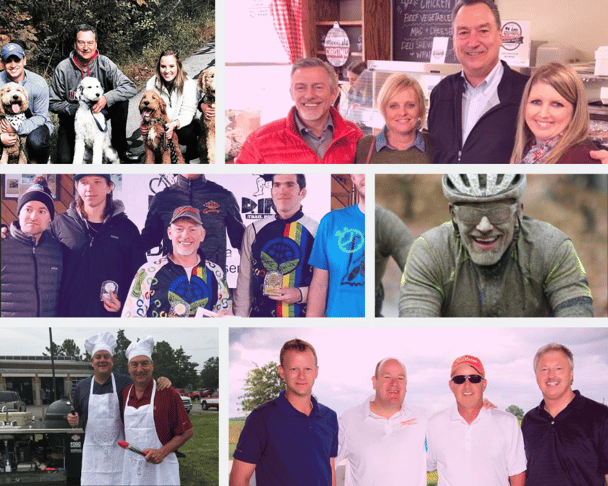 Every year in October, the Columbus Branch volunteers for the Bartholomew County United Way's Day of Service. As a team, they help local families in need of help with their homes. Whether it's home repair, home cleaning, or landscaping – the team does it all. They enjoy the time together as well as being able to help someone in need.
Among the 7 of them, they are members of dozens of charities and community boards. These include everything from the Columbus Housing Authority to the Columbus Animal Rescue. It is clear that this team is entirely dedicated to their community and its people.
About the Team
Their branch motto is "work hard and play hard". They like to joke around and have fun. They believe that the office is a fun and exciting environment. Where there's stress, there is laughter. They work hard to get things done as a team. There is no "I" in the Columbus Branch Team!
Keith Luken, Senior Loan Officer, is a family man looking forward to his children's weddings in July and next year. He loves golfing, and is very proud of Decatur County Courthouse's famous tower tree. He is a board member of the Columbus Housing Authority, and a member of the Harrison Lake Country Club.
Julie Schlehuser, Senior Loan Officer, is an active mother of 4 who loves camping, hiking, and roadtripping with her family. It's not uncommon to see Julie greet her clients with a big hug. She is a member of the Columbus Chamber of Commerce and the Whitecreek Lutheran volleyball coach.
Jeff Fetterer, Senior Loan Officer, is a member of the Hoosier Mountain Biking Association. His team often teases him about his bike obsession – he often goes missing from the office to return with a new bike. Jeff is also on the DNR Trail Advisory Board.
Kevin Johnson, Senior Loan Officer, and his son, Drew are very active in the sports community of Columbus. He's proud that Drew will be playing basketball at Southern Indiana University next year. He coaches various youth basketball teams and is a Fireman's Cheerfund volunteer.
Tanya Montgomery, Senior Loan Officer, and her family are very involved with the Columbus football community, especially the Columbus Youth and High School football teams. Her youngest son is on the Columbus North team, and Tanya loves cheering him on.
Amy DeClue-Powell, Loan Officer Assistant, is the youngest of a family of 7 and a Columbus native. Her and her husband are raising 4 of their own. She is the healthiest eater in the bunch, and can often be found cutting fruit and veggies in the kitchen. She volunteers at St. Bartholomew as well as the Columbus Animal Rescue.
Becca Miller, Loan Officer Assistant, loves the outdoors and working on her farm with her family. This is a busy time of year for her, as she is very involved with the Shelby County 4-H as a leader and advisory council member. Her son, Brady, is showing pigs and goats.
Who needs a rocket when you can get a quick loan with the Columbus Branch?
Visit their Facebook page to learn more about the team and how they can help you!