The holidays are right around the corner, and as such, many of us are in panic mode. Our to-do lists are longer than the novels we have long since abandoned because, let's be honest, who has time to read right now? We have office parties and family traditions and hours and hours of shopping ahead of us, not to mention nights of cleaning and prepping our homes. We barely survived last year! How can we make this season a little easier on ourselves and our mental well-being?
Don't Overbook Yourself
The end of the year has a tendency to fill up quickly. It's easy to get lost in the excitement, committing yourself to every family get-together and friend-filled event out there. The holidays are fun, but they should also provide a bit of a break. Otherwise, we end up heading back to work on January 2nd the same exhausted pile of nerves we were in October.
Be reasonable (and honest with yourself). How much can you really handle? If one party a week is your max, stick to it. Learn the delicate art of saying "no." Think of it this way: saying "no" to one thing is really just a "yes" to something else - "yes" to staying home, "yes" to your own family, "yes" to your sanity.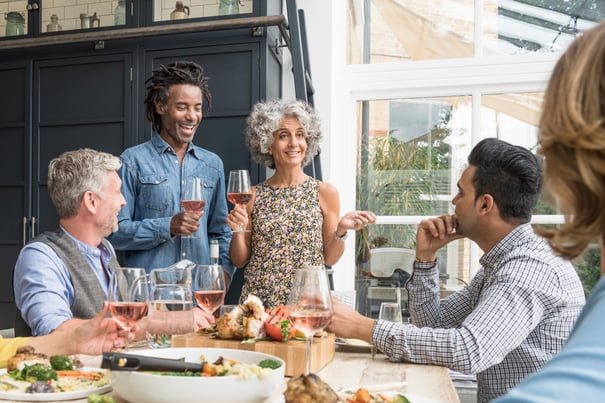 Keep A Well-Stocked Bar
This falls next on the Family Survival Guide because after you fail to follow Rule Number 1, you will need some backup. A trusty bottle of vodka and a few Bud Lights come in handy when you return home exhausted from a weekend of running nine different ways across the state. Pour yourself a frosty glass of relaxation and cheers to another hectic holiday season.
Even if you do happen to follow Rule Number 1 (which nobody does), the holidays are a time when unannounced guests abound, so be prepared. A couple bottles of decent wine (a Pinot Noir and a Sauvignon Blanc will appease nearly every taste), a small assortment of beer, and some basic spirits are all you need to take yourself from slippered Saturday slob to happy holiday host. Stock up in late October and don't touch it until those last-minute guests come knocking!
Not a drinker? Set up a little coffee corner and wow your visitors with a late-night latte. Your local grocer has plenty of instant options and tasty add-in syrups, and you can pick up a milk frother for less than a bottle of wine.
Shoot for Simple
The holidays are filled with traditions and family recipes. That's half the fun. But feeding 40 of your closest friends and relatives is no small feat, so lighten your load by letting the freezer section play a role. You might not be willing to let go of your Great Aunt Martha's famous cornbread stuffing, but why don't you leave the rolls to the Pillsbury Dough Boy? He's a great little chef!
This time of year is all about spending time with people, and when our focus is on food, we lose sight of why we are cooking in the first place. Stouffer's Mac-N-Cheese can nourish our guests just as well as our two-hour, 27 step variety of cheesy goodness. It doesn't all have to be from scratch. After hitting up your well-stocked libations, nobody will care if the pumpkin pie is store-bought this year, and if they do, maybe next year you should cut the headcount to 39.

Plan A Field Trip
Staring at the four walls of a house can make even the most sedentary individuals a little stir crazy. Mix it up with a good old fashioned field trip when the winter weather and canned conversations start to bring you down.
An afternoon at the movies, a trip to the bowling alley or the museum is all you need to lift those holiday spirits. For a free option, try visiting your local library. There are usually a variety of family-themed activities this time of year, and when you're done, you can pick up some new books and movies for at-home entertainment.
Take It Outside
The chill of late fall and winter begs us to stay indoors, but a brisk walk can do wonders for our mindset and health, even in small doses. Feeling more adventurous? Throw together a friendly game of football or hit up the local playground to get that blood flowing.
After a little exercise, you deserve a treat. Picnics are even more enjoyable in cooler weather without the bugs and muggy summer temps, so plan an entire meal to be cooked and enjoyed outdoors. Portable grills are cheap and easy to operate, or utilize a bonfire pit but don't forget the s'mores!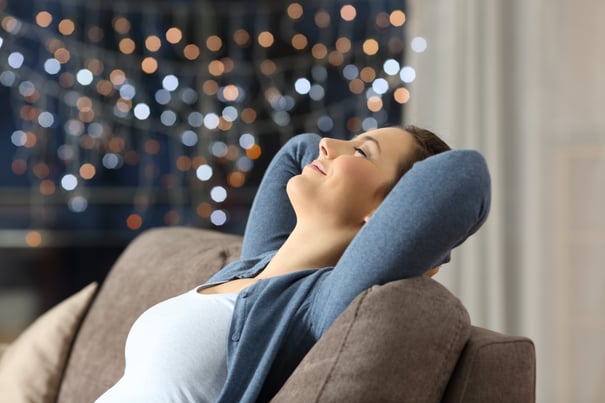 Unplug
The phone. The computer. The tablet. The television. Work can wait. The world can wait. This is your time to spend with loved ones, so do your best to really be there. The less you are distracted by what you think you should be doing, the more you will appreciate what you need to be doing – loving on everybody around you, and letting them love on you, too. Plus, you look so much nicer without that blue light shining off your face.
Everybody loves the idea of being home for the holidays, but while the season starts out merry and bright, it can take an unexpected turn when we aren't properly prepared. Steer clear of your inner Grinch this year by sticking to this trusty guide. Come January 2nd, your relaxed and replenished self will thank you.