Sometimes unwanted pests find their way into a home – not your garden variety termite or mouse, but something else. A bigger, more expensive intruder lurks and can sneak in when you least expect it. They don't stay long but they cause damage and cost a lot of money. We're talking about burglars!
Home security is a necessary part of responsible homeownership, albeit an unfortunate one. According to state-by-state statistics published by the United States Department of Justice, property crimes and burglary are the crimes most frequently-reported by law enforcement. While home security isn't always a fun topic, protecting your home and family brings peace of mind. There are steps you can take to keep you, your family, and your property safe.
Old-Fashioned Home Safety
Most crimes are crimes of opportunity. Thieves look for easy targets – unlocked doors, open windows, valuables that are visible from the street. Don't let your home stand out as a prospective burglar zone! Try the following home improvements to keep burglars at bay.
Deadbolts – These are first on the list for a reason. More than half of home invasions are the result of forced-entry. A deadbolt secures the door to its frame, making it harder for an intruder to kick it inward. This provides an extra layer of security and may simply be "too much work" for a criminal who wants a quick and easy target.
Window Locks – Window locks serve two purposes. When full opening from indoors is prevented, children are less likely to lean out and suffer a fall. Conversely, the window cannot be fully opened from the outside. This means that a thief would have to break glass to enter, resulting in a loud noise and the potential for injury.
Unobstructed Views – Consider the view of your house when arranging landscaping or outdoor furniture. Make sure you can see your points of entry from the street, garage, or alley if you park in one. Thieves could hide and monitor for access points. This applies to windows as well, since an ill-placed shrub could obstruct your neighbors' view of an open or broken window. Also, make sure you have a clear view from the inside-out before exiting your property.
Motion Lights – Although most home invasions happen in the daytime, motion lights can help deter the nighttime criminals. Home invaders don't want to be seen.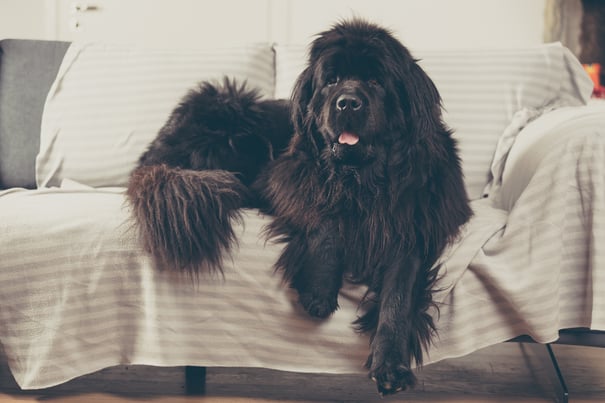 Big Dogs – Can a dog's bark prevent a home invasion? According to a survey of Oregon prison inmates, opinions are mixed. Most of the convicted burglars who took part in the survey reported having avoided homes with large dogs, but some still entered and attempted to calm and befriend the animals before burglarizing their homes. Small dogs and other pets don't seem to serve as a crime deterrent.
Motion Detector and/or Window and Door Sensors – You can still purchase these items without a monthly service. They come with LOUD alarms.
Know Your Neighbors – Get out of your back yard and onto your front porch. Meet your neighbors and plan to look out for one another.
Your Brain - The world's greatest computer and surveillance system is still the human brain! Be aware, stay vigilant, and trust your gut. If you think you forgot to close the garage door, you probably forgot to close the garage door. If you feel squeamish about opening your door to an unexpected stranger, don't open it.
Enhance Your Home's "Firewall" with Technology
The old tried-and-true methods still apply, plus there are now many affordable "smart" safeguards that employ technology. Tell those burglars to buzz off with these tech-savvy crime deterrents:
Home Security System with Live Home Monitoring – Motion detectors and door/window sensors are typically included in these packages. They come with alarms but also alert your security company as well as local law enforcement of a possible intruder. Sometimes these services are available without a contract and can be renewed month-to-month. Also, read the manuals and guides that come with your system. Home invaders know how your system works and so should you. And clean your fingerprints off the buttons every day or push all the buttons once a week. Fingerprints tell a thief which numbers you press when you de-activate your alarm.
Doorbell Cameras – Doorbell cameras have earned a reputation as the darling of home security. Probably because they're easy to install and come with little cost relative to the increased security they provide. A doorbell camera can be included with your live home monitoring service or purchased as a stand-alone unit with a monthly plan. Most come with an app that can send live and recorded video feed directly to your phone for a monthly fee. If you're on the fence or only want to pay for doorbell surveillance part of the year, consider it during the Holidays. According to Frontpoint Home Security, the average value of packages increases from $28 to $124 around the Holidays, making package theft more attractive to criminals.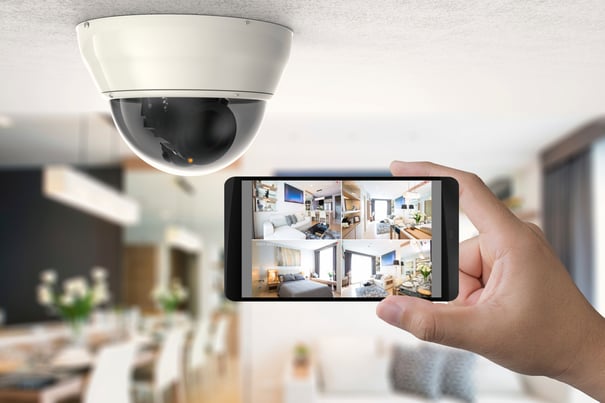 Indoor/Outdoor Surveillance Cameras – In addition to the doorbell camera, which monitors your primary location for delivery and entry, cameras with live and recorded feed can be installed almost anywhere. Some homeowners who park outdoors even install cameras to keep watch over their vehicles.
Motion Detectors – These are also available as part of home security packages and can trigger an alarm when entry wasn't forced. For example, if you forget to lock a door or window and a thief enters quietly, a well-placed motion detector can alert authorities to the unwanted visitor.
Social Media: Think before you post – Don't advertise an empty house on social media. Of course, avoid posting vacation photos until after you return. Day-to-day posts matter as well and could indicate your absence from the home and/or give criminals an idea of your daily schedule.
One Last Step
There's one last step that could present a financial benefit. If you've made any of the updates listed above, your homeowner's insurance company might reduce your premium. After making your home more secure, contact your agent to let them know of your home's physical updates and all the nifty technology you've installed. In addition to the increased peace of mind, you might even save some money this year!