Back to main Blog

Courtney Christensen
Purchasing a home and going through the mortgage process may feel a little intimidating, but it doesn't have to be. Arm yourself with information, and you'll find that you are much more prepared to take on this important life milestone. Here's a step by step guide through the mortgage process.
Before the Home Search Begins
Your mortgage journey begins well before you sit down at the closing table. In fact, it is something you should think about before you even begin searching for a home or hire a Realtor. You should apply for a preapproval as soon as you've made the decision to buy a home – any home. A financial decision this big should be thought about carefully, and you need to have all of the information in order to make the best choices when it comes to your new home.
A preapproval will give you solid documentation on your credit, assets, income, and debts. Essentially, it will estimate the loan amount you will qualify for when applying for your mortgage. This way, you can begin your search by eliminating homes that are out of your price range and create a budget for yourself in regards to the down payment you'll need.
Additionally, a preapproval letter from a qualified lender shows sellers that you're a serious buyer. You can be trusted to make a reasonable offer, and that offer is less likely to fall through due to unrealistic financial expectations. Not only does this make your Realtor's job easier, but it will ease pains through the loan process as well.
Make an Offer
First things first: you need to make an offer on the home of your dreams. The real estate market is currently in what's called a "seller's market" which means inventory (houses) is low, and demand (homebuyers) is high. Home prices are going up, and properties don't stay on the market long.
Be prepared to make fast decisions in a seller's market. Time is of the essence, so you need an agent who shows up prepared, informed, and ready to negotiate. You should expect to make an offer within 24 hours of viewing a property in an area that's attractive to buyers.
Appraisals and Inspections
Once your offer is submitted and accepted, it's time to contact your loan officer. If you've gone through the preapproval process, this is as easy as sending an email or a text to your LO. Your lender will order an appraisal on your new home which will determine if the sales price is fair. The appraiser will prepare a written report based on what others have paid for similar homes in the area in the past year and provide a fair market value for the house.
On the other hand, your Realtor will order a home inspection which is technically optional, but generally considered important. A trained professional looks at the home you're buying to determine its condition. They look at the furnace, water heater, electrical panels, roof, attics, and crawl spaces. They will provide you with a written summary of their findings and make recommendations on anything they feel needs to be addressed. Occasionally, you may decide terminate your offer on the home if there are major issues that will cost too much to fix.
Sign the Purchase Agreement
Assuming everything works out well, your next step is to sign a final purchase agreement. This document outlines the things that you and the seller have agreed to like any updates or changes the seller must make as well as the sale price. Both you and the seller will sign the agreement, making it a legally binding contract between the two of you.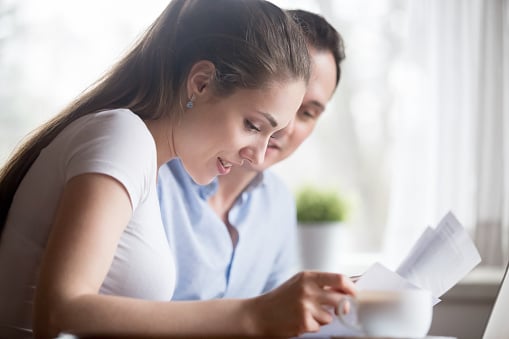 Learn Your Financing Options
At this point in the mortgage process, you will be required to provide documentation about your financial situation. That is, if you haven't already done so for a preapproval. Your loan officer will review this information and discuss your loan options with you.
Your loan officer will want to know how long you intend to keep your home, if and how you expect your finances to change in the future, and if you're buying a newer home or a fixer upper. They will talk with you about loan terms, fixed mortgages and adjustable rate ones. All of this information will help them understand what kind of loan will be best for you and your unique situation.
For instance, if you purchase a home in a rural area, you may qualify for a USDA loan which requires no down payment. Or, if your finances are on the low end, you could get an FHA loan in order to cut down the upfront costs. There are even special loans for homeowners who want to completely renovate their new home.
Do Your Paperwork
Before heading the closing table, you will need to provide some additional paperwork.
A copy of the final purchase agreement will be used to lock in your interest rate. Any outdated financial paperwork from your preapproval should be returned as soon as possible (pay stubs, tax returns, and bank statements that are more than 90 days old).
Before your file can be sent to an underwriter (who reviews all this financial paperwork to assess risk), you will need to sign some forms to allow them to complete their approval process. Finally, you will also need to provide proof of homeowner's insurance. This is so your lender can set up an escrow account for your new home in order to pay insurance, property taxes, and any mortgage insurance placed on your loan.

Close on Your Home
Finally, it's time to head to the closing table. You will meet with your real estate agent and your lender at the title company to wrap up the loan process. Here, you will be asked to sign a stack of paperwork by the title company in order to make everything legal and finalized. They will review and explain your legal documents. Together, your financial team will help you understand each document so you know exactly what you're signing. Once you've signed the paperwork, you're officially a homeowner!
Don't want to sign document after document after document? Ruoff provides the Digital Closing Experience. A digital closing is done with the use of digital signatures – an electronic way of capturing an individual's handwritten signature. With special encryption and an extra layer of security, digital signatures provide authenticity and can be done by using almost any computer device with an online connection: your laptop, your phone, and even your tablet. Almost every document at the closing table can be signed digitally meaning you'll only have to put pen to paper on a few documents when you get there.
Keep Learning
Your loan officer will be available to you even after you sign the last page. If you have any questions about upcoming payments, your escrow, mortgage insurance, or anything else, shoot them an email or give them a call. They'll be happy to share their education with you.