Back to main Blog

Tonya Dove
We've been going through a lot these past few months as my son, Noah was seriously injured in an accident.

My family and I were also overwhelmed by the out-pouring of love from the community of Terre Haute and the understanding and support from my Ruoff Home Mortgage family. I feel truly blessed to be a part of such a wonderful team, great company and awesome community." - Christy Griffith
Ruoff's Terre Haute branch is so much more than an office of co-workers offering home loans. After talking with this team located on the West Central side of Indiana, it's easy to see that their common thread is: Family.
When Branch Manager, Dan Dayhuff, along with his Sales Assistant Christy Griffith, made the leap of faith from their former mortgage company to start Ruoff's new Terre Haute branch in November of 2015, they promised one another they would keep an environment where people enjoy coming to work, and a sense of family no matter how large their team grew. And grew it did from Dan and Christy to now a tight knit, community focused, fun team of 12, with a combined total of 165 years of experience in the industry!

The best example of their family atmosphere in Terre Haute was when Christy's son was involved in a serious dirt bike accident in the summer of 2018, and the prognosis was bleak. Dan shared that everyone stepped up and filled the massive void left as Christy, who he describes as the heart and soul of the branch, was off caring for her son. The team continues to assist and support the family as Noah continues to make a miraculous recovery. His Ruoff family has been humbled to play a role in rallying the community in support of the Griffith family. "The courage displayed by this young man and the unwavering support from his parents is the definition of family and has been a life changing experience for many of us who proudly work with Christy.", Dan added.
"I have appreciated the commitment to community Ruoff has provided in sponsoring events that help support our local charities and organizations! A common comment made by many in the area, is that it feels like Ruoff has been part of the community for many years." – Dan Dayhuff, VP, Terre Haute Branch Manager
TOUCHING HEARTS AND SOULS
Networking & Community Involvement
Ruoff's Terre Haute branch often sponsors and donates their time at a variety of events to support other local businesses in their community.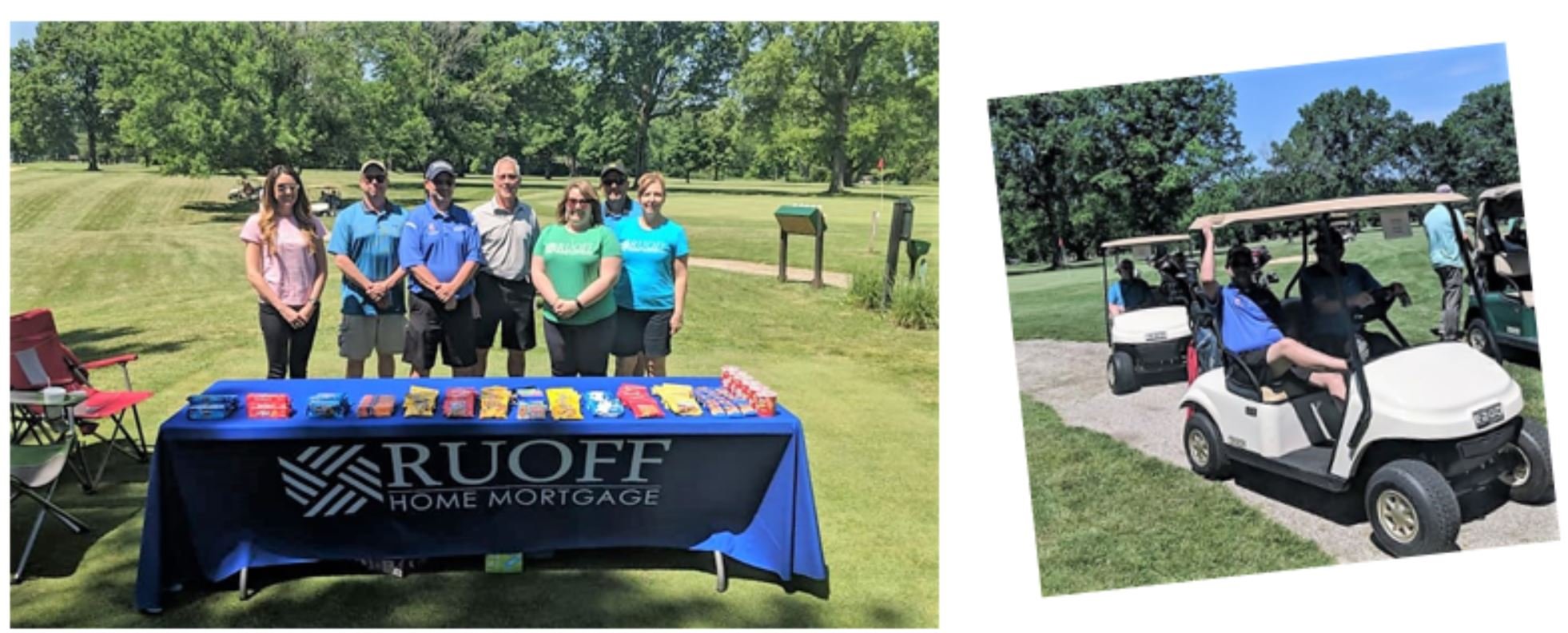 They've sponsored lunch at the recent Chamber Golf Outing,

Senior Loan Officers, Scott Phegley and Cindy Julian hosted a reception at the Vincennes Brewing Company for the realtors in the area. Lots of great food, drinks and conversations. They handed out some awesome information about appraisals as a good resource for agents.
"Ruoff is dedicated to doing things for our community and to help our branch grow. It's a great place to work. We have a knowledgeable seasoned staff in the Terre Haute office that can handle any mortgage lending need. Can't think of a better place to be!" – Karen Buchanan

The entire team hosted a pancake breakfast and with the help of some other local businesses they rallied, and

raised over $2000, for the Vigo County Homes For Children to help buy Christmas gifts last year.
Serves as a Board Member for Civitan International, a community service club dedicated to helping others, with a special emphasis on supporting their neighbors with developmental disabilities.
The branch who loves to cook and grill, hosts educational luncheons with a variety of topics to benefit Realtors and homebuyers.
"I love working for Ruoff because my co workers are family we care about each other the customer and the customer experience." – Becky Vitaniemi
Wreaths Across America, which helps coordinate wreath-laying ceremonies at over 1,400 locations around the US to remember and honor our Veterans
Rotary International Club members take action both locally and globally by pouring their passion, integrity, and intelligence into completing projects that have a lasting impact
Volunteer as bell ringers for the Vincennes Salvation Army

Ruoff Home Mortgage is a proud sponsor of the Terre Haute Rex, the winning team in the Prospect League Championship!
The Terre Haute team doesn't stop with this impressive list! They are proud and active members of their community in the Wabash Valley. Here's just a little taste of what they've been up to:
Class of 2018 Military Send Off
When Ruoff's Loan Officer, Cindy Julian's son approached her about wanting to join the military, she had no one to ask questions to as this was not talked about in school. She saw the pictures of the kids who were signing for sports and academic scholarships, but no one mentioned the young men and women who wanted to enlist in the military to stand up and fight for their country, so she decided to make a change.
Cindy reached out to the local recruiters, other parents, her son and his friends to create a list those who were enlisted from the Class of 2018. She collaborated with a local veteran and parents to give them a proper send-off. What started out as a couple of upset moms, turned into a group that took action by collecting donations, and finding a location to show the community's support for these students headed off to bootcamp after graduation.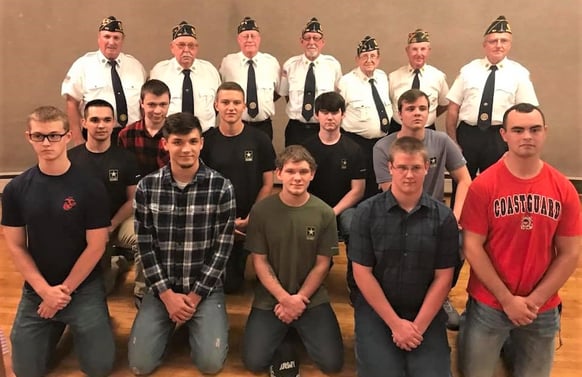 Sullivan Elks Lodge Veteran's Association graciously offered the use of the lodge for the event, as well as provided a steak dinner for each of the recruits and their parents, Baesler's donated cakes to offer to all of the guests, Access Real Estate donated the paper plates and utensils, Cindy and Ruoff took care of decorations. The event was made complete with the guest speakers and many volunteers to help send these boys off with pride.
Both local news networks as well as the local paper came so that these graduates would have the same recognition that the others leaving for college would receive. This was the first year that Cindy and the group provided a Class Military Send Off , but they plan to continue this event each year. They're now in search for a bigger venue as they filled the Elks lodge with the out-pouring of community support for these boys and their families.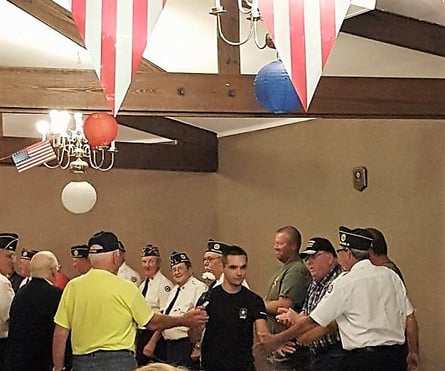 "I love working for a company that not only allows but encourages me to be a part of my community. Ruoff gives me the tools that I need to best serve my clients whether they are ready to purchase a home or need to know what steps to take to get there." – Cindy Julian, Senior Loan Officer
UPCOMING EVENTS
As you can see, the Terre Haute team plays a big role in their community. Check out what they have coming up:
Culinary Queens - Saturday, October 27th
Culinary Queens will be Terre Haute's Halloween party of the year, raising funds for FSA Counseling! Local Queens in the community will provide a variety of delectable dishes. You will want to sample as many as possible while enjoying music, good company and great costumes.
It is all in an effort to raise funds for FSA Counseling, which is dedicated to improving the lives of individuals and families in our community by providing affordable, quality counseling and education. On an average year, FSA provides direct services to over 1200 people, provides 7,000+ hours of service.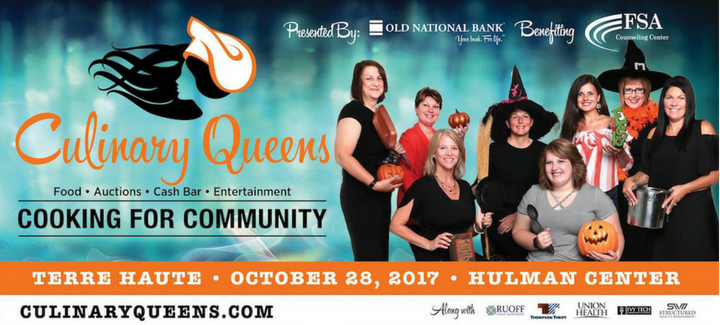 "I am very fortunate to be surrounded by one of the best teams of people I have had ever had the pleasure to work with. I have a lot of respect for Ruoff as a whole and hold a very special place for the ones I work closest with; we are truly like a family. " –Angie Horstman, Admin Asst
Dancing with the Stars - Saturday, October 12th
Ruoff is a proud sponsor of the upcoming Dancing With the Stars - Terre Haute to raise funds for Community Alliance and Services for Youth to promote quality child care services for pre-school children and their families throughout the Wabash Valley.
CASY has a mission to "Providing services "cradle to college" ensuring children grow up in safe, nurturing environments in our community. They provides services Clay, Greene, Hendricks, Johnson, Knox, Monroe, Morgan, Owen, Parke, Putnam, Sullivan, Vermillion and Vig counties.
"I love working for Ruoff because it gives me the opportunity to impact and collaborate with my community, all while getting to work with people who have become more like family. #RuoffRocks" - Chelsea Lentes, Loan Officer Assistant and Culinary Queen

"I love the fact that our office feels like one big family. We are extremely competitive but also feel like we have each other's backs. Impressed by the fact that when loans get tough- I feel like anyone would pitch in to help get the loan closed." - Beth Harris, Senior Loan Officer
WHAT THEIR CLIENTS HAVE TO SAY
Doug (Bedwell) was excellent! He explained everything and made the entire process easy. There was not any unexpected surprises and it was a great experience! - T. Pezan
Becky (Vitaniemi) answered all of my questions thoroughly, and took the time to explain things multiple times during our loan process. Our process for purchasing a new home was made simple. A++ - D.Minnett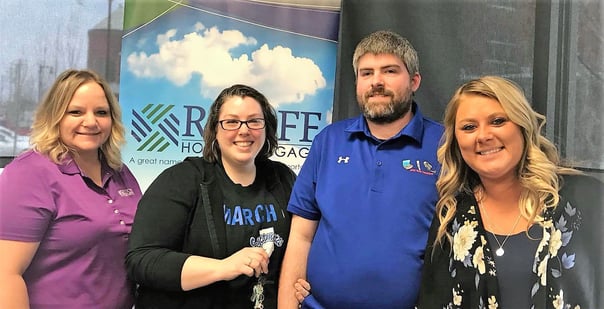 Scott (Phegley) was an exceptional advocate for getting my loan done under challenging circumstances. He was calm and assured of success. Everyone I encountered at Ruoff (including Scott!) was very helpful, prompt in communication, professional and fantastic! - J. Harris
Beth (Harris) did an amazing job of ensuring that closing stayed on time. We had many hurdles to overcome with me starting a new job and she made it happen! - C. Richer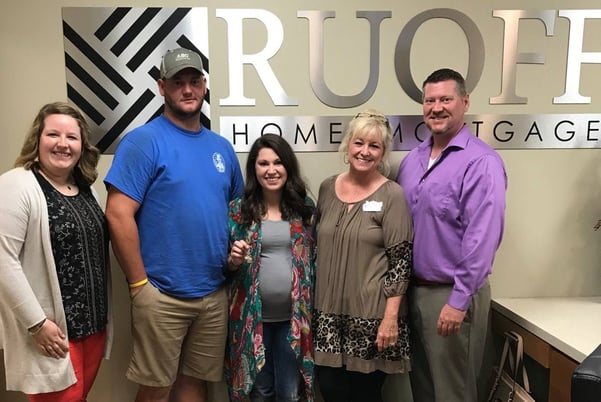 There weren't any problems with the process it went smoothly and was surprisingly STRESS FREE. The loan officer (Mark Reyher) always got back to me promptly as well as worked with my chaotic schedule, which I am extremely grateful for. - S. Fish
The updates that Greg (Burns) sent as the process moved along were very helpful for us. Also Greg answered my wife's many questions quickly and it was as if we were friends not clients. - D. Strong
THE TERRE HAUTE TEAM: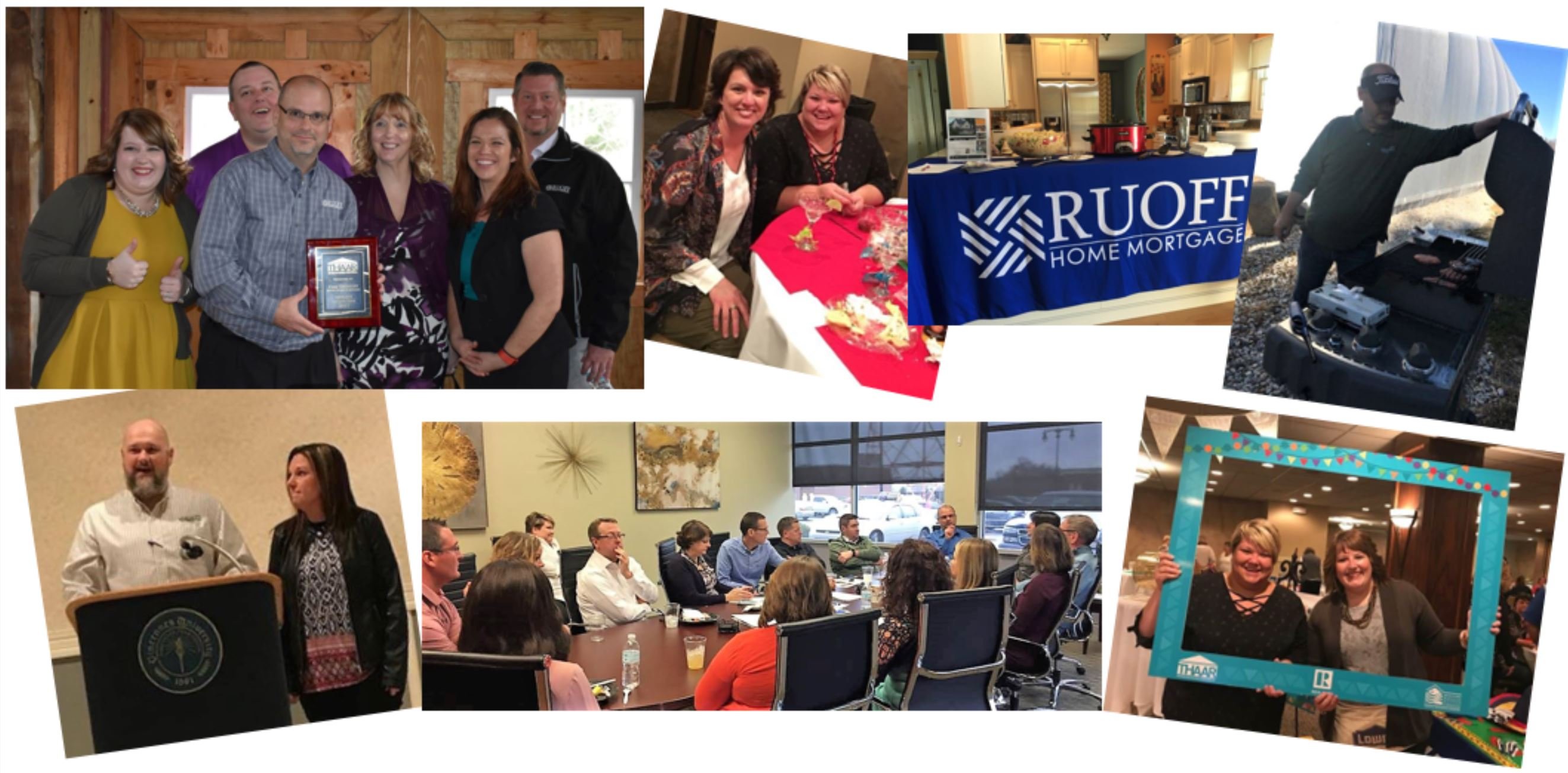 1) Has helped over 1000 of their neighbors reach their homeownership goals since they opened in 2016
2) Has a goal of averaging seven loans closed per loan officer each month
3) Branch Manager, Dan Dayhuff and his team love to grill out and feed others ...anywhere, anytime, and for any reason!
4) They love sushi and know the secret menu at Umi
5) They have big hearts and even bigger senses of humor!
"It is nice to work at a place where you can have confidence in telling your Clients/Referral Sources something, and actually being able to deliver and exceed their expectations." David James, Senior Loan Officer
Connect with the Terre Haute Team today by visiting their website or following them on Facebook!