Love is in the air this month. If you're newly engaged, wedding planning is likely on your mind. Your to-do list is likely mounting. Where to begin? Before you get overwhelmed, take a deep breath. It's best to start with a theme and go from there. But don't choose just any theme when there are some fun and unconventional ones sure to make your special day, well, special. Here are a few ideas to stand out from the crowd in a way that's "so you."
Harry Potter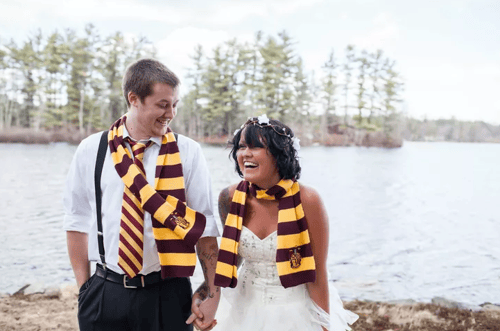 Bring an element of magic to your wedding ceremony and reception by channeling the world of Hogwarts School of Witchcraft and Wizardry. From the invitations to table decor, you can pull in HP-themed touches. Give wands as guest favors. You could have a photobooth and provide HP-themes props. If you have assigned seating, you could sort guests by Hogwarts House. Whatever you decide, you're sure to enchant guests and make muggles everywhere jealous. Here's how one couple made the theme come to life.
Steampunk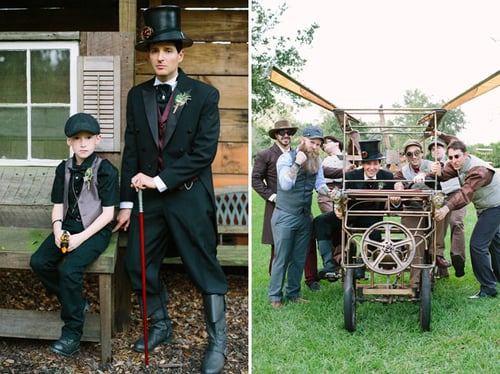 This retro theme was meant for Instagram! With some creativity and imagination, you can have a lot of fun imagining a Steampunk celebration. Who doesn't love Vintage Victorian vibes meets modern-day sensibilities? Brides may want to look online for gowns with Victorian, romantic flair. Or opt for a traditional white one accented with period-appropriate jewelry and lace-up boots. Men can accessorize with a pocket watch, top hat, multiple rings, and more.
Celestial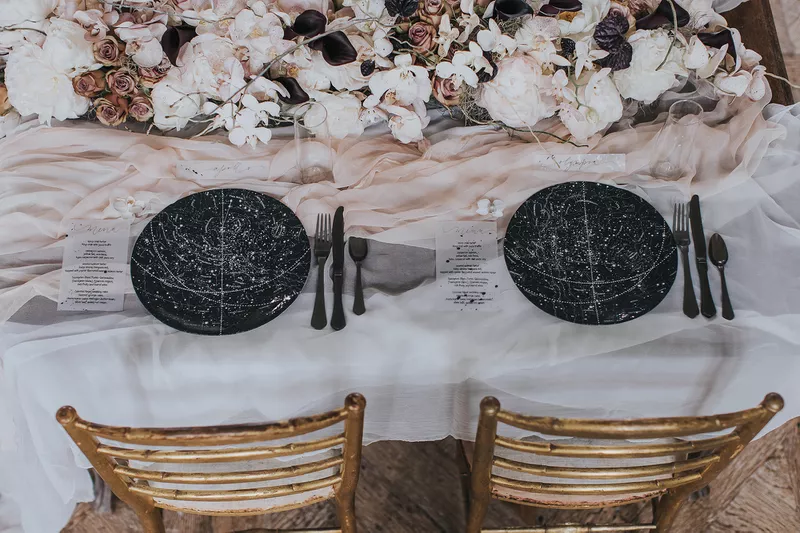 You love him or her to the moon and back, so translate that sentiment into your wedding theme. The sky's the limit (literally) with all of the elements, so get creative and shoot for the stars. For example, you might consider playing on the astrology angle. Your save the date/invitation could feature a snapshot of the night sky the day you met. How about a constellation-themed cake? String lights in the shape of stars and planets to brightening up the venue? A photo booth backdrop featuring the cosmos? Why not?
Holiday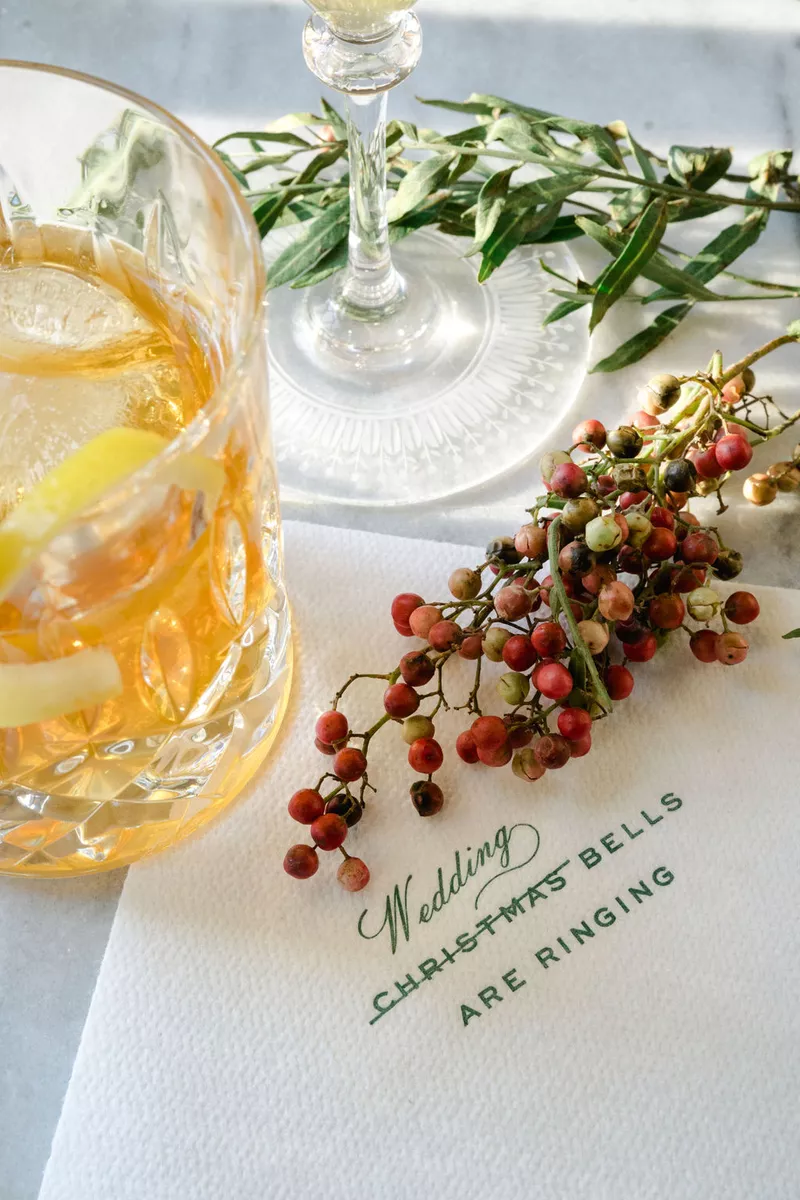 Christmas bells are ringing. More like wedding bells! Make the Most Wonderful Time a Year even more special with a December wedding. Think Christmas tree décor, in-season flowers, silver and gold accents, and seasonal music to get people in the mood. One perk of getting married this time of year is that venues are usually decorated already, so you can save on those costs.
Travel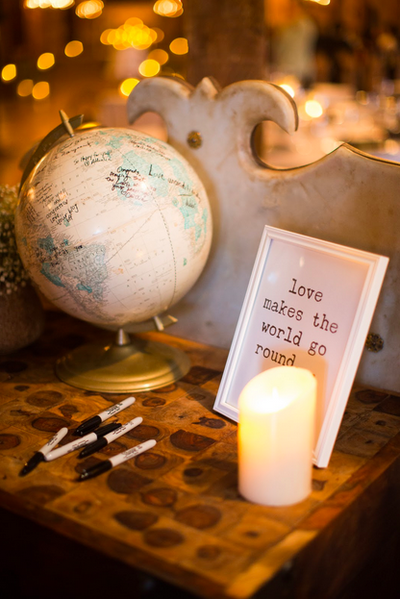 Love makes the world go 'round, right? If travel is your shared pursuit, this theme is made for you! Get those creative juices flowing and incorporate a creative travel theme sure to evoke wanderlust. Think passport-themed invitations, luggage tags and used postcards reimagined as a guest book.
Tropical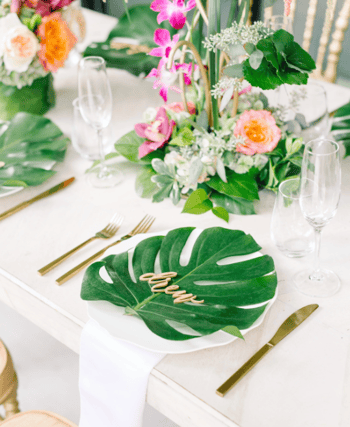 Who doesn't love the thought of sunshine and clear skies? Bring the spirit of the South Seas to your corner of the world with a tropical twist. Fruity cocktails, seashells, native flowers and sunglasses are sure to get people thinking of lazy days at the beach.
Gamer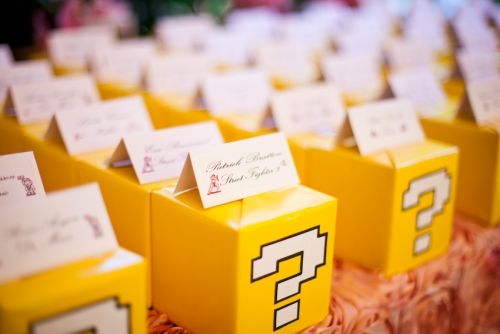 Ready to "level up"? If you and your special someone share a love of games — whether the retro video or tabletop variety — go to town! Consider this fun spin on your Big Day. Don't be afraid to let your inner geek shine through. How about a cake that looks like a game system? Centerpieces that look like a game cartridge? You could even rent vintage arcade games for the night and bring the fun to your guests!
Go Green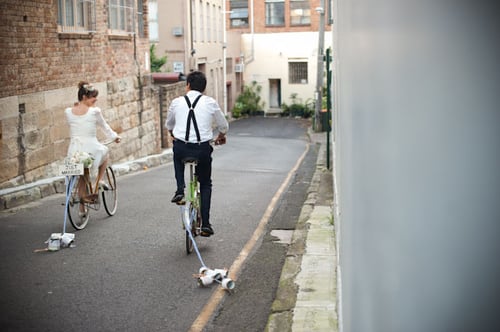 This theme can be interpreted in multiple ways. A sucker for succulents and all things green? You can make them the centerpiece of your motif and relish in the eye candy plants offer. Or take an eco-friendly approach like this couple did and use recycled materials for your save the dates, invitations, paper goods, etc. If you're open to it, you might find a secondhand dress to save on material (and money).
Regardless of the details, remember the day is about you and your love. So, don't sweat the small stuff and remember the day is a celebration of your commitment to each other.