Thanksgiving is the same year after year. A giant turkey. Mashed potatoes. Green bean casserole. Canned cranberry sauce. Break the mold and try out one of these non traditional dishes for your family's Thanksgiving meal this year.
The Turkey
Peking-Style Roast Turkey with Molasses-Soy Glaze and Orange-Ginger Gravy
Take a left turn from the traditional American turkey with this recipe filled with flavors from China. Orange juice, soy sauce and molasses mix together beautifully in Epicurious' roast turkey dinner.
Porchetta-Style Roast Turkey Breast
What's better than turkey? Bacon-wrapped turkey. This recipe from Bon Appetit delivers a wrapped and stuffed turkey with a pretty traditional flavor profile. Take baby steps away from your Thanksgiving standard with this bacony goodness.
Gravy Braised Turkey Legs with Cipolline Onions
Ditch dry turkey and go for braising dark meat in a creamy and delicious wine-based sauce. With a light onion flavor from the pearl onions and leeks, this recipe from Epicurious is sure to impress this Thanksgiving season.
The Mashed Potatoes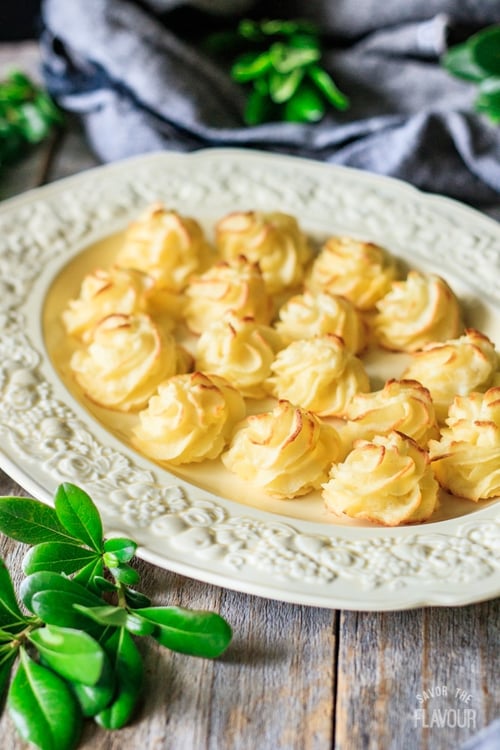 Mashed potatoes as bite-sized, golden, finger food. This recipe from Savor the Flavor looks impressive, but is actually simple. These make perfect appetizers to snack on while you're waiting for the big meal.
This is the most similar to your traditional mashed potatoes on this list. Mashed potatoes topped up with sour cream, heaps of cheese, and green onions - it's a dream in a casserole dish. The Pioneer Woman never disappoints.
Parmesan and Rosemary Potato Stacks
These sweet stacks are sure to be a hit at your Thanksgiving dinner. Generously flavored with rosemary, salt, and Parmesan cheese, you just can't go wrong. Real House Moms provides this unique take on Thanksgiving potatoes.
The Stuffing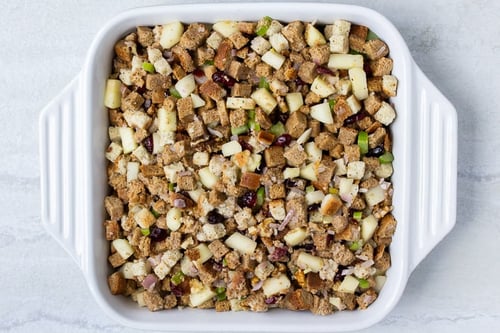 Apple Cranberry Walnut Stuffing
Delicious fall flavors from the cranberry, walnut, and apples make this stuffing recipe an instant favorite. Delicious Little Bites comes through with their take on the traditional Thanksgiving stuffing.
Use your favorite stuffing mix in this recipe from Dish 'n' the Kitchen. A super simple recipe that beefs up your traditional stuffing with chopped spinach and Parmesan cheese.
Look no further for a gluten-free, vegetarian option for stuffing. Delicious and traditional flavors are coupled with the sweetness of dried cranberries in this recipe from Thyme and Joy.
The Cranberry Sauce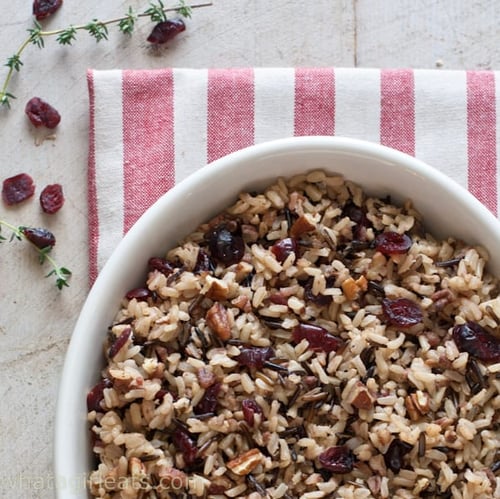 This festive recipe from What a Girl Eats contains dried cranberries and toasted pecans to give the sweetness you expect from your cranberry side without the unappetizing slices of canned cranberry sauce.
What is better than store bought cranberry sauce? Well, most things, but this relish in particular. With ginger, pear, pineapple, and, of course, cranberries, this recipe from Dinner at the Zoo is perfect served with crackers.
Incredibly festive and just as delicious, this recipe from One Hundred Dollars a Month will be the new favorite. Fresh flavors with a touch of brown sugar and cinnamon add brightness to a normally dull side dish.
The Sweet Potato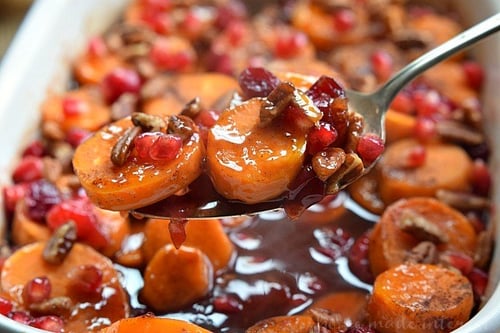 Cranberry Sweet Potato Casserole
The traditional flavor of sweet potato casserole shines in this unique take. This recipe from Homemade Interest contains cranberries, cinnamon, marshmallows, and even pomegranates.
Have young kids at your Thanksgiving meal? Getting them to eat anything healthy can be hard, but even the most picky of kids will jump on these sweet and salty chips. You can thank Living Sweet Moments for this easy-pleaser.
While not made of sweet potato, this recipe straight from one of the largest indigenous peoples around Lake Superior is tried and true. With a little maple syrup and apple cider, this season dish adds just a touch of sweetness to your meal.
The Green Bean Casserole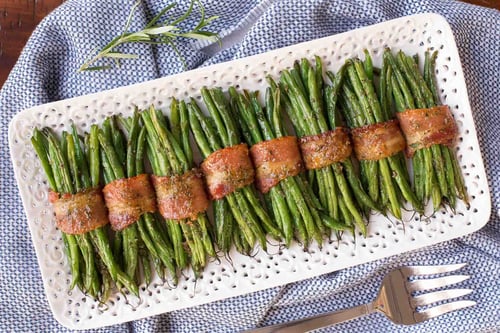 The Cafe Sucre Farine can be applauded for this recipe that combines bacon and green beans to create a delicious bundle for your Thanksgiving dinner. They make a perfect pair.
Blistered Green Beans with Garlic
Venture away from the soft green beans in your grandmother's green bean casserole and embrace the deliciously crunchy green beans from this recipe by Bon Appetit. Simple, but delicious.
Lemon Chile Green Bean Pickles
Like green beans? Like pickles? This recipe from Bon Appetit is for you. The longer you let it sit, the better the brine will work so this one needs to be planned ahead.
The Dinner Roll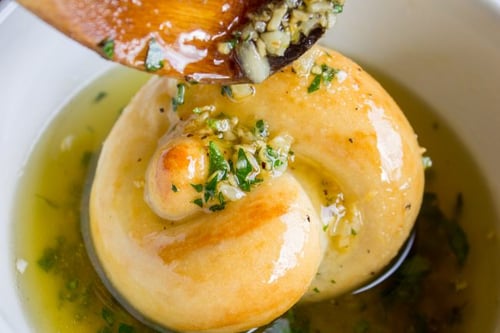 Thanksgiving dinner isn't complete without bread, but switching out a plain dinner roll for one drenched in garlic butter is definitely the way to go. The Food Charlatan's recipe is homemade and yummy.
Cranberry Brie Pull Apart Bread
Delish recipes never disappoint, and their cranberry brie bread is just one example. This bread makes the perfect appetizer to snack on while you're cooking the Big Feast.
Made with corn muffin mix, this recipe by Blackberry Babe comes together quickly. With the mix and dump method applied, this moist spoon bread takes just minutes to put together.
The Dessert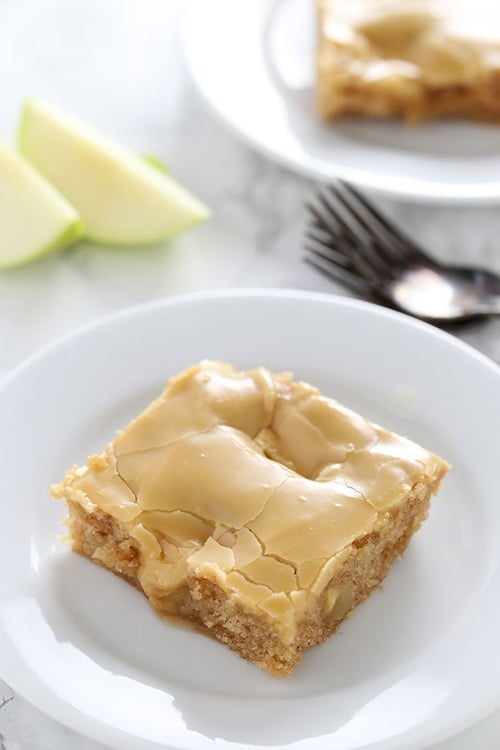 Salted Caramel Apple Sheet Cake
Fresh Granny Smith apples add just the right amount of tang to this recipe by Handle the Heat. This is sure to be a crowd pleaser.
This beautiful cake by Simply Recipes will easily impress your family when you bring it to dinner. Orange, cinnamon, cloves, and cranberries blend together to create a subtly sweet dessert.
Why settle for pumpkin pie or pecan pie when you can have both flavors and ice cream? Yummiest Food Recipes lives up to their name with this one.