You've just put your car in park outside of Fitness World Gym and are staring at the 30 foot windows displaying a myriad of fitness equipment with perfectly toned bodies running, lifting, and moving effortlessly. You haven't even stepped out of your car, much less started exercising, and already you have sweat beads on your brow, you're breathing harder, and your pulse is racing. If this is your reaction to the mere thought of going to a gym, then we have some alternate solutions for you—solutions that will have you breathing hard, sweating, and your blood pumping as a result of a healthy workout, rather than anxiety.
Getting in Shape at Home
If your New Year's resolution includes exercising more, then you fall in line with 65% of all Americans who also have this goal, according to a survey conducted by Inc. Unfortunately, as Inc. continued to outline in their article, nearly all of those people will fail to follow through with their resolution. And if the thought of getting up extra early, driving to the fitness center, and exercising with several other people sounds daunting to you, then you may also fall victim to resolution failure.
Not only can it be intimidating to exercise in front of other people, especially if you are just starting your journey, but it can also be expensive. On average, a single-person gym membership in the United States is estimated at $54 per month, as reported by Health & Fitness CheatSheet. If you're on a budget, that can be an immediate resolution killer.
But don't be discouraged just yet. There is another solution that offers total privacy and as little money as you want to invest. What if I told you that you could get into the best shape of your life and never have to leave your house to do so? Believe it or not, in-home exercising is a great way to keep your resolution and your hard-earned money.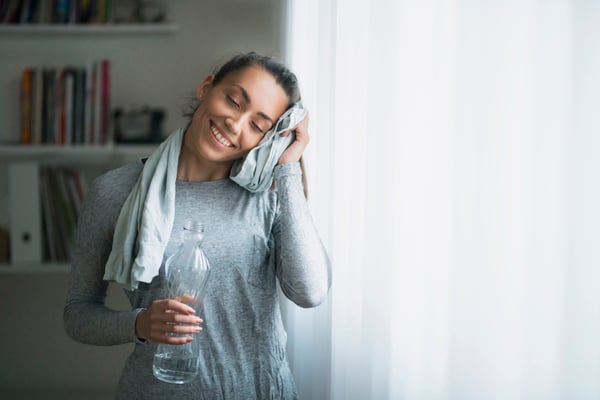 One of the unique benefits of homeownership is the ability to transform a room in your house into a private fitness center. Exercising at home offers many convenient perks, including:
Complete privacy

No commute

No monthly membership fee

Showering in your own bathroom

Exercising when it fits into your schedule
All of these things mean less excuses and more accountability; allowing you to actually have a fighting chance of keeping your resolution.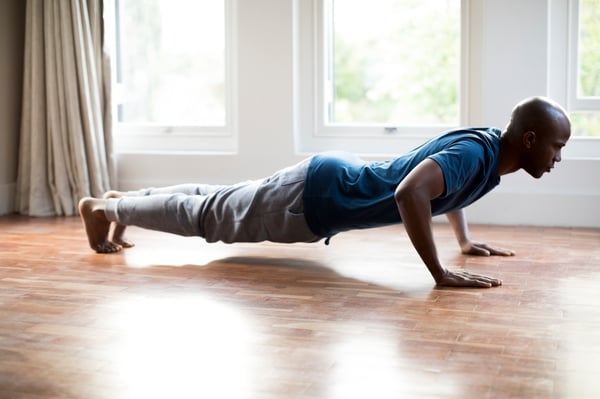 If you are thinking that in-home exercising will cost a small fortune for equipment, think again. Depending on how resourceful and innovative you are, you could get a total body workout without buying any gym equipment. Some free options include:
Using household objects as equipment (for example use a sturdy chair as a base for triceps lifts, use a heavy book for bicep curls, lean against a wall for wall sits, or run stairs if you have them)

Core workouts that require zero equipment such as, lunges, squats, push-ups, and sit-ups

Cardio activities like running outdoors, jumping jacks, high-knees, running lunges, wall touches

Checking out a yoga or Pilates book from your local library

Free workout videos on the internet—a great place to look is Fitness Blender
If you decide you want to invest in your workout regimen, there are many popular options, such as:
Subscription fitness programs that can be streamed directly on your computer—check out Beachbody and Elev8d Fitness
Apps for personalized fitness coaching and guided exercise routines; Refinery29 highlights the best of 2018-2019

Purchasing small equipment: dumbbells, kettlebell, jump rope, ab roller

Purchasing large equipment: treadmill, exercise bike, full body workout machine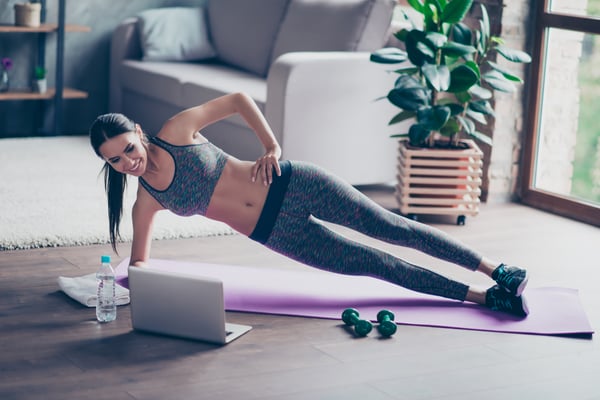 Whether you're a beginner or well on your way to becoming a tri-athlete, reaching your fitness goals can happen without ever leaving your house. And if creating your own in-home fitness center requires that you fulfill another New Year's resolution by purchasing your first home, then let the home loan experts at Ruoff Home Mortgage help fulfill that goal and start you down the path to a healthier life!
DISCLAIMER: Always consult a medical doctor to assess your health prior to any workout regimen. The suggestions in this article are not from a licensed health professional, they are purely informational and should be tried at your own risk.