Back to main Blog

Nancy Crowe
Nancy Crowe
If you are new to gardening, you're probably craving a little success — some small, green or blooming sign that you can, in fact, do this. These small successes, more often than not, grow into larger ones.
One way to raise your odds of success is to garden with raised beds, which means building a garden bed above the ground instead of in it.
Why Use Raised Beds?
• Avoiding underground utility lines
• The accessibility afforded by adding a bit of height to the bed; you don't have to bend over so much
• Better drainage, especially in areas with heavy clay soils
• Raised beds warm up a little earlier in the spring.
Function, Fashion, and More
These days, we have not only functional but fashionable choices. You can have raised garden beds tiered, flat, square, white or robin's egg blue, among many other styles and forms. Gardener's Supply Companyhas raised beds in corrugated metal (in both gray and a beautiful blue), cedar and a recycled wood-plastic composite that is said to resist rotting and splitting. It also has a round fabric Big Bag Bed that looks like a kiddie pool.
A kiddie pool, by the way, can be repurposed in the garden. Check out this video, 7 Ways to Use a $10 Kiddie Pool in Your Garden.
Big-box retailers like Lowe's, Home Depot and Menards have some good raised garden bed choices too — many more than they had a decade or so ago. Many of the ones you see online are not sold in stores and must be ordered. Keep in mind that these same retailers may offer hands-on workshops for do-it-yourselfers on building garden beds; check with your local store. Lowe's and Home Depot have short videos on building garden beds, too.
Things to Consider Before You Shop
• Site preparation: Choose the sunniest possible location for your raised bed and decide how to remove the existing turf.
• Bed size: You want to be able to reach all parts of the bed without stepping (or falling) into it, so aim for one no wider than three feet — four at the most. For drainage and root development, it should be at least a foot high.
• Materials: Treated lumber can leach chromium and arsenic, and railroad ties can leach creosote. Cedar looks and smells great and is naturally resistant to rot and insect damage, but the elements will take their toll over time. You can, however, line raised wooden beds with plastic to minimize contact with soil and moisture and make them last longer. More lasting (and expensive) options include stone, cinder blocks and composite/recycled materials.
• Drainage: Make sure you incorporate manure, compost or other organic materials, as well as vermiculite or perlite, so that air and water can pass through the soil easily. Deeper beds will need layers of crushed rock, pea gravel or sand at the bottom to help facilitate this.
In the fall, after your growing season is done and everything is cleared out of the beds, mix in some of your fallen leaves instead of bagging them or raking them to the curb. They'll break down and help fertilize the soil for next year. It's a good idea to get your soil tested in the spring — your local state university extension service will do this either for free or for a small fee — to find out if there is anything else you should add to further increase your odds of success.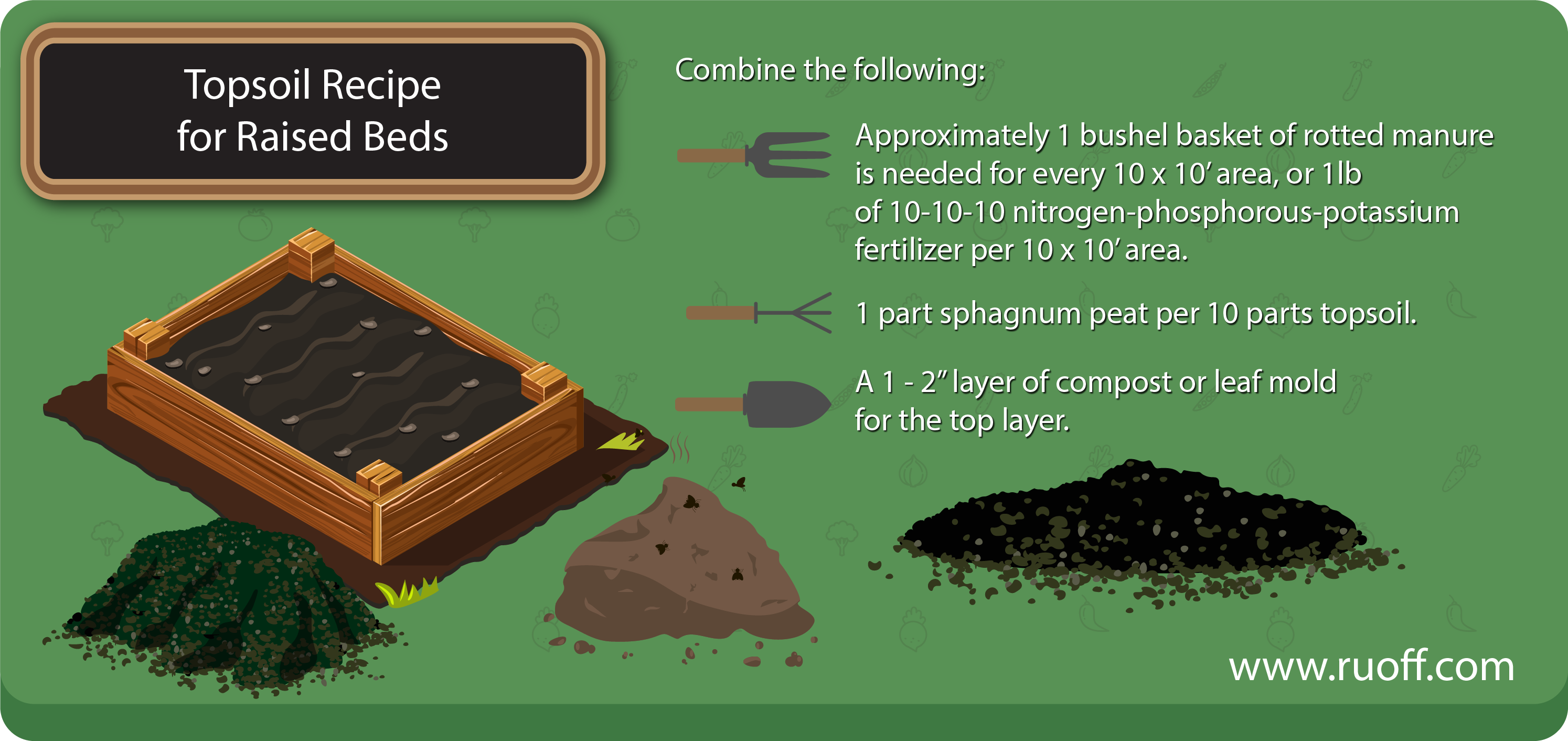 The Purdue University publication, Container and Raised Bed Gardening, is a good source for more information, as is the Allen County (Indiana) Extension's Raised Bed Gardens, which will tell you more about site preparation and how to calculate how much soil you'll need. The folks at your locally owned and operated nursery or landscaping supply center can be tremendously helpful as well.
For more ideas and inspiration for beginning gardeners, see Garden Starters: Just add flowers and Garden Starters: Hit the deck.