Back to main Blog

Tonya Dove
The journey to finance or refinance a home too often feels overwhelming, time-consuming, and an experience that most of us would choose to donate a kidney before going through it. WELL — TIMES HAVE CHANGED!
IT DOESN'T HAVE TO BE HARD
We've all heard the horror stories, or God forbid lived through them ourselves. Even the word "mortgage" makes most of us cringe, causes us to feel uneasy, and makes us want to turn and run the other direction. Why is that? The majority of the population still has the goal to own their own house and the freedom that comes with being a homeowner, so why does the mere thought of going through the mortgage process make some of us feel nauseous?
The good news is that it doesn't have to be that way! Using cutting edge technology, like Day 1 Certainty, to create a quick and convenient user experience has put companies like Ruoff Home Mortgage in the forefront of the industry — and makes the entire home financing process (and your life) easier!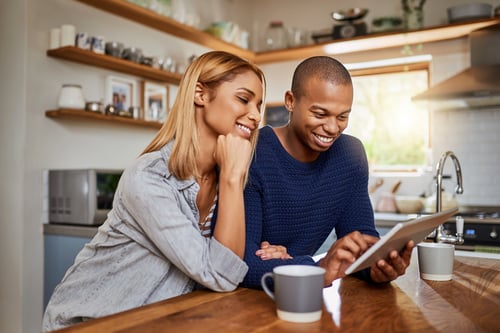 DAY 1 CERTAINTY - WHAT IT MEANS TO YOU
Ruoff Home Mortgage has teamed up with Fannie Mae's Day 1 Certainty technology to streamline the path to home financing. Those interested in purchasing a new home or refinancing an existing home now have a variety of options to quickly and conveniently meet their needs.
What do borrowers, real estate agents, and lenders have in common? They all want to see you get into the home you want or refinance to meet your goals...and they want it to be as quick, easy and stress-free as possible. The Day 1 Certainty solution, used by Ruoff Home Mortgage is a significant move on the part of Fannie Mae to embrace technology to provide greater efficiency and significantly reduce risk and processing time of mortgage lending. Yes, it's now possible to receive a 'clear to close' in days instead of weeks!

Ditch the paperwork and get digital verification – a smoother, easier, quicker way to buy or refinance a home. Fannie Mae developed the Day 1 Certainty™ automated validation technology to simplify lending and to put people in homes faster.
Ruoff Home Mortgage and the Day 1 Certainty solution can, with your consent, secure employment, income and asset records so that you do not have to provide the dreaded mountain of mortgage paperwork. Those electronic records are analyzed through Day 1 Certainty to approve you for a conventional loan instantly just based off of those records … no paper necessary!
The Day 1 Certainty solution also scans for property details on the home you're looking to finance; often times allowing an electronic approval of the value saving you from having to pay for a costly appraisal. Exciting, right?
More Benefits of Using Ruoff + Day 1 Certainty™
Streamlines mortgages with an easier documentation process.
Validates the loan application data up-front.
Gives lenders faster and easier verification of key loan data components.
Ensure higher quality loans with faster closings!
Pre-approvals happen in minutes instead of days, and underwriting time is reduced.
Borrowers have a dramatically better mortgage experience.


SPEED, ACCURACY AND STRESS FREE
There is no longer a reason to be afraid of the once scary mortgage process. Many of Ruoff's clients are able to complete the majority of the loan process without even leaving work, their home, or even vacation. Just read a few of our reviews below!
"I have bought and sold several houses over the last 10 years and this was one of the fastest and smoothest transaction I have ever done. Closed in 2 weeks. Very impressed!! went as smooth as a baby's behind!!" - Michael B., Homebuyer
"I was the listing agent on one of Michael's mortgage transactions and his speed of closing and communication was outstanding." - Randy M., Real Estate Agent
"My loan officer is a fast turn-around ninja. For the second time I ended up seeing a house and wanting to make an offer without any pre-qualification, and no advance notice. He was able to get us a pre-approval in less than 24 hours. Ruoff jumps to action and makes things so easy on us as borrowers!" – Kimber A., Homebuyer
"Having a 7 business day turnaround time for a Clear To Close is impressive, but not surprising when you have a team as awesome as mine!: - Chris J., Loan Officer
"As a first time home buyer there was a lot about the process that was new to me. My loan officer was a pleasure to work with and she helped walk me through every step of the way. Thanks to her speed and effort we were ready to close 2 weeks ahead of schedule!!" – Daniel G., Homebuyer
So what are you waiting for? Make your homeownership dreams happen!