Back to main Blog

Brittany Halferty
Brittany Halferty
We mourn the loss of Ruoff Home Mortgage's founder and namesake, David L Ruoff. Dave has been an integral part of this company since the very start. He has touched so many lives, and will be sorely missed. We wanted to share with you his life, his legacy, and the lessons he left behind.
LIFE
Dave Ruoff, 88, passed away Thursday, June 13, 2019 at Visiting Nurse and Hospice of Fort Wayne, IN.
Dave was a huge supporter of his local community. Born and raised in Fort Wayne, IN, he graduated from North Side High School and earned his Bachelors from Indiana University. He proudly served his country in the US Army and was 1st Lieutenant. He was a proud member of many local organizations.
Dave's true lifetime passion was spending time with his loving and caring family. He was married to his wife, Judy, for 62 years. They have a son named Chris and daughter named Sarah along with 5 grandchildren and 2 great granddaughters.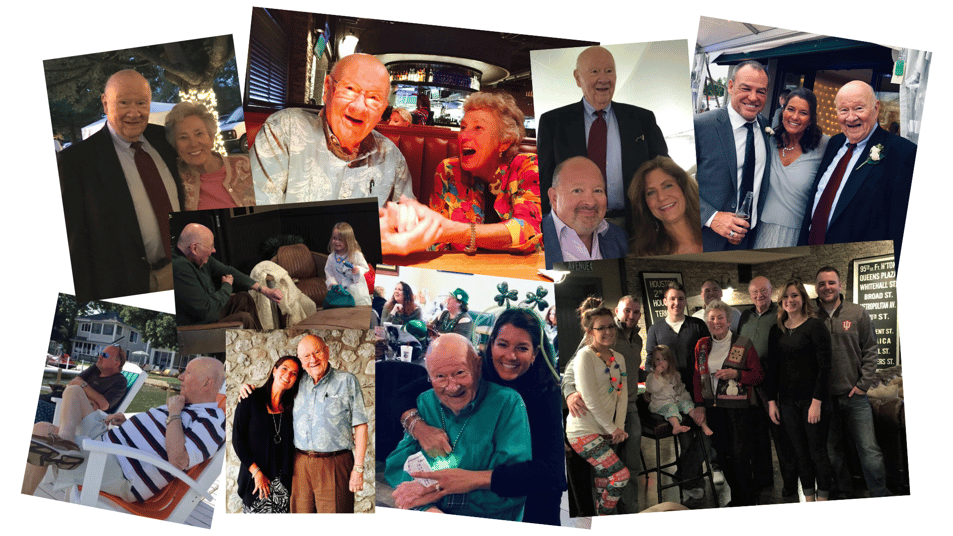 Dave was an avid reader and enjoyed playing cards and having his daily lunches with his buddies. He also loved his feline companions, Jessie and Gibbs. Those who knew Dave personally will miss his infectious laugh and smile and his passion for IU basketball.
LEGACY
Dave's son-in-law and current president/CEO, Mark Music recounts, "When I was in the hospital visiting Dave last week, a nurse entered the room. She mentioned that she noticed Dave's last name was Ruoff and asked him if there was any associations to the mortgage company. Dave modestly replied, "I dug the first ditch." Dave did dig the first ditch. There are a lot of things in the world we can debate about. That Dave dug the first ditch and how that was the transformational spirit for something that touched and changed the lives of so many people over 25 years cannot be debated.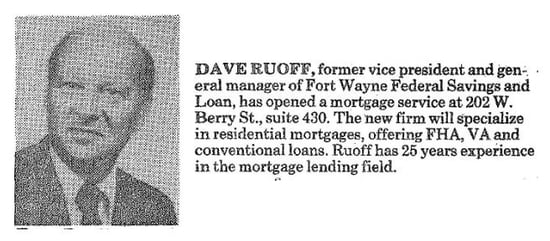 Dave founded Ruoff Mortgage in 1984. He was the owner for 29 years before retiring in 2012. Though Mr. Ruoff has not had an operational role at the company since 2012 when he retired, he continued to visit the Fort Wayne office weekly, stopping in to say hi or have lunch with employees, or showing up, as of recent, to the annual employee holiday party and euchre tournament.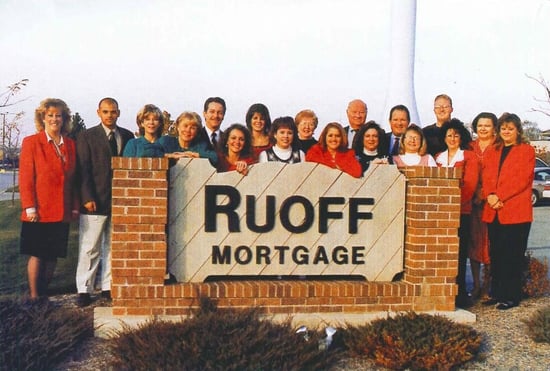 "From 18 employees in 1984 to almost 650 Ruoff Home Mortgage and affiliate employees, real estate professionals across the Midwest, and of course well over 100,000 clients have all been impacted by the idea that Dave had in 1983 – "maybe I should start a mortgage company." Dave, you are deeply loved and will be so dearly missed."
-Mark Music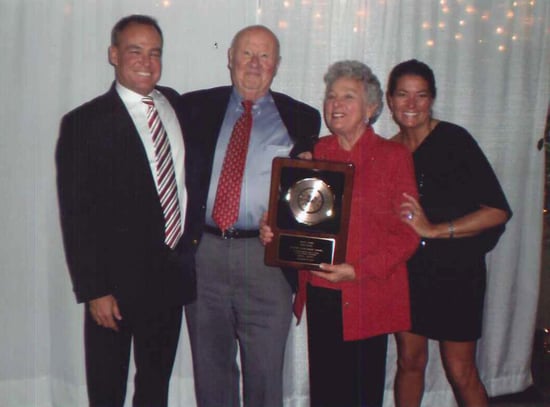 Since 2011 we have given out the David L. Ruoff Award annually to the outstanding employee who exemplifies the spirit of teamwork, passion, and overall contribution to the success of the company. It will be an honor and recognition we will continue going forward as Dave's entrepreneurial spirit lives on.
LESSONS
Dave's decision to create a mortgage company has led to immeasurable success and positive opportunities for the hundreds of people employed by Ruoff Home Mortgage. But perhaps most profound, is the effect Dave had on those lucky enough to work alongside him during his inaugural years. They offer a unique insight into their experience and how they benefited from his direct mentorship.
Dave never made his employees feel like they worked for him, but with him.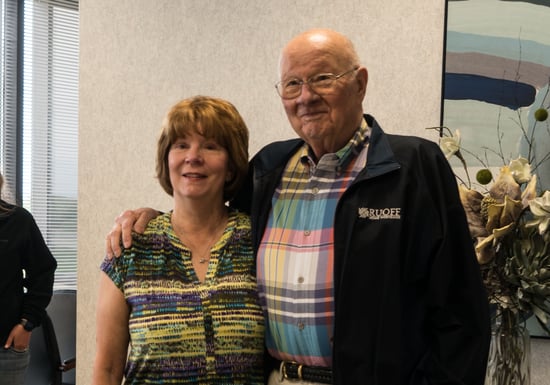 "Dave was truly my mentor. I remember the day I was hired in 1993. The job was to be an assistant to Dave because he'd never had one. I was a little intimidated by Dave at that initial interview, but that quickly changed. I also knew nothing at all about the mortgage business, and it seemed like Greek to me! Dave walked me through everything over the years. He never made me feel like I was work for him, but with him. He truly cared about his employees and liked to walk around daily to see everyone. I feel so fortunate and blessed to have known Dave and all of his family. I will miss him terribly. This world has lost a truly great man. " -Barb Bishop, Secondary Marketing, Corporate office
Dave was always appreciative and generous with his time.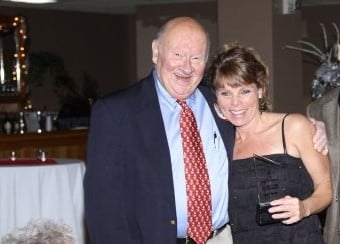 "At the very beginning, we kept track of our loans and their timelines via a handwritten lock sheet. I was hired as a processor for Dave. He would sit in the middle room, and would hand-write every lock sheet. He priced out who had the best rate, and we'd have to fax it to the investor. Sometimes, we were so busy that Barb would run (yes, run) from the conference room to the copy room back and forth as Dave would sit and write up lock sheets as fast as he could. He would even hand deliver every paycheck to every employee and thank them for working for him. If they were missing from their desk, he would wait until they were back to deliver it personally." -Tracy Adams, Senior Loan Officer, Dupont Office
Dave created a family-like atmosphere wherever he went.
"He was the kind of man you thought would be here forever. I think I finally met Dave in person in 2004, before I started working for Ruoff. No matter how much the company has grown, he always remembered the employees by name, and created a family-like environment. He will really be missed!" -Amy Helmen, Senior Loan Officer, South Bend Branch
Dave took pleasure in the simple things.
"Dave hired me in 2002 and believed in me before I really believed in myself. He always let me know that he was proud of me – which is why he was more like a dad to me, than a boss. When I think of our times together, the smile on his face and his laughter will be what I miss the most. I remember visiting his lake cottage after a Wawasee event and we took the jet ski out. I asked Dave, how would I know how to get back….and he just said, "Look for the IU flag." Well, when I looked back at the shoreline 30 min later – there were so many IU flags that I needed to flag down another boater and ask "Do you know where Dave Ruoff lives?" His response was classic… "Everyone knows where Dave Ruoff lives – nicest guy on the lake!" Dave was definitely a man that I admired. He was a simple family man who cared about his friends and employees like we were all related. I know that he would have done anything for me and when you work for someone like that – you would do anything for them too. My heart is broken that we have to say goodbye, but he changed my life in ways that I will never forget. His legacy will live on and I pray that we always remember his zest for life and the way that he took pleasure in the simple things. Rest well Dave…until we meet again." Nancy Cady, Senior Loan Officer, Dupont Office
Dave never lost his passion for Ruoff and its employees.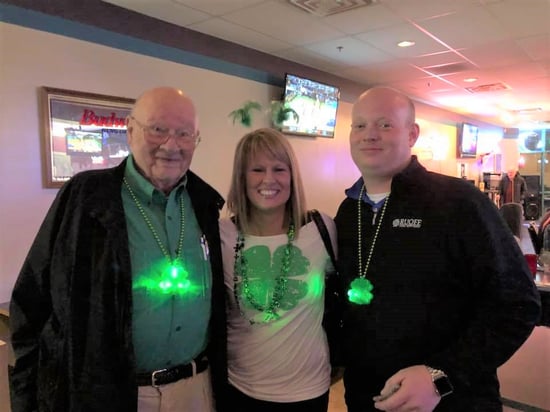 "I will miss his 11:15 visit every day, a constant for the last 14 years or so. His excitement to see his daughter Sarah never changed. He would come in for his IU articles and to just talk about whatever was on his mind that day – and Dave always had a lot on his mind! We would discuss his love of IU basketball, his love for his cats, and how we were going to solve all the world's problems. Dave's passion for Ruoff didn't fade with his retirement. He couldn't wait to see the progress that the business had made each month. As I visited Dave during his last days, he teased us saying that all the people visiting him "had too much time on their hands". Sarah reassured him that it wasn't a work day – we weren't missing any work to visit him! I knew that Dave would have done anything for me; he would have done anything for anyone he cared about. Dave's "Just me!" as he walked through the door each day, and his "See you tomorrow, Lord willing!" as he left are going to be so greatly missed. " -Angie Martin, Ruoff Insurance Company
From his advice to his laughter, Dave was always honest and real.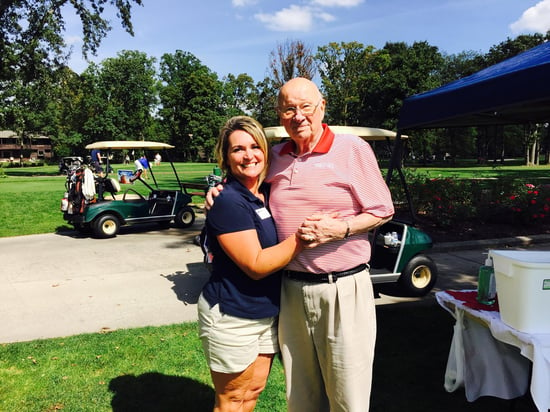 "Dave was my friend, favorite lunch date, surrogate grandfather, euchre partner, cheerleader, Bloody Mary buddy, and a man who I've simply adored since our introduction nearly a decade ago. I will miss his loud voice that I always heard before seeing his face, and his laugh. The laugh that came from deep within his stomach that was genuine and real. He would come into my office when I was way too busy and demand me to slow my world down just to chat about politics or basketball or even something silly like pizza. I will miss his advice, that can only come from someone with almost 90 years of life experience. I will miss his stories, even though I'd heard them all many times. I will miss his random phone calls and voice mails confirming our lunches. I am a better person for having been Dave's friend." -Angella Briggs Lee, Centurion Land Title
The world is better for his legacy. We are thankful to have shared life with such a brilliant man.