Back to main Blog

Courtney Christensen
It's fall, which means it's time for warm drinks, leaf raking, and the funnest holiday: Halloween. While your neighbors may be competing for the best haunted house, gore and horror aren't the only ways to decorate your front porch this year. Below are great ways to celebrate Halloween with cute and classy decorations.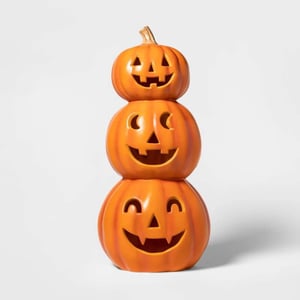 A Pumpkin Tower: At 20 inches high with three adorable smiling faces, this tower of jack-o-lanterns from Target will not only light up your porch steps, but also looks great with almost any other fall decor.
You can find it online and in Target stores as Lit Triple Pumpkin by Hyde & EEK! Boutique.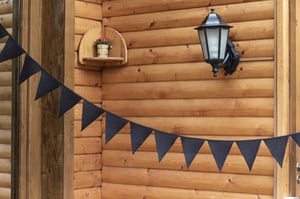 Bunting: Add a little something to your front porch with this bunting from HalfSquares on Etsy. They're sturdy and reusable because they are made of linen which means you won't be left with a mess even after a stormy night. Sizes come in 1 meter to 7 meters, and in 7 colors - all Halloween friendly.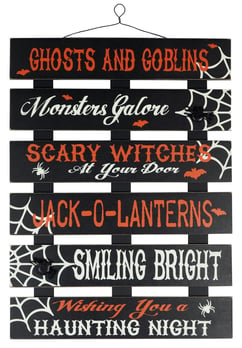 Wall Sign: A Halloween rhyme to hang on your door or off to the side on the exterior wall. This fun sign is 18.5 inches tall and is sold by Michael's as the Ghosts & Goblins Wall Sign.
If you prefer, you can even use this sign inside your home. It will look perfect surrounded by black and white photos of your family and friends or other similarly colored decor.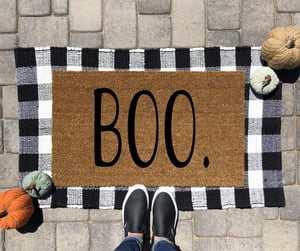 Welcome Mat: This super simple mat is perfect for your entryway during the Halloween season. It's handmade by Etsy user AndreaLeighDesigns. The mat is sprayed with a UV sealant to help with cleaning and fading. Since each mat is handmade, there may be slight variations in color, but no matter which phrase you choose (she has many!) they look great layered over a patterned doormat.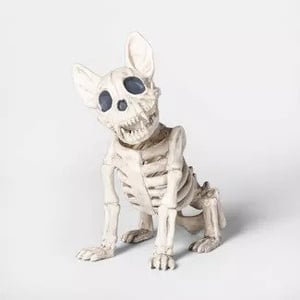 Skeleton Frenchie: You can't deny this little pooch is adorable. Whether you are a dog person or not, this French bulldog skeleton is a perfect addition to your outdoor Halloween decorations.
Let this Frenchie greet the neighborhood trick-or-treaters with a friendly grin. You can get this skeleton online or in stores from Target by Hyde & EEK! Boutique.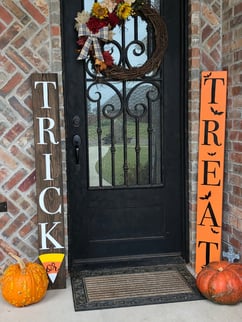 Porch Sign: Speaking of greeting trick-or-treaters, this sign leaves no doubt that you've got tons of candy to hand out on Halloween. Another handmade item, each board is meticulously painted by BridgeWoodLane on Etsy.
One of the neat things about these signs is that you can also get them as reversible - one side for Halloween and the other for Christmas.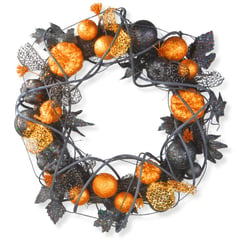 Halloween Wreath: Wreaths are common for many seasons in the later months. Autumn and Winter often finds doors decorated with beautiful wreaths. Halloween isn't usually included even though there are some wonderful wreaths you can use to add a Halloween flair to your front porch.
Find this wreath through Michael's online shop. It's not currently available in their brick and mortar stores.