Back to main Blog

Lauren Caggiano
Lauren Caggiano is a Fort Wayne-based copywriter and editor with a nerdy passion for AP Style. In her free time, she enjoys volunteering, thrift shopping, fitness and travel. Learn more on her website: www.lovewriteon.com.
While exciting, it's easy as a first-time homeowner to feel overwhelmed by all the expenses that come with it. Furniture is no exception, even with a smaller home. The bill can add up fast if you don't have a plan of attack. However, there are ways to furnish your home sweet home on a budget.
Shop Smart
Here's a look at a few popular places to save big on essentials:
Craig's List/Facebook Marketplace: You never know when someone might be in the market to downsize or upgrade their furnishings. Review the listings by geographic area and chances are you'll find something that suits your taste and financial situation. Just be sure to meet somewhere public and have cash on hand for the transaction.
Thrift Stores: Feeling thrifty? Goodwill, Salvation Army, and other independent second-hand stores carry a selection of home goods, including furniture. These stores are great for vintage and one-of-a kind finds. Habitat for Humanity's ReStore is another potential destination for budget-conscious homeowners. They sell everything from furniture to plumbing! Plus, the proceeds go to support a great cause.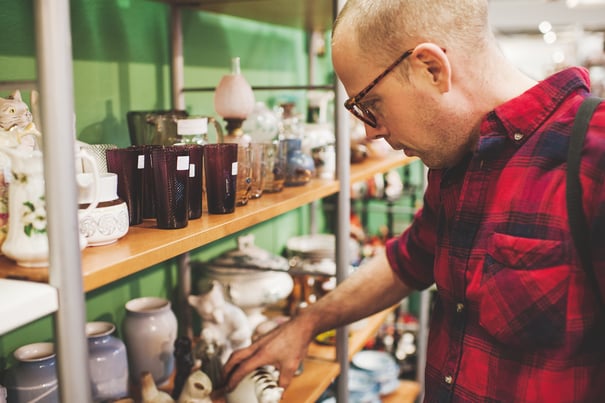 The condition of items will vary from like new to worn. Sometimes a new finish or fresh coat of paint can take an item from drab to fab instantly. Project pieces can be rewarding when the "after" is Instagram worthy.
Estate Sales: Estate sales are popular in the summer and fall. Oftentimes the person or their family is looking to sell all their belongings and furniture can be part of the equation. Check the website EstateSales.net and/or Facebook for a listing of estate sales in your area. Come with plenty of cash on hand and don't be afraid to negotiate on prices!
Discount Stores: Chains like Big Lots, Marshall's, Tuesday Morning and others are known for being budget friendly. Inventory is limited and can vary by the week and location, so sometimes you have to take a chance. Go in with an open mind and you might find exactly what you didn't know you needed.
Online Retailers: Depending on your comfort level, you might be able to find a deal online. Wayfair has carved out a niche for itself with quality yet affordable furniture. And for an additional fee you can pay to have it assembled on site. Reviews can help you make a sound decision.
Re-imagine
Sometimes your furniture may not be labeled as furniture to begin with, but with a little imagination, you can create some pretty impressive pieces for your home for cheap! For example, pallets can be transformed into beds, coffee tables and even chairs. Old doors can get new life as a headboard. Let those creative juices flow!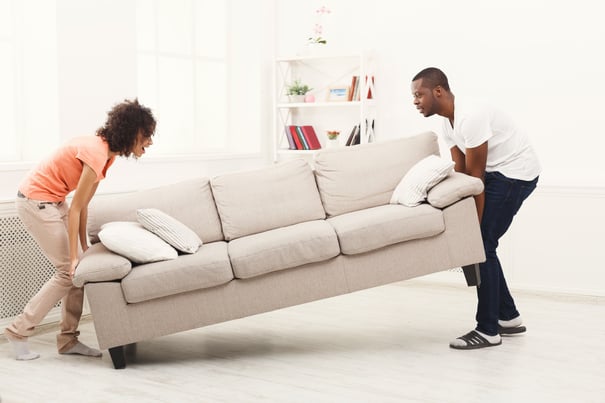 Prioritize
Not every room has to look like something out of a magazine spread. Think about what rooms are most in need of furniture in the short term and develop a plan of attack based on needs vs budgetary considerations. For example, a kitchen table is probably an essential first investment. Maybe you could wait on furnishing the guest bedroom for a few months? Or maybe you splurge on the basics and worry about the details later? It's possible to do things in stages and not go into debt.
In short, these tips and tricks can free up some money, so you can focus on planning and saving for the future.
If you are looking for a Home Loan Hack that will make your mortgage process even faster and easier, contact one of our Loan Officers! We would love to help!