Back to main Blog

Courtney Christensen
Our Stow Branch joined the Ruoff family in July 2017, and currently are one of our "young" teams with only 18 years of combined mortgage origination experience.
However, don't let that fool you - they've doubled their production since joining Ruoff. In the past 12 months, they've helped 115 families realize their dream of homeownership. They are bringing that go-getter attitude straight into 2020 and plan to do even more in the coming year.
Community Involvement
The Stow Branch is heavily involved in their community. For instance, they volunteer at the Akron-Canton Regional Food Bank where they invite the help of their friends, families, colleagues, and sponsors.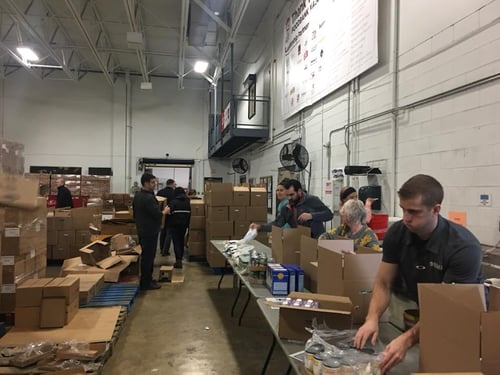 Last year, as an office, they competed in the Dragonboat Races in Portage Lakes near Akron. All the proceeds from this race are donated to benefit cancer research. Our Stow team made it to the finals for the first time in their history of competing! Rowing is much harder than it looks, but they certainly look good out there!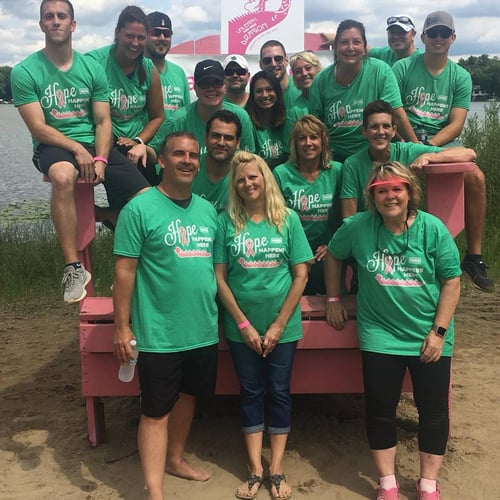 Every year, they also sponsor the Choo Choo Chow Chow event, which donates proceeds to the Children's Free Care Fun in NE Ohio. They also donate their time to the Kidney Foundation of Ohio by helping out for their events in Downtown Akron.
They also like to treat their customers and referral partners to fun events, which has always included the RubberDucks games where they are both sponsors and fans! They have had 3 Realtor events at Canal Park this year, and customer appreciation events with affiliate partners like ReMax.

What Their Clients Have to Say
"Lori kept her promises. Every step of the way, Lori would say that she would do this by then or she would contact me whenever. Whatever it was that she said, she did. It was all around an extremely pleasing experience. Especially for our first time buying a home. You just did better than I could have ever dreamed." - Kris M, happy client
"Adam was extremely attentive and informative. We never had to wonder what was happening. We also saw that he communicated with our agent." - Doug J, happy client
"Mike was amazing! He was extremely knowledgeable and helps us every step of the way! Also was there to answer questions we had. The home buying process regarding the mortgage was seamless and literally no stress!" - Cara B, happy client
"Lori went above and beyond to make sure that we were able to get the home we wanted and was always on top of the process making things go very smooth and quick - REALLY quick! She was incredibly prompt with her responses and was there for us through the entire process! Absolutely perfect loan officer for first time home buyers!" - Ashley P, happy client
"Adam came to my closing to see things through to the very end! Working at a title company, I thought this was absolutely above and beyond. Also, my loan closed in about a month which was out of this world fast!" - Joni C, happy client
"Michael was outstanding at proactive communication and moved through the process smoothly, efficiently and effectively! We would use Michael again and will recommend him to future clients." - Kristin B, happy client
About the Team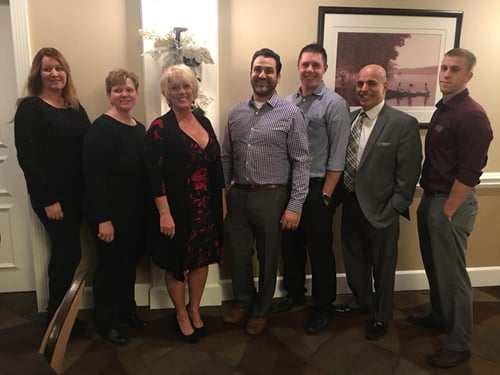 Lori Fetter has coordinated Continuing Education classes for Realtors for several years. She and the team love the opportunity to teach their community of real estate colleagues. Lori has worked with Judith and Emily for many years - a combined 70 years experience!
Adam Amburgey is a Marine and spends much of his time volunteering at local Veteran homes. He also helps his mother with events for an assisted living home where she works. He attends golf outings with Mike and Adam for local Realtor boards.
Michael Shannon coaches soccer for his daughter and son, and is very involved in their school and church. He participates in golf outings with Keegan and Adam for local Realtor boards and charity events. He is responsible for arranging our volunteering at the food bank.
Keegan Fetter is a sponsor for the boy's soccer team at his alma mater, Steel High School. When he attended, he was a member of the 2006 state championship team. He joins Adam and Mike at the Realtor golf outings and charity events.
Judith Etheridge, their processor, and Emily Rowles, their closer, are the Stow Branch's dynamic operations duo! They, along with their families, work with a ReMax affiliate partner for customer appreciate events. They have worked with Lori for several years, and have a total of 70 years experience in the real estate industry!