We are in the middle of a national quarantine and trips to the grocery store are fewer and far between. Meal kit delivery services are on the rise, but for those days when you're just not sure what to cook – here is a list of recipes for every time of day using only ingredients you (probably) already have on hand.
Breakfast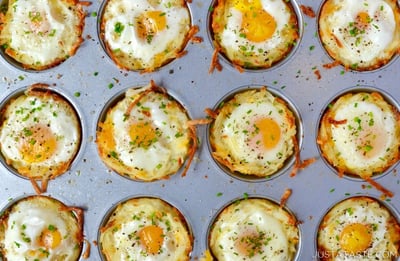 Cheesy Hash Brown Cups with Baked Eggs
1 (20 oz) package refrigerated hash browns (or make your on by shredded potatoes)
2/3 cup shredded cheddar cheese
5 tbsp unsalted butter, melted
12 large eggs
Chopped fresh chives, for serving (optional)
This breakfast comes together in just 45 minutes, makes 12 servings, and freezes well. Visit Just a Taste to get the whole recipe and instructions.
Lunch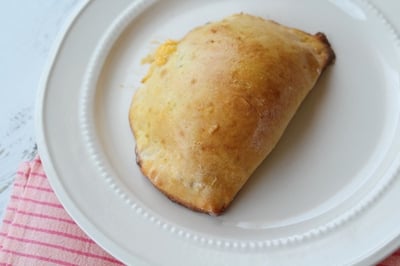 Turkey and Cheese Pockets
1 cup self-rising flour
1 cup nonfat Greek yogurt
eggwash (optional)
2 slices Velveeta cheese (any hard cheese will work here)
8 slices sliced turkey breast (or any meat/veggies you have on hand)
A quick lunch that is so versatile. It is easy to make multiple varieties of this homemade Hot Pocket for every member of your family. It takes 15 minutes and serves 4. Visit Life is Sweeter by Design to get the full recipe and instructions.
Dinner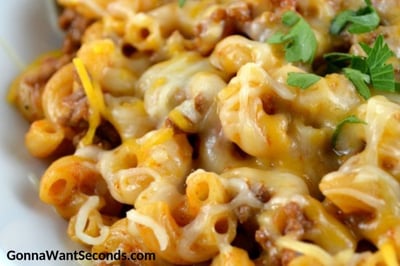 Chili Mac
1 tbsp vegetable oil
1 yellow onion, chopped
1 tbsp chili powder
1 tbsp cumin
4 cloves garlic, minced
1 tbsp brown sugar, packed
1 lb ground beef
2 cups water
1 15 oz can tomato sauce
8 oz elbow macaroni
8 oz shredded Mexican cheese blend
salt and pepper to taste
Spice up your macaroni and cheese and pack it with protein. Chili mac can be made with ground beef, ground turkey, or even meatless substitutes. Feel free to mix up the ingredients as well – don't have Mexican cheese blend? Any cheese will do. Don't have macaroni? Any smaller pasta shape is fine. Get the whole recipe and instructions on Gonna Want Seconds.
Side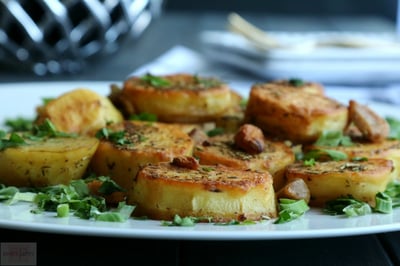 Melting Potatoes
2 ½ lbs Yukon Gold potatoes, peeled
5 tbsp unsalted butter
1 tsp rosemary
1 tsp thyme
1 tbsp salt
1 tsp pepper
1 cup vegetable or chicken broth
6 cloves garlic, smashed
¼ cup fresh parsley, chopped
¼ cup fresh scallions, thinly sliced
In only 10 minutes of prep-time, you can have these mouthwatering potatoes alongside your dinner. The fresh herbs are for topping, so if you don't have them that's okay! See the whole recipe and instructions on Pook's Pantry.
Snack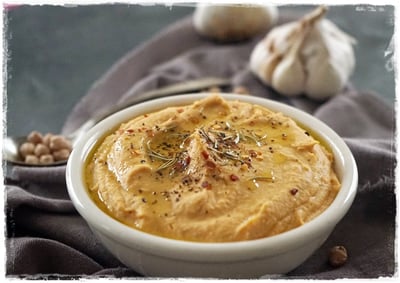 Smoky Rosemary Hummus
15 oz can garbanzo beans (chickpeas)
¼ cup lemon juice
2 tbsp oil
2 tsp dried rosemary, ground
1 clove garlic
1 tsp smoked paprika
¼ tsp black pepper
pinch of crushed red pepper flakes
salt to taste
In just 5 minutes, you'll have freshly made hummus. Spread the hummus on a tortilla, use it as a dip for fresh veggies, or top your favorite crackers. This recipe makes 6 servings. View the whole recipe and instructions on Planted 365.
Dessert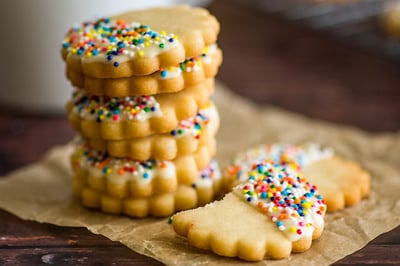 Shortbread Cookies
4 tbsp salted butter, softened
2 tbsp powdered sugar
¼ tsp vanilla extract
½ cup all-purpose flour
Shortbread cookies are one of the simplest cookie recipes out there. These deliciously crumbly cookies can be made in minutes. This recipe makes 18 cookies which can be topped with chocolate, sprinkles, icing, nuts, or whatever else you have on hand – or just eat them plain! See the whole recipe on Baking Mischief.