For tea lovers, nothing is better than a hot cup of tea in the afternoon. While pre-packaged teas are fine, nothing beats the fresh taste of tea you harvested and dried yourself. Tea leaves come mostly from a single plant, Camellia Sinensis, but herbs are where all the flavor comes from. Try mint, lavender, and lemon balm to add interest to your blends. Many tea ingredients grow best in containers as they love to spread!
Camellia Sinensis
(image via American Camelias)
All proper teas are made from this plant. It doesn't matter the variety, only when and how the plant is processed. The leaves contain caffeine, though, so if you are looking for a mild, herbal tea, it is best to leave this ingredient out. This plant grows best in warm-moderate weather with a lot of rainfall. For white tea, snip off brand-new leaves and let them air dry for a couple of days. For green tea, prune fresh leaves and let them dry for about 7 hours. Then, heat them in a dry frying pan before steeping. For black tea, prune leaves and roll them firmly until juice begins coming out of the leaves. Let them dry in a warm spot for 3-12 hours. Pay attention and watch for them to turn a blackish-red color.
Mint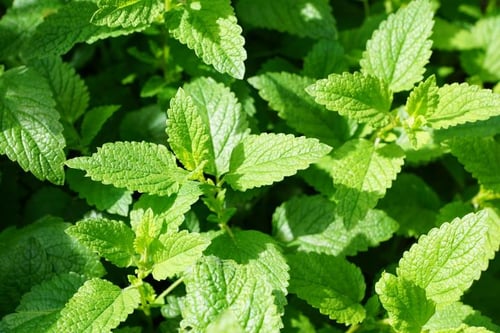 (image via Almanac)
This is a great beginner option. Mint is sturdy and easy to take care of. It is good for indigestion and can relieve headaches. Mint can be planted indoors and transferred outside once it warms up. This is one plant that will do great in a container as it is known to spread. Place it in a spot that gets both sun and shade. Pluck mint leaves as they grow – they're great both fresh and dried.
Lavender



Are you ready for your yard to smell amazing? Lavender is not only good for anxiety and headaches, but it also smells great. It should be planted outdoors, but try to avoid a container as they are prone to fungus. Plant in a bright, sunny area. Once the stalks begin to flower, prune them and hang to dry.
Chamomile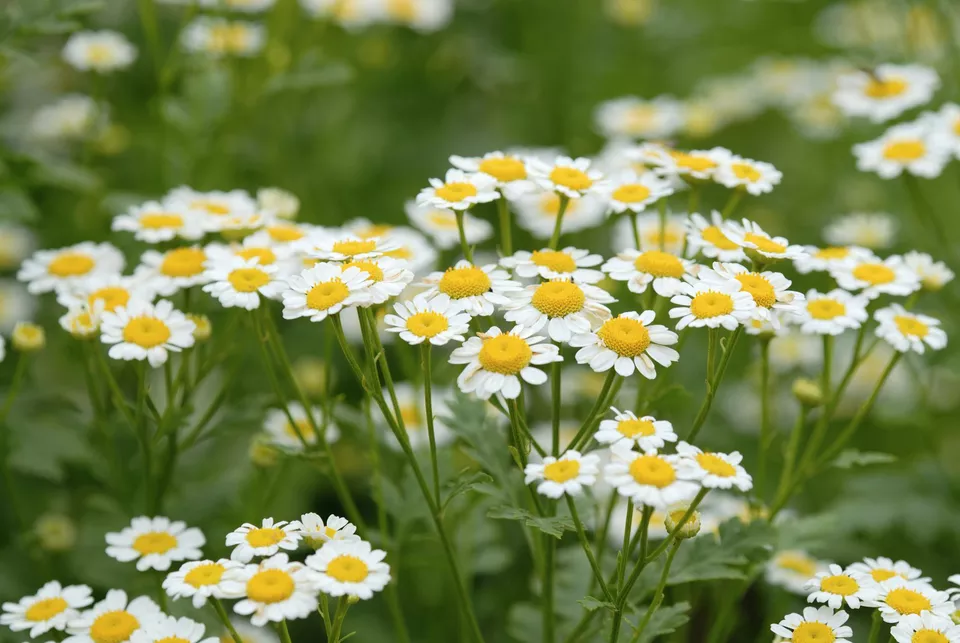 (image via The Spruce)
As one of the most popular herbs for teas, chamomile is good to have around. It's known for its calming effects, but it can also help improve gut health. Chamomile can be grown indoors and out, depending on the variety you choose, but both do well full sun and moderate temperatures. You'll know when it is time to prune for tea when there are bright, open flowers. Dry the flowers with stems attached, then remove just the bloom and store.
Hibiscus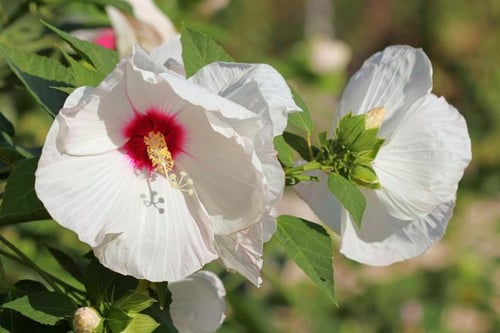 (image via Almanac)
This bright flower can help an upset stomach and fever. With loads of vitamins C, it's also useful for a daily immune boost. It's got a tangy flavor that brightens up any herbal tea. Prune flowers when they are in full bloom and dry.
Lemon Balm
If you're looking for a pick-me-up that will help both calm you and lower your blood pressure, lemon balm is an excellent addition to almost any tea. This one should be started indoors and put outside once it warms up – after the last frost. Lemon balm should be grown in full sun and in a container to keep it from taking over your garden. Prune leaves just as flowers start to bloom, and use the fresh leaves for your tea.
Echinacea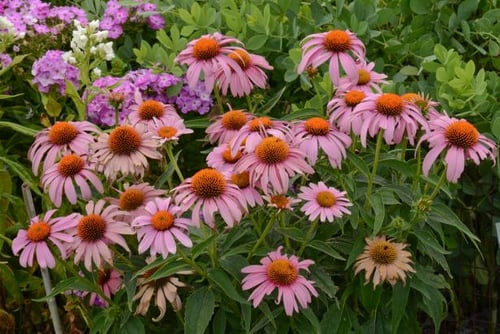 (image via HGTV)
The coneflower is also useful in teas. Its scientific name is Echinacea and both antiviral and antibacterial. It helps with viral colds and sore throats. Unlike most herbal teas, the entire Echinacea plant can be used to make teas. It likes partial shades in the summer and full sun in the winter – but it's hardy enough to survive both. Dry the entire plant from roots to blooms to use later.
Stevia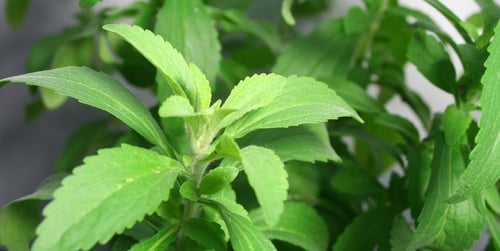 (image via Good Housekeeping)
While stevia doesn't have much use in fixing headaches or curing anxiety, it's a natural sweetener. Just as the brand of sugar-alternative, Stevia, this plant will sweeten up any bitter tea. Cut back leaves before the plant begins to bloom, and dry.