Ceilings are the most ignored surface of any room. They're a flat, uninteresting, plain white area of your home, and are therefore largely disregarded. Fortunately, there are hundreds of ways to spruce up your ceiling in a way that brings coziness, grandeur, or brightness to any room.
Paint It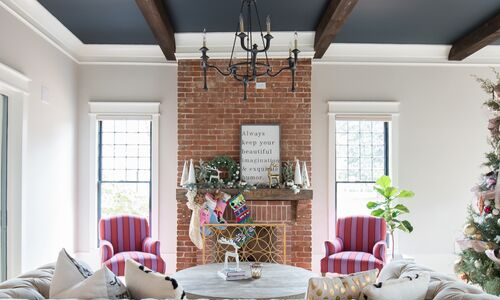 Likely one of the cheapest ways to change up your ceiling is by giving it a fresh coat of paint. Before you go to grab a can of white ceiling paint, consider using color instead. Just like when you paint walls, using a dark paint will close a room in (great for spaces like bedrooms or library-offices) and a brighter color will open it up. However, in a room like the above photo from Addison's Wonderland, a dark ceiling and light walls balances the space.
Unlike many of the following methods, painting your ceiling does require a completely flat, stain-free surface. If your ceiling has a popcorn texture, it's best to remove it. If there are stains, prime it with a blocking primer like Kilz.
Crown
Molding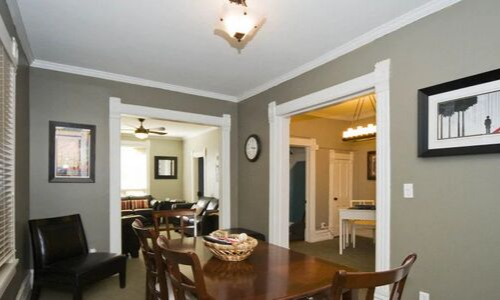 A quick and easy way to add instant class into a room is by adding crown molding. Not only is it great for resale, but it helps to open spaces and sharpen edges. By defining spaces with crown molding, each room will act as a standalone with its own purpose. Unlike some of the other methods in this article, crown molding is a great choice for any room and for any ceiling height.
Wallpaper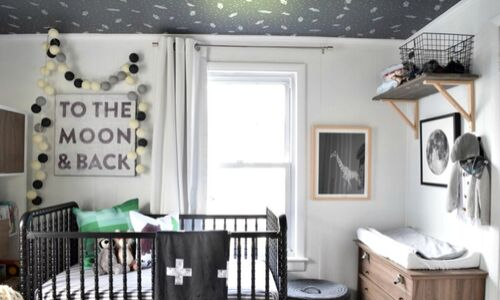 Wallpaper is making a comeback. Unlike your grandmother's wallpaper from the 60s, wallpaper developed in the 21st century is easier to place and easier to remove. But, if wallpapering your walls seems like too much of an investment, choose a pattern for your ceiling instead. It adds interest and draws the eye upwards - making the room seem taller. The example above is from Nesting with Grace who opted for a colorful wallpaper on the ceiling of her nursery instead of colorful walls. Wallpaper especially goes well with crown molding which separates the walls from the ceiling.
Planked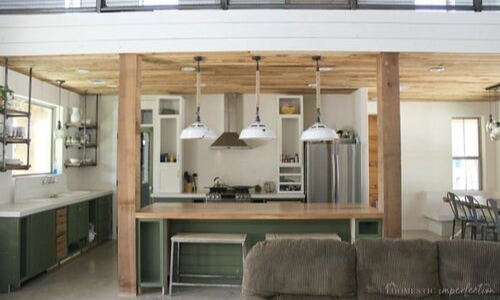 Got popcorn ceilings and don't want to spend days scraping it off? One option is to plank your ceiling instead. This process is basically the same as installing plank flooring, and just as easy. This method is great for farmhouse style rooms or spaces you'd like to feel warmer. Achieve different looks per room by differing the widths of the planking you use.
It's a good idea to buy flooring for this task - particularly the kind that snaps together. However, it is also doable with actual planks of wood as well like the example above from Domestic Imperfection. Just be sure to stain or paint these prior to putting them up on the ceiling.
Beams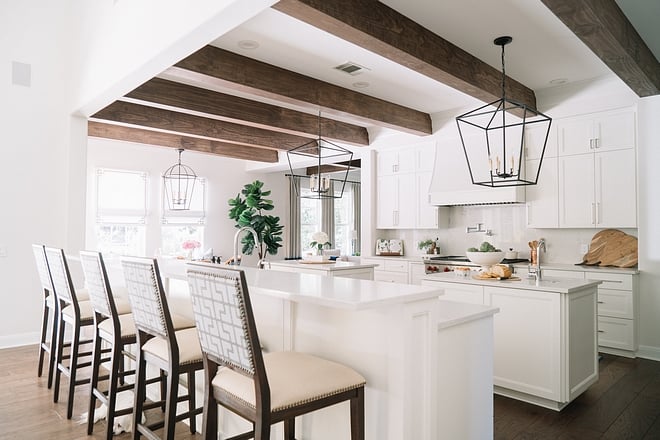 Like planks, wooden beams add warmth and character to any room they're in. These beams work best as a contrast to both ceiling and wall colors, and stained wood is a very popular choice like this example from Home Bunch. Raw-edged wood gives a rustic feel while straight planks make your home into a craftsman's dream.
Beams work best in taller rooms, as they will make parts of your ceiling much lower. Again, make sure to paint or stain these pieces before you install them on your ceiling.
Beadboard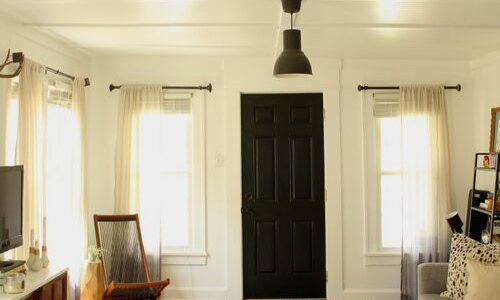 Similarly to a fully planked ceiling, beadboard will give your ceiling a uniform and fresh look. Beadboard typically comes as sheets of panels that mimic the look of individual boards. It comes in several kinds of material from wood to PVC and plywood. They all look slightly different up close, but because it will be going on your ceiling, you should choose based on the space you're updating. PVC is best for bathrooms, but dryer rooms could use the cheaper plywood panels.
Beadboard is traditionally white (like Remodelista's example above), but that doesn't mean you're stuck with it. Just as you can paint ceilings, you can paint the beadboard to suit your taste.
False Ceiling Lighting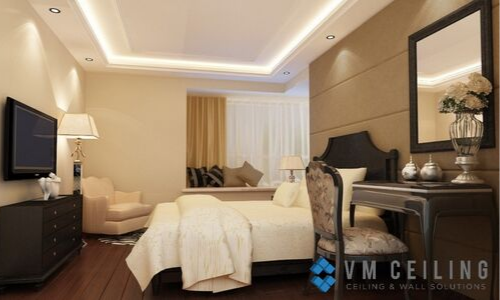 Have a dark room or want to create mood lighting? Try installing lighting inside of false ceilings. A false ceiling is installed below your actual ceiling in order to create interest and a space for extra lighting. Like many of these updates, a false ceiling will bring the area lower meaning it's best used in a taller room. The photo above shows a professionally installed false ceiling by VM Ceiling.
No matter which method you choose to liven up your ceiling, you're in for a treat. You can even make smaller changes by updating ceiling light fixtures or ceiling fans. Any update to your ceiling will make your room feel brand new.