Back to main Blog

Courtney Christensen
When the nights are long and everything is cold, a nice, hearty stew hits the spot. Traditionally, stews are cooked on the stovetop for several hours to coax incredible flavors out of the meat and vegetables. They're filling and typically loaded with beef, root vegetables, and a rich broth that is usually intensified with red wine.
We've included a very traditional stew on this list, but also some more modern (and quicker) alternatives that will hit the spot just as well.
Classic Beef Stew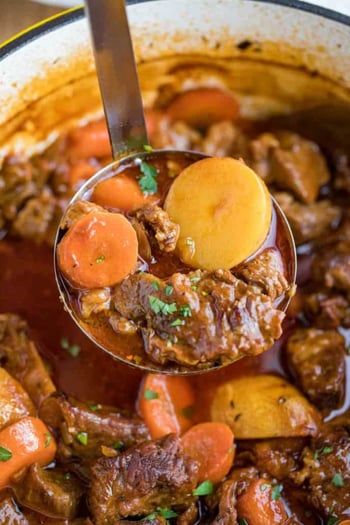 Prep Time: 20 minutes
Cook Time: 3 hours
Ingredients include chuck roast, onion, garlic, carrots, potatoes, beef broth, and tomato paste. This very traditional stew is made on the stove-top, which explains the hefty cooking time. With so many people working from home during the pandemic, keeping an eye on a simmering pot shouldn't be too complicated. Unless you get distracted by the delicious smells!
White Bean Stew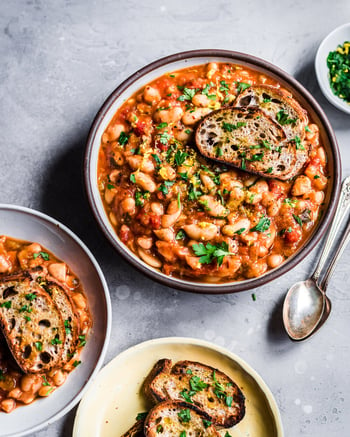 Prep Time: 15 minutes
Cook Time: 40 minutes
Described as "easy to make, hearty and satiating, and very flavorful". Ingredients include white beans, shallots, garlic, celery, potatoes, crushed tomatoes, and a ton of seasonings. This yummy stew takes less than an hour to throw together, making it one of the quickest meals on this list. You wouldn't know from the flavors though!
Cowboy Stew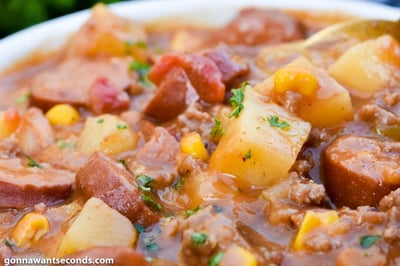 Prep Time: 15 minutes
Cook Time: 1 hour 30 minutes
This three-meat stew will satisfy even the hungriest of people. Ingredients include bacon, kielbasa, ground beef, diced tomatoes, baked beans, green chilies, and sweet corn. Because you cook everything in one pan, and start with the bacon, all the rest of the ingredients get to simmer in that incredible bacon grease. Maybe not the healthiest recipe on this list, but definitely a go-to for winter weekends.
Poor Man's Stew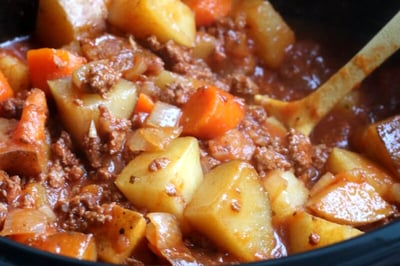 Prep Time: 15 minutes
Cook Time: 7 hours
Don't let the cook time scare you – this is a set it and forget slow cooker recipe. All you need to do ahead of time is brown some ground beef. Ingredients also include traditional things like potatoes, garlic, tomato paste, and onion. Add to the nostalgia of "Poor Man's Stew" with a slice of buttered sandwich bread when serving.
Vegan Irish Stew
By It Doesn't Taste Like Chicken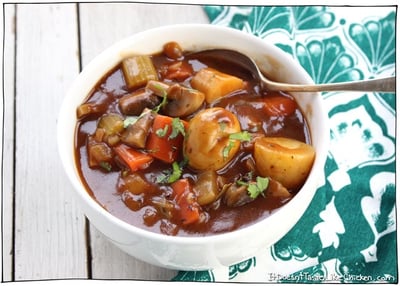 Prep Time: 10 minutes
Cook Time: 30 minutes
As the second vegetarian recipe on this list, it's also the quickest! You won't miss out on flavor or veggies in this recipe with ingredients like stout beer, mushrooms, parsnips, and brown sugar. This recipe can even be made gluten free by using a gluten-free beer and replacing the flour with a gluten-free version.
Cider Beef Stew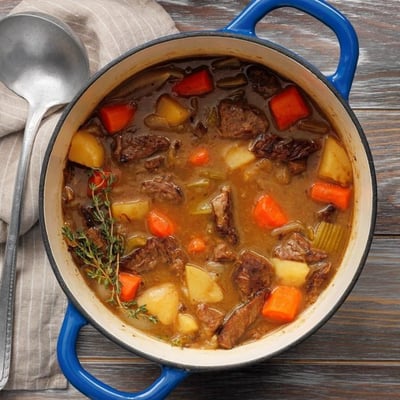 Prep Time: 30 minutes
Cook Time: 1 hour 45 minutes
Coming straight out of my family's well-loved Taste of Home cookbook, this is a spin on a traditional beef stew. For those who don't have an age-old ToH cookbook at home, I've found the same recipe on their website that you can visit above. Ingredients include beef stew meat, apple cider or juice, and apple cider vinegar. (Pro tip: if you're using apple juice, don't skip the vinegar!)