It's been a busy but rewarding year for Ruoff Mortgage. We've grown, we've succeeded, we've contributed, we've helped, and we've celebrated. Through the strength and compassion of our entire family, we have made 2019 the best year yet and plan to conquer the next decade just like we've done the last.
"Here's to opening doors."

Our President and CEO, Mark Music, spoke these words at the launch of our rebrand earlier this year: "We welcomed the next chapter of Ruoff Mortgage in August. We wanted our brand to reflect not only the modernization and forward-thinking we'd embraced as a company for years, but also declare our firm belief that everyone should be able to make their homeownership dreams a reality."

Clint Morgan, Chief Lending Officer, had this to say: "We are able to learn things, take into account what we learned, retool, revamp, and always continue ahead and grow. As Mark says, 'Every client, every loan, every day matters.'"
"We're most proud of this ..."
Our success this year is entirely due to the tenacity and empathy of our Ruoff family. Because we support each other, and are always working towards the same goal, Ruoff Mortgage has achieved some amazing things this year:
We opened 11 new branches in Indiana, Michigan, Kentucky, and Ohio.
We've helped thousands of homeowners reach their goals this year.
We were named to the INC. 5000 list of fastest growing companies for the 7th year in a row. (Only 608 companies of the 55 million eligible for this award can say that!)
Plus, our sister companies AccuComp and Centurion Land Title also made the list this year which makes Mark Music the only honoree, ever, to do so for three companies.
However, Mark stresses, "I'm most proud of this: In spite of the fact that we have more than 700 team members, we have managed to hang on to that family spirit that existed in the very beginning."
"Fabric of our communities."

Even with our tremendous growth, we are so proud of the community relationships and partnerships we've formed in the 35 years we've been in business. Community is a vital part of Ruoff's culture. We are grateful to the communities we serve, and are always ready with a helping hand for those in need.
"As a company, we work very, very hard to be a part of the fabric of the communities we serve, whether that means sponsoring a little league team or a professional one," says Clint. It's easy to see that each and every one of our branches supports their community through sponsorships, volunteering, and charity events. Take a look at the Neighborhood section of our blog to see what your local branch is doing.
Mark says it best, "When you genuinely look people in the eye, it lets them know we are present, we are with them, and we are there for them. When you look someone in the eyes and you say, 'I see you, you matter', it's about recognizing their humanity - and here's the best part: it gives them the opportunity to recognize yours."
"Now, this is a party."

The Ruoff family isn't shy about celebrating, whether it's the company Christmas party, costume contests, or the annual employee appreciation event. This year, we celebrated our new brand in style with Flo Rida and a good old-fashioned mosh pit.
After a hectic six months with the rebrand, it was a great way to unwind with our family and friends in the newly named Ruoff Music Center in Noblesville, IN.
"His eighth decade has been as fulfilling as any other."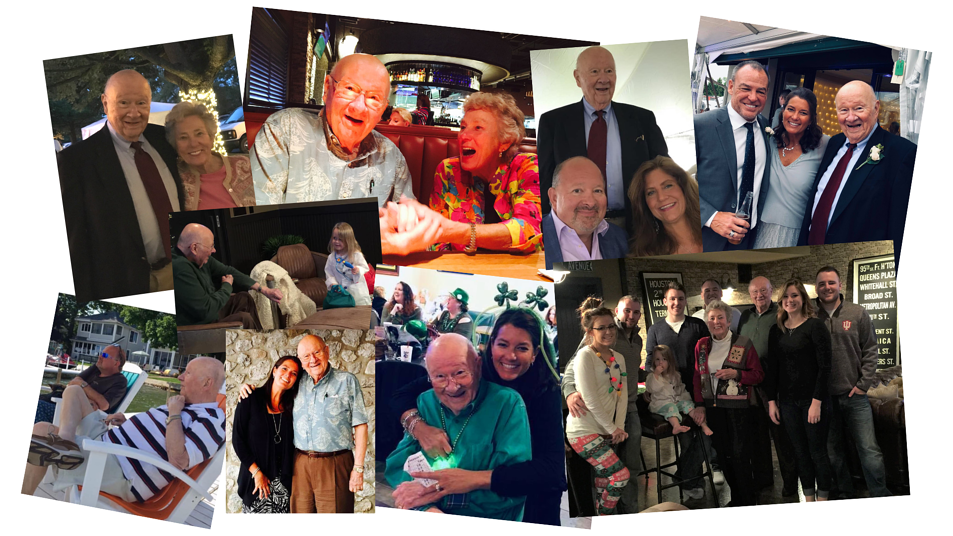 This year, we also celebrated the life and legacy of our founder, Dave Ruoff. Although sorely missed, his laughter, lessons, and love are remembered with nothing but happiness. Dave founded Ruoff Mortgage in 1984. He was the owner for 29 years before retiring in 2012. Although Mr. Ruoff had not had an operational role at the company since his retirement, he continued to visit the Fort Wayne office weekly, stopping in to say hi or have lunch with employees, or showing up to the recent annual employee holiday party and euchre tournament. Mark Music, his son-in-law, had this to say:
"If Dave Ruoff were here today, I think he would tell you that the eighth decade of his life might have been as fulfilling as any other he lived. To see the company that bore his name become so iconic throughout the Midwest was a huge source of pride in his final years. Through our Ruoff family and the grace of God, the burden is ever so slightly lightened for all of us when we feel the love and support that comes from so many caring individuals. I believe it is the same compassionate heart that drives us all as we serve our Ruoff clients every day."
It's been a great year! So, here's to opening doors in 2020!