Back to main Blog

Courtney Christensen
Budgeting. It's an absolute necessity, but most of us struggle with it on a daily basis. Whether you're living paycheck to paycheck, or find yourself spending money on things you don't need, a budget will help keep you financially stable.
Keeping a budget is definitely hard, but thankfully there are experts out there that can help. Some of them even make apps. Here are our (tried and true) favorites.
Mint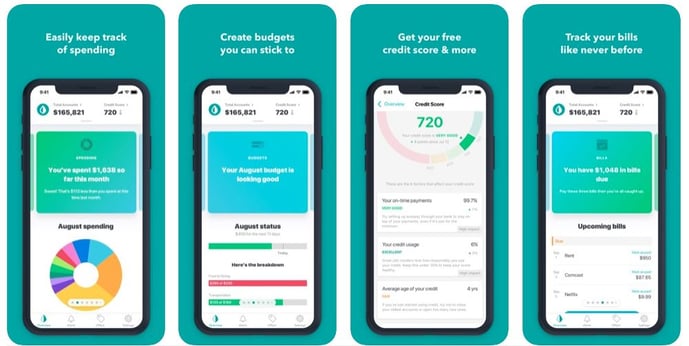 With over 700k reviews on the App Store and Google Play, this is one of the top-rated budgeting apps out there. "Mint is the free money manager and financial tracker app from the makers of TurboTax® that does it all. We bring together your bank accounts, credit cards, bills and investments so you know where you stand. See what you're spending, where you can save money, and track your bills in Mint like never before."
YNAB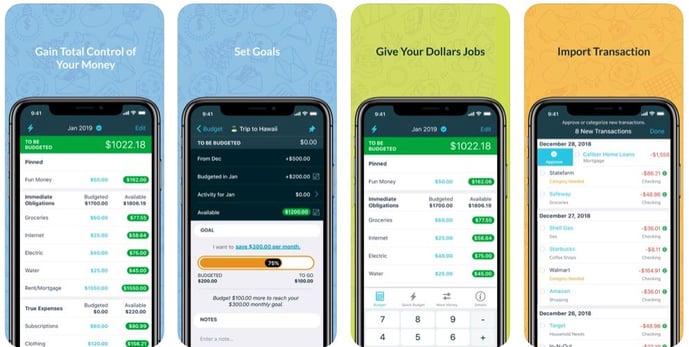 Based on the theory of giving every dollar a purpose, You Need a Budget is an app that promises "Before you spend a single dollar, we'll help you think through your priorities—immediate, short-term, and long-term—and allocate your money accordingly. Better yet, we will teach you how to use your budget to make spending decisions and how easy it is to adjust your budget throughout the month, because life."
GoodBudget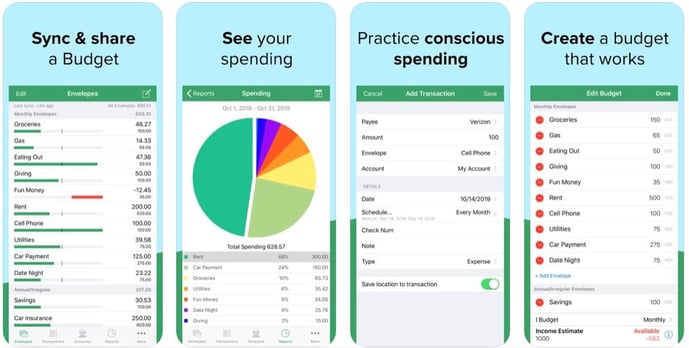 Have you heard of Dave Ramsey's Envelope Budget System? GoodBudget is the digital form of that! "Goodbudget is a budget tracker for the modern age. Say no more to carrying paper envelopes. This virtual budget program keeps you on track with family and friends with the time-tested envelope budgeting method."
Albert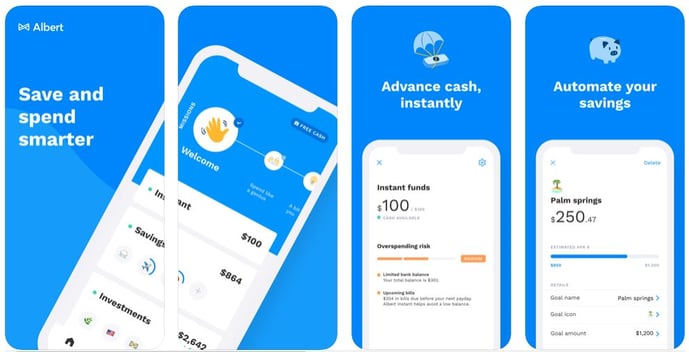 Touted as the app that takes math out of the equation, Albert is great for people who want to budget, but aren't sure where to start. "Whether you want to pay off debt or book a dream vacation, Albert puts your goals in reach with automatic savings. We identify dollars you won't miss throughout the week, then set them aside for what's important."
Charlie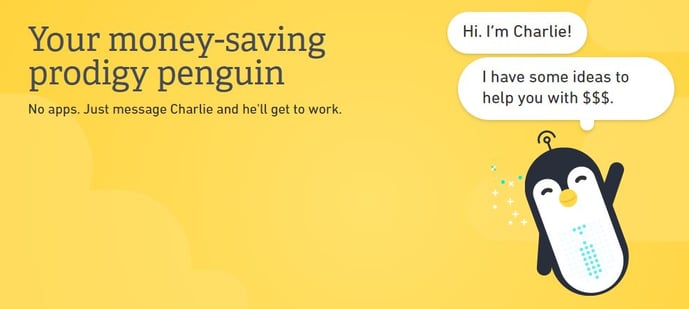 Fully text based, Charlie doesn't require any sort of download. A cute penguin, Charlie, will text you with advice and warnings based on your spending. "With my help, I can keep you from paying late fees, help find ways to save where you can, score better deals on the things you need, and start boosting your bank account over time. Sound good? Let's chat."
Clarity Money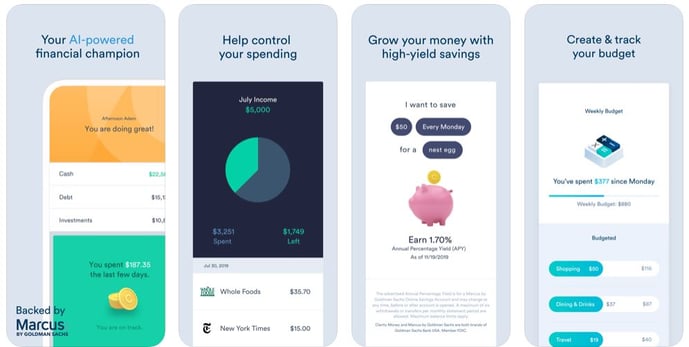 This app is all about finding hidden subscriptions or other spending habits you may not be aware of. "Clarity Money is a personal financial management tool that acts as your financial champion. Clarity Money helps you: Bring more transparency to your spending, uncover unwanted subscriptions and cancel them, and add more organization to your financial life."
Other financial apps:




Maybe budgeting isn't where you would like to grow in the next year? Here are some wonderful apps meant to help you improve credit, invest money and pay off debt faster!
Personal Capital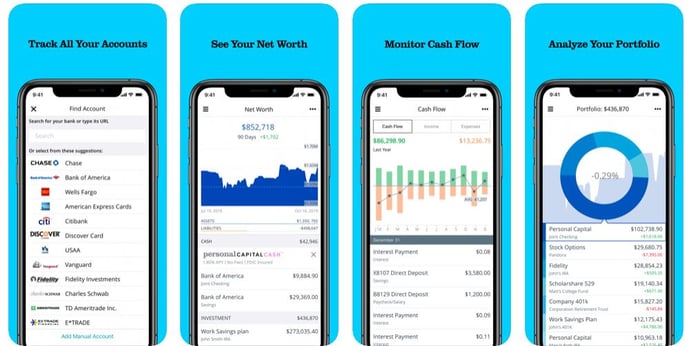 While this app will track your spending like the others above, it really shines with wealth management - monitoring your investments. "It starts with our award-winning financial tools that give you a dynamic view of your net worth. The result is a smarter and easier way for you to take charge of your money, so you can plan ahead and make more-informed decisions." Take a look at our post on managing a 401k here.
Qoins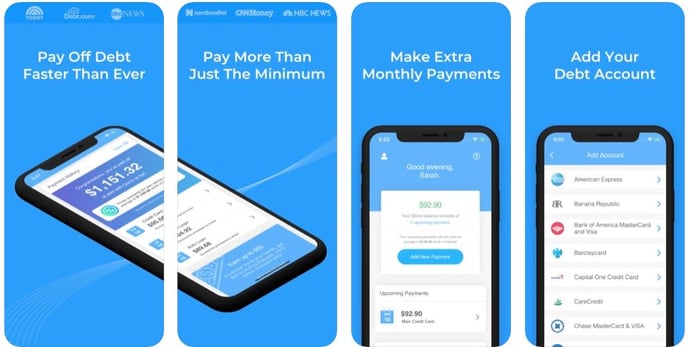 If you're like most of Americans, you have some debt that needs repaid. Qoins makes it easier by finding extra money and sending it off to your debt payments. "Qoins will determine and save anywhere between $.50 – $5.00 every few days, to contribute towards your debt. Watch your debt disappear as we automatically make an extra payment at the end of each month."
Acorns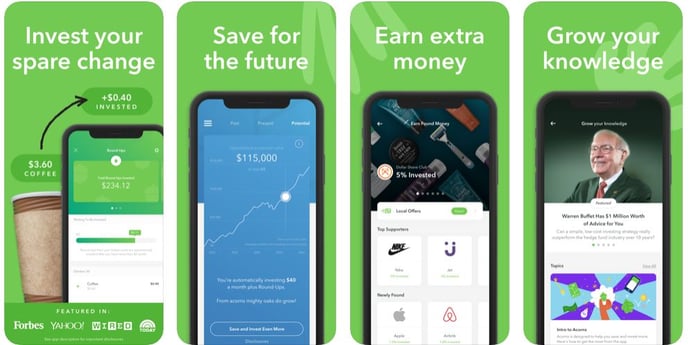 Take investing seriously with an app that makes something usually boring into something fun. "The only micro-investing account that allows you to invest spare change. Set up in under 5 minutes and automatically add money to your diversified portfolio, built with help from a Nobel laureate. "
Credit Karma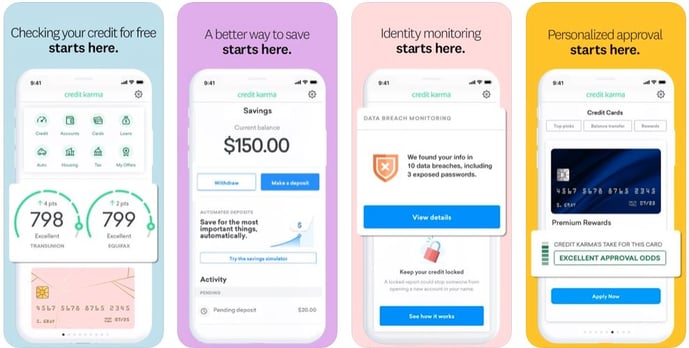 Your credit score can be elusive information to get a hold of. When a bank, lender, or credit card company pulls your credit, your score takes a hit. Apps like Credit Karma use "soft pulls" to monitor your score without affecting it. "Get alerted when there's an important change on your reports. Learn what affects your credit scores and what you can do to improve them. See personalized recommendations for ways to use your credit more wisely."